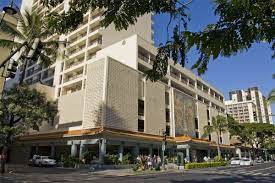 Miramar at Waikiki: A Tropical Paradise in the Heart of Honolulu
Nestled in the vibrant neighborhood of Waikiki in Honolulu, Miramar is a true gem that offers an unforgettable Hawaiian experience. With its stunning ocean views, warm hospitality, and convenient location, Miramar at Waikiki is the perfect destination for travelers seeking a tropical paradise.
As you step into the lobby of Miramar, you'll immediately feel a sense of tranquility and relaxation. The hotel's modern yet inviting atmosphere creates a welcoming ambiance that sets the tone for your stay. The friendly staff is always ready to assist you with any needs or questions, ensuring that your time at Miramar is nothing short of exceptional.
One of the standout features of Miramar is its breathtaking views. Many rooms offer stunning vistas of the Pacific Ocean, allowing guests to wake up to the soothing sound of waves crashing against the shore. Whether you're enjoying your morning coffee on your private balcony or unwinding after a day of exploration, these ocean views create an idyllic backdrop for your stay.
When it comes to exploring Waikiki and beyond, Miramar's location couldn't be more convenient. Just steps away from world-famous Waikiki Beach, you'll have instant access to miles of pristine sands and crystal-clear waters. Take a leisurely stroll along the shoreline or dive into exciting water activities such as surfing, paddleboarding, or snorkeling.
Beyond the beach, Waikiki offers a plethora of dining options, upscale shopping centers like Ala Moana Center, lively nightlife venues, and cultural attractions like the Honolulu Museum of Art. With Miramar as your home base, you'll have easy access to all these experiences while still being able to retreat to peaceful accommodations at any time.
Miramar also boasts an array of amenities designed to enhance your stay. Take a dip in the outdoor pool surrounded by lush greenery or work up a sweat in the fitness center. Afterward, treat yourself to a rejuvenating massage or spa treatment at the hotel's wellness center, where skilled therapists will help you unwind and find your inner balance.
For those seeking culinary delights, Miramar offers a variety of dining options. From casual poolside snacks to elegant fine dining experiences, there's something to satisfy every palate. Indulge in authentic Hawaiian cuisine or explore international flavors expertly crafted by talented chefs.
Whether you're traveling for a romantic getaway, a family vacation, or a business trip, Miramar at Waikiki is the perfect choice for an unforgettable stay in Honolulu. With its unparalleled location, stunning views, and exceptional hospitality, Miramar welcomes you to immerse yourself in the beauty and charm of Hawaii. Book your stay today and let Miramar be your tropical oasis in paradise.
Frequently Asked Questions About Miramar at Waikiki: Oldest Hotel, Waikikian Hotel Status, and Espacio The Jewel of Waikiki Construction
What is the oldest hotel in Waikiki Beach?

The Moana Surfrider, a Westin Resort & Spa, is considered the oldest hotel in Waikiki Beach. It was built in 1901 and has since become an iconic landmark in Honolulu. The hotel's rich history and timeless elegance have made it a beloved destination for travelers seeking a blend of modern comforts and old-world charm. Over the years, the Moana Surfrider has maintained its reputation as a premier resort, offering stunning ocean views, luxurious accommodations, and exceptional service.
Is the waikikian hotel still open?

Yes, the Waikikian Hotel is still open.
When was espacio The Jewel of Waikiki built?

Espacio The Jewel of Waikiki was built in 2019.