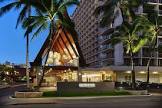 Outrigger Waikiki on the Beach: Where Paradise Meets Hospitality
Nestled in the heart of Waikiki, Outrigger Waikiki on the Beach is a premier beachfront resort that embodies the true spirit of Hawaii. With its stunning ocean views, world-class amenities, and warm hospitality, this iconic hotel offers an unforgettable experience for visitors seeking a perfect blend of relaxation and adventure.
Location is everything, and Outrigger Waikiki on the Beach couldn't be better situated. Step out of the hotel's doors, and you'll find yourself right on the golden sands of Waikiki Beach. The crystal-clear waters beckon you to dive in and experience the magic of Hawaii's famous surf culture. Whether you're a seasoned surfer or a beginner looking to catch your first wave, this is the place to be.
Beyond its prime location, Outrigger Waikiki on the Beach boasts an array of top-notch amenities that cater to every guest's needs. The spacious rooms and suites are beautifully designed with Hawaiian-inspired décor, providing a comfortable oasis after a day spent exploring or lounging by the pool. Speaking of pools, their stunning rooftop pool offers panoramic views of Diamond Head and serves as an idyllic spot for relaxation under the Hawaiian sun.
The resort also houses some incredible dining options that showcase Hawaii's rich culinary heritage. From traditional Hawaiian dishes to international cuisine with a local twist, there's something to satisfy every palate. Indulge in fresh seafood at Duke's Waikiki or sip on tropical cocktails while enjoying live music at Hula Grill. These dining experiences truly capture the essence of island life.
What sets Outrigger Waikiki on the Beach apart is its genuine aloha spirit and commitment to providing exceptional service. The staff here goes above and beyond to ensure that guests have an unforgettable stay. From arranging exciting excursions to offering insider tips on exploring Oahu, they are always ready to assist with a warm smile.
For those seeking adventure beyond the resort, Outrigger Waikiki on the Beach is ideally located near some of the island's most iconic attractions. Take a hike up Diamond Head for breathtaking views, explore the vibrant streets of Honolulu, or immerse yourself in Polynesian culture at the Polynesian Cultural Center. The possibilities are endless, and this resort serves as an excellent home base for your Hawaiian adventures.
Outrigger Waikiki on the Beach is more than just a hotel; it's a gateway to experiencing the true essence of Hawaii. From its prime location on Waikiki Beach to its exceptional amenities and dedicated staff, every aspect of this resort is designed to create lasting memories for guests. Whether you're seeking relaxation, adventure, or a little bit of both, Outrigger Waikiki on the Beach is ready to welcome you with open arms and share the magic of Hawaii's aloha spirit.
Frequently Asked Questions about Outrigger Waikiki on the Beach
What is the best time to visit Outrigger Waikiki on the Beach?

The best time to visit Outrigger Waikiki on the Beach largely depends on your personal preferences and what you hope to experience during your stay. However, there are a few factors to consider when planning your trip.
Weather-wise, Hawaii enjoys warm temperatures year-round, making it a great destination at any time. The summer months (June to August) tend to be hotter and more crowded, as they coincide with peak tourist season. If you prefer fewer crowds and slightly milder temperatures, the shoulder seasons of spring (April to May) and fall (September to October) can be excellent choices.
Another factor to consider is surf conditions. If you're an experienced surfer or simply enjoy watching the pros ride the waves, winter (November to February) brings larger swells and attracts surfers from around the world. However, if you're a beginner or prefer calmer waters for swimming and snorkeling, the summer months provide more tranquil ocean conditions.
It's worth noting that prices for accommodations may vary throughout the year. Peak tourist season tends to be more expensive, so if you're looking for better deals and availability, consider visiting during the shoulder seasons or even in winter.
Ultimately, Outrigger Waikiki on the Beach offers an incredible experience regardless of when you choose to visit. Whether you seek vibrant energy or a quieter atmosphere, there's always something special awaiting you at this beachfront paradise.
How close is Outrigger Waikiki on the Beach to Waikiki Beach?

Outrigger Waikiki on the Beach is located right on Waikiki Beach, offering guests direct access to the beautiful sandy shores. As soon as you step out of the hotel, you will find yourself just steps away from the beach, allowing for convenient and effortless enjoyment of one of Hawaii's most famous and beloved beaches. Whether you want to take a leisurely stroll along the shoreline or dive into the inviting waters, Outrigger Waikiki on the Beach provides an unbeatable location for beach lovers.
Are there any special packages or discounts available at Outrigger Waikiki on the Beach?

At Outrigger Waikiki on the Beach, they understand the value of providing special packages and discounts to enhance your stay. Here are a few offerings that you may find enticing:
Stay Longer, Save More: This package is perfect for those looking to extend their time in paradise. Enjoy discounted rates when you book a longer stay at Outrigger Waikiki on the Beach. Take your time to fully immerse yourself in the beauty of Hawaii while enjoying exceptional savings.
Honeymoon and Romance Packages: Celebrate your love in style with Outrigger Waikiki on the Beach's romantic getaway packages. Whether you're honeymooning or simply looking to rekindle that spark, these packages include special amenities such as champagne, couples' massages, and private dinners by the beach.
Family Fun Package: Bring the whole family along for an unforgettable vacation with this package tailored for families. Enjoy spacious accommodations, complimentary breakfast for children, and exciting activities designed to entertain guests of all ages.
Advance Purchase Discount: Plan ahead and save! By booking your stay in advance at Outrigger Waikiki on the Beach, you can take advantage of exclusive discounts on room rates. This offer rewards those who plan ahead while ensuring a fantastic experience awaits them upon arrival.
To explore these packages further or discover any additional promotions that may be available during your preferred travel dates, it is recommended to visit the official website of Outrigger Waikiki on the Beach or contact their reservations team directly. They will be delighted to assist you in finding the perfect package or discount that suits your needs and preferences.
Please note that availability and terms may vary depending on the season and demand, so it's always beneficial to check for updates or any limited-time offers when planning your stay at Outrigger Waikiki on the Beach.
What amenities are offered at Outrigger Waikiki on the Beach?

Outrigger Waikiki on the Beach offers a wide range of amenities to ensure a comfortable and enjoyable stay for its guests. Here are some of the amenities you can expect to find at this beachfront resort:
Beach Access: The hotel's prime location provides direct access to the beautiful Waikiki Beach, allowing guests to easily enjoy sunbathing, swimming, and various water activities.
Rooftop Pool: Take a refreshing dip in the rooftop pool while enjoying stunning panoramic views of Diamond Head and the surrounding area.
Fitness Center: Stay active during your stay with the fully-equipped fitness center, featuring modern exercise equipment for your workout needs.
Dining Options: Indulge in a variety of culinary delights at the resort's dining establishments. Duke's Waikiki offers fresh seafood and traditional Hawaiian dishes, while Hula Grill serves up delicious cuisine with live music in a lively atmosphere.
Spa Services: Treat yourself to relaxation and rejuvenation at the on-site spa, where skilled therapists offer a range of spa treatments designed to pamper and revitalize your body and mind.
Business Center: For those traveling on business, there is a business center equipped with computers, printers, and other essential office amenities to help you stay connected.
Concierge Services: The friendly and knowledgeable concierge team is available to assist with arranging activities, tours, restaurant reservations, transportation services, and any other requests you may have during your stay.
Shops and Boutiques: Explore the various shops located within the resort premises that offer an array of items ranging from souvenirs to high-end fashion brands.
Cultural Activities: Immerse yourself in Hawaiian culture with complimentary cultural activities offered by the hotel such as lei-making classes or hula dancing lessons.
Parking Facilities: Convenient valet parking services are available for guests who choose to drive or rent a car during their stay.
These amenities, combined with the warm hospitality and genuine aloha spirit of the staff, contribute to an exceptional experience at Outrigger Waikiki on the Beach.
Is there a shuttle service available from/to Outrigger Waikiki on the Beach?

Yes, Outrigger Waikiki on the Beach offers a convenient shuttle service for its guests. The shuttle service provides transportation to and from the airport, allowing you to start your vacation hassle-free. Upon arrival at Honolulu International Airport, you can easily locate the shuttle pick-up area and board the comfortable and air-conditioned vehicle. The friendly and professional drivers will ensure a smooth journey to the resort.
Additionally, Outrigger Waikiki on the Beach offers shuttle services to popular attractions and shopping destinations within the Waikiki area. This allows guests to explore the local area conveniently and without the need for a rental car.
The shuttle service operates on a scheduled basis, ensuring that guests have reliable transportation options throughout their stay. It is recommended to inquire about specific schedules and availability upon check-in or by contacting the hotel's concierge desk.
With this convenient shuttle service, Outrigger Waikiki on the Beach aims to enhance your overall experience by providing seamless transportation options, allowing you to focus on enjoying your time in beautiful Waikiki.