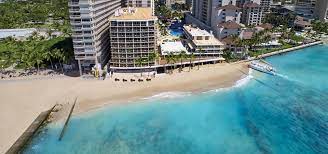 Outrigger Reef Waikiki: Where Hawaiian Hospitality Meets Luxury
Nestled along the pristine shores of world-renowned Waikiki Beach, Outrigger Reef Waikiki is a true gem that embodies the spirit of aloha and offers an unparalleled luxury experience. This oceanfront resort is not just a place to stay; it's a destination where guests can immerse themselves in the rich culture and natural beauty of Hawaii.
As you step into the lobby, you are immediately greeted by warm smiles and genuine hospitality from the staff, who are dedicated to ensuring your stay is nothing short of extraordinary. The resort's commitment to Hawaiian traditions is evident in every detail, from the elegant decor inspired by Polynesian voyaging canoes to the local artwork that adorns the walls.
Outrigger Reef Waikiki boasts a variety of spacious and beautifully appointed accommodations, ranging from cozy guest rooms to luxurious suites with breathtaking ocean views. Each room is thoughtfully designed with modern amenities and traditional Hawaiian touches, providing a comfortable sanctuary for guests after a day of exploring or lounging on the beach.
Speaking of beaches, Outrigger Reef Waikiki has direct access to one of the most iconic stretches of sand in the world. Just steps away from your room, you can sink your toes into soft golden sand and take a dip in crystal-clear turquoise waters. Whether you're looking to catch some waves or simply relax under swaying palm trees, this beachfront haven has it all.
If you're seeking culinary delights, Outrigger Reef Waikiki offers an array of dining options that celebrate Hawaii's vibrant food culture. Indulge in delectable island-inspired cuisine at Kani Ka Pila Grille or enjoy fresh seafood at The Reef Bar & Market Grill. For those craving a tropical cocktail with sunset views, head over to Shore Bird Restaurant & Beach Bar where you can grill your own steak while savoring the panoramic ocean vista.
Beyond the exceptional accommodations and dining experiences, Outrigger Reef Waikiki also provides a range of activities and amenities to enhance your stay. Immerse yourself in Hawaiian culture with daily cultural activities such as lei making or ukulele lessons. Unwind at the poolside cabanas or pamper yourself with a rejuvenating treatment at the resort's full-service spa.
Additionally, Outrigger Reef Waikiki's central location puts you within easy reach of Honolulu's vibrant city life and iconic attractions. Explore the nearby designer boutiques on Kalakaua Avenue or take a short drive to visit Pearl Harbor, Diamond Head State Monument, or the historic downtown district.
At Outrigger Reef Waikiki, you'll experience the perfect blend of Hawaiian hospitality and luxury. From the moment you arrive until your departure, every detail is carefully crafted to ensure a memorable stay that captures the essence of Hawaii. So whether you're seeking relaxation, adventure, or a little bit of both, this beachfront oasis is ready to welcome you with open arms and share its aloha spirit.
Frequently Asked Questions about Outrigger Reef Waikiki Beach Resort
How old is the Outrigger Reef Waikiki Beach Resort?

The Outrigger Reef Waikiki Beach Resort has a rich history that dates back several decades. It was originally built in 1956 and has since undergone renovations and expansions to enhance the guest experience while maintaining its original charm. The resort has continued to evolve over the years, becoming a beloved destination for travelers seeking a luxurious and authentic Hawaiian experience.
Does the Outrigger Reef have an airport shuttle?

Yes, Outrigger Reef Waikiki offers airport shuttle services for the convenience of their guests. The resort provides a reliable and comfortable transportation option to and from Honolulu International Airport. The airport shuttle service ensures a hassle-free start and end to your vacation, allowing you to relax and enjoy the journey to the resort. For more details and to make arrangements for airport transfers, it is recommended to contact the resort directly or check their official website for specific information regarding shuttle schedules, fees, and reservations.
How far is Outrigger Reef Waikiki Beach Resort from airport?

Outrigger Reef Waikiki Beach Resort is conveniently located just 10 miles (16 kilometers) from Honolulu International Airport. Depending on traffic conditions, the travel time between the airport and the resort typically ranges from 20 to 30 minutes by car or shuttle. The resort's proximity to the airport makes it easily accessible for travelers arriving or departing from Honolulu.
Is the Outrigger Reef still under construction?

No, the Outrigger Reef on the Beach in Honolulu, Hawaii was completed in 2015.