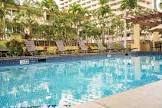 Discover Paradise at Club Wyndham Waikiki
If you're dreaming of a tropical getaway that combines luxury, convenience, and the breathtaking beauty of Hawaii, look no further than Club Wyndham Waikiki. Nestled in the heart of Honolulu's vibrant Waikiki neighborhood, this resort offers an unparalleled vacation experience that will leave you feeling rejuvenated and inspired.
As soon as you step foot into Club Wyndham Waikiki, you'll be greeted by warm hospitality and a welcoming atmosphere. The resort boasts spacious and comfortable accommodations that are designed to make you feel right at home. Whether you choose a studio suite or a larger one- or two-bedroom unit, each room is tastefully decorated with modern furnishings and equipped with all the amenities you need for a relaxing stay.
One of the highlights of Club Wyndham Waikiki is its prime location. Situated just steps away from world-famous Waikiki Beach, guests have easy access to sun-kissed shores and crystal-clear waters. Spend your days lounging on the beach, taking a dip in the ocean, or trying out thrilling water sports such as surfing or snorkeling. And when you're ready for a break from the sand and surf, explore the vibrant streets of Waikiki lined with trendy shops, delicious restaurants, and exciting nightlife options.
Back at the resort, indulge in an array of fantastic amenities. Take a refreshing dip in the outdoor swimming pool while enjoying panoramic views of the city skyline. Stay active at the fitness center or unwind in one of the hot tubs after a long day of exploring. For those seeking relaxation and pampering, there's even an on-site spa where you can treat yourself to rejuvenating treatments.
Club Wyndham Waikiki also offers a variety of activities and events to enhance your vacation experience. From hula lessons to lei-making workshops, immerse yourself in Hawaiian culture right at the resort. The friendly and knowledgeable staff are always on hand to provide recommendations and assist you in making the most of your stay.
Whether you're traveling with family, friends, or enjoying a romantic getaway, Club Wyndham Waikiki has something for everyone. With its unbeatable location, comfortable accommodations, and exceptional amenities, this resort is the perfect base for exploring all that Waikiki and the island of Oahu have to offer.
So why wait? Start planning your dream Hawaiian vacation at Club Wyndham Waikiki today and create memories that will last a lifetime. Paradise awaits!
Frequently Asked Questions About Club Wyndham Waikiki: Address, Cost, Amenities, Nearby Restaurants, Pool, Parking, Pets, Fitness Center & Spa Services
What is the address of Club Wyndham Waikiki?

The address of Club Wyndham Waikiki is:
227 Lewers Street
Honolulu, HI 96815
United States
How much does it cost to stay at Club Wyndham Waikiki?

The cost of staying at Club Wyndham Waikiki can vary depending on several factors such as the time of year, length of stay, and the type of accommodation you choose. It is best to check with the resort directly or visit their official website for the most accurate and up-to-date pricing information. They will be able to provide you with detailed pricing options based on your specific travel dates and preferences.
What amenities are available at Club Wyndham Waikiki?

Club Wyndham Waikiki offers a wide range of amenities to ensure a comfortable and enjoyable stay for its guests. Here are some of the amenities you can expect to find:
Outdoor Swimming Pool: Take a refreshing dip in the resort's outdoor swimming pool while enjoying stunning views of the city skyline.
Fitness Center: Stay active during your vacation at the on-site fitness center, equipped with modern exercise equipment.
Hot Tubs: Unwind and relax in one of the hot tubs after a long day of exploring Waikiki.
Spa Services: Indulge in pampering treatments at the on-site spa, where you can rejuvenate your body and mind.
Activities and Events: Club Wyndham Waikiki offers various activities and events to immerse guests in Hawaiian culture, such as hula lessons and lei-making workshops.
Concierge Services: The friendly and knowledgeable staff are available to assist you with recommendations, reservations, and any other needs during your stay.
Laundry Facilities: On-site laundry facilities are available for guests' convenience.
Wi-Fi Access: Stay connected with complimentary Wi-Fi access throughout the resort.
Parking: The resort offers parking facilities for guests who choose to rent a car during their stay.
24-Hour Front Desk: The front desk is staffed 24/7, ensuring that assistance is always available whenever you need it.
These amenities aim to enhance your experience at Club Wyndham Waikiki, providing convenience, relaxation, and opportunities for exploration throughout your stay.
What restaurants are nearby Club Wyndham Waikiki?

Club Wyndham Waikiki is situated in the heart of Waikiki, a vibrant neighborhood known for its diverse culinary scene. There are numerous restaurants within walking distance of the resort, offering a wide range of cuisines to satisfy every palate. Here are just a few options:
Duke's Waikiki: Located right on the beach, Duke's is a popular spot known for its delicious seafood and Hawaiian-inspired dishes. Enjoy stunning ocean views while savoring their famous fish tacos or fresh poke bowls.
Hula Grill Waikiki: Another beachfront gem, Hula Grill offers a relaxed atmosphere and a menu featuring local ingredients and flavors. From grilled fish to kalua pork, their Hawaiian-inspired cuisine is sure to delight.
Marukame Udon: If you're in the mood for some authentic Japanese udon noodles, Marukame Udon is a must-visit. This casual eatery serves up freshly made udon noodles with your choice of toppings and tempura sides.
Musubi Cafe Iyasume: For a quick and tasty snack, head to Musubi Cafe Iyasume, located just steps away from Club Wyndham Waikiki. They specialize in musubi, a popular Hawaiian snack made with rice and various fillings like Spam or teriyaki chicken.
Heavenly Island Lifestyle: This family-friendly restaurant offers an extensive menu featuring local favorites such as loco moco (rice topped with hamburger patty and egg) and garlic shrimp. Don't forget to try their refreshing tropical beverages!
Sansei Seafood Restaurant & Sushi Bar: If you're craving sushi or seafood, Sansei is a top choice in Waikiki. With its creative sushi rolls and flavorful Asian fusion dishes, this upscale restaurant promises an unforgettable dining experience.
These are just a few examples of the many dining options available near Club Wyndham Waikiki. Whether you're in the mood for Hawaiian cuisine, international flavors, or something in between, you'll find a restaurant to suit your taste within easy reach of the resort.
Is there a pool at Club Wyndham Waikiki?

Yes, Club Wyndham Waikiki does have an outdoor swimming pool. Guests can enjoy a refreshing swim while taking in the stunning views of the city skyline. The pool area provides a relaxing atmosphere where you can unwind and soak up the Hawaiian sunshine. Whether you want to take a leisurely dip or simply lounge by the poolside, this amenity adds to the overall enjoyment of your stay at Club Wyndham Waikiki.
Is parking available at Club Wyndham Waikiki?

Yes, parking is available at Club Wyndham Waikiki. The resort offers both self-parking and valet parking options for guests. Please note that there may be additional fees associated with parking, and availability may vary. It's always a good idea to inquire about parking arrangements when making your reservation or contacting the resort directly for the most up-to-date information.
Are pets allowed at Club Wyndham Waikiki?

Yes, pets are allowed at Club Wyndham Waikiki. The resort understands that pets are an important part of many families and welcomes them to join their owners on vacation. However, it is important to note that there may be certain restrictions and guidelines in place regarding pet size, breed, and behavior. It is recommended to contact the resort directly or visit their website for specific information on their pet policy and any associated fees.
Does Club Wyndham Waikiki have a fitness center or spa services?

Yes, Club Wyndham Waikiki does have a fitness center and spa services. The resort offers a fitness center where guests can stay active and work out during their stay. Additionally, there is an on-site spa where guests can indulge in rejuvenating treatments and relaxation services. Whether you're looking to stay fit or pamper yourself, Club Wyndham Waikiki has you covered with its fitness center and spa amenities.