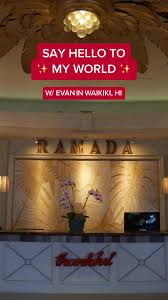 Ramada Waikiki: Your Gateway to Paradise
When it comes to finding the perfect accommodation in Waikiki, look no further than Ramada Waikiki. Nestled in the heart of this iconic Hawaiian destination, Ramada Waikiki offers a comfortable and convenient stay for travelers seeking an unforgettable experience.
Location is key, and Ramada Waikiki delivers. Situated just steps away from the world-famous Waikiki Beach, guests can easily access the crystal-clear waters and pristine sandy shores that have made Hawaii a dream destination for millions. Imagine waking up to the sound of gentle waves crashing against the shore and feeling the warm Hawaiian sun on your skin as you step out onto your private lanai.
The hotel itself boasts a range of amenities designed to make your stay as enjoyable as possible. The spacious and well-appointed rooms provide a peaceful retreat after a day of exploring all that Waikiki has to offer. Whether you choose a standard room or opt for one of their suites, you can expect modern comforts such as flat-screen TVs, complimentary Wi-Fi, and plush bedding.
For those looking to relax and unwind, Ramada Waikiki offers an inviting outdoor pool area where you can soak up some sun or take a refreshing dip. Stay active during your stay by utilizing their fitness center equipped with state-of-the-art equipment. If you're in need of some pampering, there's even an on-site spa where you can indulge in rejuvenating treatments.
One of the highlights of staying at Ramada Waikiki is its proximity to renowned attractions. Immerse yourself in Hawaiian history and culture at the nearby Honolulu Museum of Art or embark on an adventure to Diamond Head State Monument for breathtaking views of Oahu's coastline.
When it comes to dining options, guests are spoiled for choice. Within walking distance from the hotel, you'll find an array of restaurants offering both local delicacies and international cuisine. Savor fresh seafood, traditional Hawaiian dishes, or indulge in flavors from around the world – the choice is yours.
At Ramada Waikiki, exceptional service is a top priority. The friendly and knowledgeable staff are always on hand to assist with any inquiries or recommendations to ensure that your stay exceeds expectations.
So whether you're seeking a romantic getaway, a family vacation, or an adventure-filled trip with friends, Ramada Waikiki provides the perfect base for your Hawaiian escape. Experience the beauty of Waikiki and create memories that will last a lifetime at this welcoming and conveniently located hotel.
Frequently Asked Questions about Ramada Waikiki: What is Ramada known for? How much is parking at Ramada Waikiki? How far is Ramada Waikiki from the beach?
What is Ramada known for?

Ramada is known for being a reputable hotel brand that offers comfortable accommodations and excellent service to travelers worldwide. With a presence in over 60 countries, Ramada is recognized for its commitment to providing quality stays and memorable experiences.
Some key aspects that Ramada is known for include:
Comfortable Rooms: Ramada hotels offer well-appointed rooms designed with guest comfort in mind. From cozy standard rooms to spacious suites, guests can expect amenities such as comfortable bedding, modern furnishings, and convenient in-room facilities.
Convenient Locations: Ramada hotels are strategically located in popular destinations, making them easily accessible to travelers. Whether it's in bustling city centers or near major attractions, Ramada ensures that guests have convenient access to the places they want to explore.
Exceptional Service: The staff at Ramada hotels are known for their friendly and attentive service. From check-in to check-out, guests can expect warm hospitality and assistance with any inquiries or needs they may have during their stay.
Amenities and Facilities: Ramada properties often feature a range of amenities and facilities designed to enhance the guest experience. This may include fitness centers, swimming pools, on-site dining options, business centers, spa services, and more.
Value for Money: Ramada strives to provide affordable accommodations without compromising on quality or comfort. Guests appreciate the value they receive when staying at a Ramada hotel.
Overall, Ramada has built a reputation as a reliable hotel brand that offers a consistent level of quality across its properties worldwide. Whether for business or leisure travel, guests can trust in the Ramada name for a comfortable stay backed by excellent service.
How much is parking at Ramada Waikiki?

The parking rates at Ramada Waikiki may vary, and it's best to contact the hotel directly for the most accurate and up-to-date information regarding parking fees. The hotel staff will be able to provide you with specific details about parking options, including any associated costs.
How far is Ramada Waikiki from the beach?

Ramada Waikiki is conveniently located just steps away from the world-famous Waikiki Beach. Guests can easily access the sandy shores and crystal-clear waters within a short walking distance from the hotel.