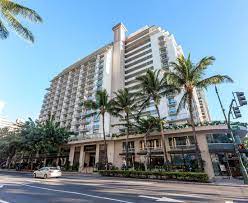 Ohana Waikiki West: Your Gateway to the Vibrant Heart of Waikiki
Located in the heart of Waikiki, Ohana Waikiki West is a premier hotel that offers a perfect blend of comfort, convenience, and Hawaiian hospitality. Whether you're traveling for business or pleasure, this hotel provides an ideal base for exploring all that Waikiki has to offer.
Upon entering Ohana Waikiki West, guests are greeted by a warm and inviting atmosphere. The hotel's friendly staff is dedicated to ensuring each guest has a memorable stay, going above and beyond to cater to their needs. From check-in to check-out, you can expect exceptional service that reflects the true spirit of aloha.
The accommodations at Ohana Waikiki West are designed with both comfort and style in mind. The spacious rooms are tastefully furnished and feature modern amenities such as flat-screen TVs, high-speed internet access, and cozy beds that guarantee a restful night's sleep after a day of adventure. Many rooms also offer stunning views of the Pacific Ocean or the vibrant cityscape of Waikiki.
One of the standout features of Ohana Waikiki West is its convenient location. Situated just steps away from world-renowned shopping destinations like the Royal Hawaiian Center and International Market Place, guests have easy access to an array of retail therapy options. Additionally, numerous dining establishments serving both local Hawaiian cuisine and international fare can be found within walking distance, satisfying every palate.
For those seeking sun-soaked relaxation or thrilling water activities, Ohana Waikiki West is just a short stroll away from the iconic Waikiki Beach. Spend your days basking in the warm Hawaiian sun or take part in exciting water sports such as surfing or paddleboarding. The hotel also provides beach towels and chairs for guests' convenience.
After a day filled with exploration and adventure, unwind at one of Ohana Waikiki West's fantastic amenities. Take a refreshing dip in the outdoor pool or soak in the bubbling hot tub while enjoying panoramic views of Waikiki. Stay active at the fitness center, equipped with state-of-the-art exercise equipment, or simply relax on the sundeck and soak up the tropical ambiance.
Ohana Waikiki West understands the importance of family, and their commitment to creating a welcoming environment for all is reflected in their name. In Hawaiian culture, "ohana" means family, and this hotel embraces this concept by offering spacious accommodations that can comfortably accommodate families of all sizes.
Whether you're traveling with loved ones, friends, or flying solo, Ohana Waikiki West is dedicated to ensuring that your stay is nothing short of exceptional. From its prime location to its warm hospitality and comfortable accommodations, this hotel truly captures the essence of Hawaii's aloha spirit. Experience the vibrant heart of Waikiki at Ohana Waikiki West and create memories that will last a lifetime.
Frequently Asked Questions about Ohana Waikiki West: Amenities, Beach Proximity, Nearby Restaurants, Check-in/out Times, Pool & Fitness Center, and Parking Availability
What amenities does Ohana Waikiki West offer?

Ohana Waikiki West offers a range of amenities to enhance the comfort and convenience of its guests. Some of the key amenities provided by the hotel include:
Outdoor Pool: Take a refreshing dip in the hotel's outdoor pool, perfect for cooling off after a day of exploring Waikiki.
Hot Tub: Relax and unwind in the bubbling hot tub while enjoying panoramic views of Waikiki.
Fitness Center: Stay active during your stay at the hotel's fitness center, which is equipped with modern exercise equipment.
Sundeck: Soak up the tropical ambiance on the sundeck, where you can relax and enjoy the warm Hawaiian sun.
On-Site Dining: Ohana Waikiki West features an on-site restaurant where guests can enjoy delicious meals without having to venture far from their accommodations.
High-Speed Internet Access: Stay connected with complimentary high-speed internet access available throughout the hotel.
Concierge Services: The hotel's friendly and knowledgeable concierge staff is available to assist guests with any inquiries or requests, helping to make their stay as smooth as possible.
Laundry Facilities: For added convenience, Ohana Waikiki West provides on-site laundry facilities so guests can easily take care of their laundry needs during their stay.
Parking: The hotel offers parking facilities for guests who choose to rent a car during their visit to Waikiki.
Beach Towels and Chairs: Guests can borrow beach towels and chairs from the hotel, making it easy to enjoy a day at nearby Waikiki Beach without worrying about bringing their own equipment.
These amenities are designed to ensure that guests have a comfortable and enjoyable stay at Ohana Waikiki West, providing everything they need for a memorable Hawaiian vacation experience.
How close is Ohana Waikiki West to the beach?

Ohana Waikiki West is conveniently located just a short walk away from the beautiful Waikiki Beach. Guests can easily access the beach within a few minutes, allowing for quick and convenient access to the sun, sand, and surf. Whether you're looking to relax on the shoreline or engage in thrilling water activities, Ohana Waikiki West's proximity to the beach ensures that you can make the most of your time in Waikiki.
Are there any restaurants nearby Ohana Waikiki West?

Absolutely! Ohana Waikiki West is surrounded by a variety of dining options to suit every taste and craving. Here are just a few restaurants that are located within walking distance of the hotel:
Duke's Waikiki: A legendary beachfront restaurant known for its delicious seafood, tropical cocktails, and live Hawaiian music. Enjoy the stunning ocean views while indulging in their famous Hula Pie dessert.
Marukame Udon: A popular spot for udon lovers, Marukame Udon offers freshly made udon noodles served in flavorful broths with a variety of toppings. Don't miss their tempura selection for a tasty side dish.
Tiki's Grill & Bar: Situated on the second floor of the Aston Waikiki Beach Hotel, Tiki's Grill & Bar offers a fusion of Hawaiian and Pacific Rim cuisine. Enjoy their signature pupus (appetizers) and tropical cocktails while taking in breathtaking sunset views.
Eggs 'n Things: A favorite breakfast spot among locals and visitors alike, Eggs 'n Things serves up hearty dishes such as omelettes, pancakes, and loco moco (a traditional Hawaiian dish). Be prepared for a wait, as this place is always bustling.
Hula Grill Waikiki: Located at the Outrigger Waikiki Beach Resort, Hula Grill serves up Pacific Rim cuisine with a focus on fresh seafood and local ingredients. Enjoy their open-air dining experience with live music and ocean views.
These are just a few examples of the many dining options available near Ohana Waikiki West. Whether you're craving local Hawaiian cuisine, international flavors, or something in between, you'll find an abundance of choices within easy reach of the hotel. The friendly staff at Ohana Waikiki West will be more than happy to provide recommendations based on your preferences and assist with reservations if needed.
What are the check-in and check-out times at Ohana Waikiki West?

At Ohana Waikiki West, the standard check-in time is 3:00 PM, and check-out time is 12:00 PM (noon). These timings allow our dedicated staff to ensure that each room is properly cleaned and prepared for the arrival of new guests. However, if you have any specific requests regarding early check-in or late check-out, we encourage you to contact our front desk in advance. While we cannot guarantee availability, we will do our best to accommodate your needs whenever possible.
Does Ohana Waikiki West have a pool or fitness center?

Yes, Ohana Waikiki West does have both a pool and a fitness center. The hotel features an outdoor pool where guests can take a refreshing swim or simply relax on the sundeck while enjoying the tropical ambiance. Additionally, there is a fitness center equipped with state-of-the-art exercise equipment for those who wish to stay active during their stay.
Is there parking available at Ohana Waikiki West?

Yes, parking is available at Ohana Waikiki West. The hotel offers both self-parking and valet parking options for guests. Whether you prefer the convenience of valet service or the flexibility of self-parking, you can rest assured knowing that your vehicle will be safely accommodated during your stay. Please note that parking fees may apply and are subject to change. It's always a good idea to check with the hotel directly for the most up-to-date information regarding parking availability and rates.