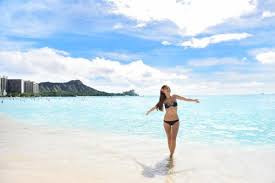 Located just a few blocks from the iconic Waikiki Beach, the Hilton Garden Inn Waikiki Beach is a perfect choice for travelers looking for a comfortable and convenient stay in Honolulu. This modern hotel offers a range of amenities and services that cater to both business and leisure travelers.
The hotel features 623 rooms and suites, each with contemporary decor and comfortable furnishings. All rooms come equipped with modern amenities such as flat-screen TVs, mini-fridges, microwaves, coffee makers, and free Wi-Fi. Guests can choose from different room types depending on their needs, including standard rooms with king or double beds, suites with separate living areas, and rooms with ocean views.
The Hilton Garden Inn Waikiki Beach offers several dining options for guests to choose from. The Garden Grille & Bar serves breakfast, lunch, and dinner daily featuring American cuisine with a Hawaiian twist. The Pavilion Pantry is open 24/7 for those who want to grab a quick snack or drink on the go.
For guests who want to stay active during their stay, the hotel has a fitness center equipped with cardio equipment and free weights. There is also an outdoor pool where guests can relax and soak up the sun while enjoying stunning views of Diamond Head.
Business travelers will appreciate the hotel's business center which offers printing, copying, faxing services as well as meeting spaces that can accommodate up to 100 people. The hotel's central location also makes it easy to access many of Honolulu's business districts.
One of the best things about staying at the Hilton Garden Inn Waikiki Beach is its proximity to some of Hawaii's top attractions. Guests can easily walk to Waikiki Beach where they can enjoy swimming or surfing in crystal clear waters or take a stroll along the beachfront promenade lined with shops and restaurants. Other nearby attractions include Diamond Head State Monument which offers panoramic views of Honolulu from its summit and Pearl Harbor which is home to the USS Arizona Memorial and other historic sites.
Overall, the Hilton Garden Inn Waikiki Beach is a great choice for travelers looking for a comfortable stay in a convenient location. With its modern amenities, excellent dining options, and proximity to top attractions, it's easy to see why this hotel is a popular choice among visitors to Honolulu.
Frequently Asked Questions about Hilton Garden Inn Waikiki Beach and Hilton Hawaiian Village
How far is Hilton Waikiki Beach from the beach?

Hilton Waikiki Beach is located just a short walk from the beach. The hotel is situated only two blocks away from Waikiki Beach, which is one of the most famous and popular beaches in Hawaii. It takes about 5-10 minutes to walk from the hotel to the beach, depending on your walking speed and which part of the beach you want to access. The hotel's convenient location makes it easy for guests to enjoy all that Waikiki Beach has to offer, including swimming, surfing, sunbathing, and strolling along the boardwalk.
How much is a night at Hilton Hawaiian Village?

The cost of a night at Hilton Hawaiian Village in Honolulu, Hawaii can vary depending on the time of year, room type, and availability. As of September 2021, the starting price for a standard room at Hilton Hawaiian Village is around $219 per night. However, prices can increase significantly during peak travel seasons such as summer and holidays. Additionally, prices may vary based on factors such as room size or view, number of guests, and any additional amenities or services that may be included in the booking. It's always best to check with the hotel directly or through a booking website to get an accurate and up-to-date quote for your desired dates of stay.
Does Hilton Hawaiian Village have free breakfast?

The Hilton Hawaiian Village in Waikiki does not offer free breakfast to its guests. However, there are several dining options available on the property where guests can purchase breakfast. The hotel offers a range of restaurants and cafes serving breakfast, including Rainbow Lanai, which offers a buffet-style breakfast with an ocean view; Tropics Bar & Grill, which serves a la carte breakfast items; and Starbucks, which is located on the property and serves coffee and light breakfast options. Guests can also choose to dine at one of the many restaurants located in nearby Waikiki.
How much is resort fee at Hilton Garden Inn Hawaii?

The Hilton Garden Inn Waikiki Beach in Hawaii charges a daily resort fee of $25 plus tax per room, per night. This fee covers amenities such as Wi-Fi access, beach towels and chairs, fitness center access, and local and toll-free calls. Please note that resort fees are subject to change, so it's best to check with the hotel directly for the most up-to-date information.