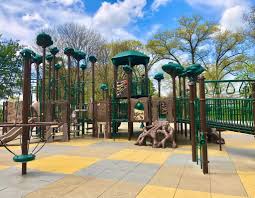 Parks are a great way to get outside and enjoy nature. They provide a place for people to relax and have fun, while also providing a safe environment for children to play. Parks are often used as a social gathering place, where people can come together to have picnics, play sports or just hang out with friends.
Parks can also provide educational opportunities for children. Many parks have educational programs such as nature walks or bird watching that teach kids about the environment and wildlife. This can be especially beneficial in urban areas, where children may not otherwise have access to nature.
Parks also provide recreational activities such as playgrounds, walking trails, bike paths and swimming pools. These activities help keep people active and healthy, while also providing an enjoyable way to spend time outdoors. Parks are often used as a form of stress relief from the hustle and bustle of everyday life, providing an escape from the noise and pollution of city life.
In addition to recreation and education, parks are also important for conservation efforts. They provide habitats for wildlife and help protect natural resources from overuse or destruction. Parks also help reduce air pollution by acting as a buffer between urban areas and rural areas, allowing air to circulate more freely between them.
Overall, parks are an important part of any community for both recreational and conservation purposes. They provide a safe place for people to gather and enjoy the outdoors while helping protect the environment at the same time.
These are the 6 most frequently asked questions about parks.
What activities are available in the park?

Activities available in the park vary depending on the park, but some common activities include walking/hiking trails, playgrounds, picnic areas, biking trails, fishing, boating, swimming, bird watching, camping and disc golf.
Is there a fee to enter the park?

No, entry to the park is free.
Are there any playgrounds in the park?

Yes, the park has two playgrounds.
Can I bring my pet to the park?

No, pets are not allowed in any national park.
Are there picnic tables in the park?

Yes, there are picnic tables in the park.
Is there a restroom at the park?

Yes, there are restrooms at the park.