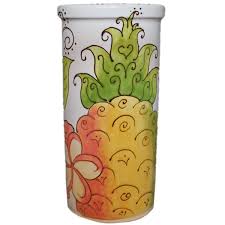 The Sugarloaf pineapple is a unique variety of pineapple that has been cultivated in Brazil since the 19th century. It is one of the most popular and sought-after pineapples in the world, and it is renowned for its sweet taste, juicy texture, and distinct shape.
The Sugarloaf pineapple is a large, cylindrical fruit that can measure up to 12 inches in length and weigh up to 5 pounds. Its skin is yellow-orange in color with a waxy sheen, while its flesh is white with a yellow tinge. The flavor of the Sugarloaf pineapple is sweet with hints of citrus and honey.
The Sugarloaf pineapple has been grown in Brazil since the 19th century, but it was not until recently that it began to gain popularity outside of its native country. This unique variety of pineapple can now be found in grocery stores around the world as well as on menus at some of the finest restaurants.
The Sugarloaf pineapple is an excellent source of vitamin C and other essential nutrients such as potassium and magnesium. It also contains bromelain, an enzyme that has anti-inflammatory properties and can help reduce swelling and inflammation in the body. Bromelain also aids digestion by breaking down proteins into smaller particles that are easier for the body to absorb.
When shopping for a Sugarloaf pineapple, look for one that has a sweet aroma and firm flesh. Avoid any pineapples that have soft spots or discoloration as this indicates they are overripe or have gone bad. The best way to store this variety of pineapple is at room temperature for up to five days or refrigerated for up to two weeks.
The unique flavor and texture make the Sugarloaf pineapple an ideal addition to salads, smoothies, salsas, desserts, cocktails, and more! It can also be grilled or baked with savory dishes such as chicken or pork for an extra burst of flavor. No matter how you choose to enjoy it, you'll be sure to appreciate this delicious tropical treat!
Here are the 6 most commonly asked questions about sugarloaf pineapple.
Where does sugarloaf pineapple come from?

Sugarloaf pineapple is a variety of pineapple that is grown in tropical and subtropical climates, primarily in Latin America, the Caribbean, and parts of Asia. It is most commonly grown in Brazil, Colombia, Ecuador, Guatemala, Mexico, Costa Rica, and parts of the Philippines.
How do you pick a ripe sugarloaf pineapple?

Look for a pineapple with a golden-yellow color. The green leaves should be fresh and green, not brown or wilted.
Gently squeeze the pineapple; it should be firm but yield slightly to pressure.
Smell the pineapple; it should have a sweet, tropical aroma.
Lift the pineapple; it should be heavy for its size.
What is the nutritional value of sugarloaf pineapple?

The nutritional value of sugarloaf pineapple per 100g is:
Calories: 56
Fat: 0.2g
Carbohydrates: 13.7g
Fiber: 1.4g
Protein: 0.5g
Vitamin C: 28mg
Calcium: 11mg
Iron: 0.2mg
How do you store sugarloaf pineapple?

Sugarloaf pineapple should be stored in the refrigerator, either in the crisper drawer or on a shelf. It should be used within a few days of purchase.
What is the best way to prepare sugarloaf pineapple?

The best way to prepare sugarloaf pineapple is to cut it into cubes and serve it fresh. You can also grill or roast it, or use it in recipes such as pineapple upside-down cake, pineapple salsa, or a tropical fruit salad.
Are there any health benefits of eating sugarloaf pineapple?

Yes, there are many potential health benefits associated with eating sugarloaf pineapple. These include improved digestion, increased immunity, reduced inflammation, improved heart health, and protection against certain diseases. Additionally, sugarloaf pineapple is an excellent source of vitamins and minerals such as vitamin C, manganese, and copper.