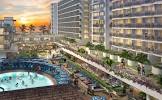 Outrigger Reef Waikiki Beach: A Tropical Paradise in the Heart of Waikiki
Nestled along the picturesque shores of Waikiki Beach, Outrigger Reef Waikiki Beach stands as a luxurious haven for travelers seeking an unforgettable Hawaiian experience. With its prime location, stunning ocean views, and warm hospitality, this resort offers a true taste of paradise.
As you step into the lobby of Outrigger Reef Waikiki Beach, you are immediately greeted by the soothing sound of live Hawaiian music and the fragrant aroma of tropical flowers. The atmosphere exudes a sense of tranquility and relaxation, setting the tone for your stay.
The resort boasts an array of beautifully appointed rooms and suites that offer modern comforts while embracing the spirit of Hawaii. Each accommodation is designed with a blend of contemporary style and traditional Hawaiian elements, creating a harmonious balance between comfort and cultural immersion. Whether you choose a room with an ocean view or a suite with private lanai, you will wake up to breathtaking vistas that will take your breath away.
One of the highlights of Outrigger Reef Waikiki Beach is its direct access to one of Hawaii's most iconic beaches. Step outside and feel the soft sand beneath your toes as you bask in the warm sun or take a refreshing dip in the crystal-clear waters. For those seeking adventure, there are plenty of water activities available, such as surfing lessons, paddleboarding, or even catamaran rides along the coast.
Indulge your taste buds at one of the resort's exceptional dining options. From casual beachside eateries to upscale restaurants showcasing local flavors, there is something to satisfy every palate. Experience traditional Hawaiian cuisine infused with global influences or savor fresh seafood caught right from the surrounding waters.
For those looking to unwind and rejuvenate their senses, Outrigger Reef Waikiki Beach offers an oasis-like spa where skilled therapists provide personalized treatments inspired by ancient Hawaiian healing traditions. Pamper yourself with a relaxing massage or indulge in a rejuvenating facial, all while listening to the soothing sounds of the ocean waves.
Beyond the resort, you'll find an abundance of attractions and activities within walking distance. Explore the vibrant streets of Waikiki, known for its world-class shopping, dining, and entertainment options. Immerse yourself in Hawaiian culture by attending a traditional luau or visiting nearby historical landmarks such as Pearl Harbor.
At Outrigger Reef Waikiki Beach, your every need is anticipated and catered to with genuine aloha spirit. The attentive staff is always ready to assist you in creating unforgettable memories during your stay. Whether you're seeking relaxation, adventure, or a mix of both, this tropical paradise offers it all.
So why wait? Book your stay at Outrigger Reef Waikiki Beach and embark on an extraordinary journey filled with sun-kissed beaches, cultural discoveries, and endless moments of bliss. Experience the true essence of Hawaii at this remarkable resort that captures the spirit of aloha like no other.
Frequently Asked Questions about Outrigger Reef Waikiki Beach Resort
Does the Outrigger Reef have an airport shuttle?

Yes, Outrigger Reef Waikiki Beach offers an airport shuttle service for the convenience of its guests. The shuttle service provides transportation to and from Honolulu International Airport, making your arrival and departure hassle-free. This service allows you to relax and enjoy the scenic drive to the resort without having to worry about arranging transportation on your own. To ensure a smooth travel experience, it is recommended to inquire about the shuttle service when making your reservation or contact the resort directly for more information regarding schedules and fees.
Is the Outrigger Reef still under construction?

No, the Outrigger Reef was completed in 2018.
How far is Outrigger Reef Waikiki Beach Resort from airport?

Outrigger Reef Waikiki Beach Resort is conveniently located just 10 miles (approximately 16 kilometers) from Honolulu International Airport. Depending on traffic conditions, the drive from the airport to the resort typically takes around 20-30 minutes. Transportation options include taxis, rideshare services, airport shuttles, or rental cars. The resort's central location in Waikiki makes it easily accessible for travelers arriving at the airport.
How old is the Outrigger Reef Waikiki Beach Resort?

The Outrigger Reef Waikiki Beach Resort has a rich history and has been welcoming guests for over 60 years. It first opened its doors in 1956 and has since become an iconic landmark in Waikiki, offering a blend of traditional Hawaiian hospitality and modern luxury. Over the years, the resort has undergone renovations and updates to ensure that it continues to provide an exceptional experience for its guests while preserving its unique charm.