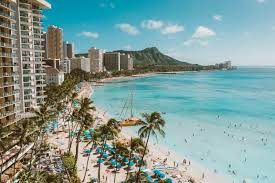 Discover the Top Tourist Attractions in Hawaii
Hawaii, with its stunning natural beauty and vibrant culture, is a dream destination for travelers from all over the world. From pristine beaches to majestic volcanoes, this tropical paradise offers a plethora of attractions that cater to every taste. Whether you're seeking adventure, relaxation, or cultural immersion, here are some of the top tourist attractions in Hawaii that you won't want to miss.
Waikiki Beach: Located on the island of Oahu, Waikiki Beach is synonymous with paradise. With its golden sands and crystal-clear waters, it's no wonder this iconic beach attracts millions of visitors each year. Whether you want to sunbathe, surf, or simply take in the breathtaking views of Diamond Head crater, Waikiki Beach offers something for everyone.
Haleakala National Park: Situated on the island of Maui, Haleakala National Park is home to one of the world's largest dormant volcanoes. Witnessing the sunrise from atop Haleakala is an unforgettable experience that will leave you in awe. The park also offers numerous hiking trails where you can explore unique landscapes and encounter rare flora and fauna.
Pearl Harbor: A visit to Hawaii wouldn't be complete without paying homage to its historical significance. Pearl Harbor on Oahu is a must-visit destination for history enthusiasts. Explore the USS Arizona Memorial and learn about the events that unfolded during World War II. The exhibits and museums provide a poignant reminder of the sacrifices made by those who served.
Na Pali Coast: Located on Kauai's northwestern shore, Na Pali Coast is a breathtaking stretch of coastline known for its dramatic cliffs and lush valleys. Take a boat tour or embark on a challenging hike along the Kalalau Trail to truly appreciate this natural wonderland.
Volcanoes National Park: On Hawaii Island (also known as the Big Island), Volcanoes National Park showcases the power and beauty of nature. Witness the active Kilauea volcano as it spews lava into the ocean, creating new land right before your eyes. Explore lava tubes, hike through lush rainforests, and marvel at the unique flora and fauna that thrive in this volcanic environment.
Road to Hana: The Road to Hana on Maui is a scenic drive that winds through lush rainforests, past cascading waterfalls, and along rugged coastline. With over 600 hairpin turns and numerous stops to explore hidden gems, this journey is an adventure in itself.
Polynesian Cultural Center: Immerse yourself in the rich cultural heritage of Polynesia at the Polynesian Cultural Center on Oahu. Experience traditional dances, learn about ancient customs, and savor authentic island cuisine as you journey through different Polynesian villages.
Waimea Canyon: Often referred to as the "Grand Canyon of the Pacific," Waimea Canyon on Kauai offers awe-inspiring panoramic views of deep gorges, vibrant red cliffs, and cascading waterfalls. Hike along its trails or take a scenic drive to witness nature's masterpiece.
These are just a few of the top tourist attractions that Hawaii has to offer. Each island boasts its own unique charm and natural wonders waiting to be explored. Whether you're seeking adventure or relaxation, Hawaii promises an unforgettable experience that will leave you longing to return again and again.
Frequently Asked Questions: Top Tourist Attractions in Hawaii
What is the number 3 attraction in Hawaii?

The number 3 attraction in Hawaii is Pearl Harbor.
Which Hawaiian island has the most tourist attractions?

Each Hawaiian island offers its own unique set of tourist attractions, making it difficult to determine which island has the most. However, Oahu is often considered the most popular and busiest island in terms of tourist attractions. Oahu is home to the state capital, Honolulu, and boasts a diverse range of attractions such as Waikiki Beach, Pearl Harbor, Diamond Head crater, and the Polynesian Cultural Center. It also offers a vibrant nightlife, shopping districts, and a variety of dining options. That being said, all the Hawaiian islands have their own charm and plenty of attractions to explore, so it ultimately depends on your personal preferences and interests.
Where should I go for my first time in Hawaii?

For your first time in Hawaii, it's recommended to start with the island of Oahu. Oahu offers a perfect blend of stunning beaches, rich history, vibrant culture, and diverse activities that cater to all interests. Here are some must-visit places on the island:
Waikiki Beach: Begin your Hawaiian adventure by soaking up the sun and enjoying the beautiful beach vibes at Waikiki. This iconic stretch of sand is known for its crystal-clear waters, great surf spots, and a lively atmosphere.
Pearl Harbor: Pay a visit to Pearl Harbor to learn about the historical significance of this place. Explore the USS Arizona Memorial and other exhibits that commemorate the events of World War II.
Diamond Head: Embark on a hike up Diamond Head crater for breathtaking views of Honolulu and its coastline. This moderate hike rewards you with panoramic vistas that are truly worth the effort.
North Shore: Head to Oahu's North Shore for world-class surfing competitions during winter months (November to February). Even if you're not catching waves yourself, watching professional surfers take on massive swells is an exhilarating experience.
Polynesian Cultural Center: Immerse yourself in Polynesian culture at this interactive center where you can witness traditional dances, try local food, and learn about the customs and traditions of different Pacific Island nations.
Hanauma Bay: Snorkel in the pristine waters of Hanauma Bay Nature Preserve, home to a vibrant coral reef teeming with tropical fish. It's an excellent spot for both beginners and experienced snorkelers alike.
Iolani Palace: Explore Hawaii's royal history by visiting Iolani Palace, the only royal palace in the United States. Take a guided tour through this beautifully restored building and gain insight into Hawaii's monarchy.
Lanikai Beach: Venture outside of Waikiki and discover Lanikai Beach, known for its powdery white sand and turquoise waters. Relax on the beach, go for a swim, or kayak to the nearby Mokulua Islands for a memorable adventure.
Remember that each Hawaiian island has its own unique charm, so if time permits, consider exploring other islands such as Maui, Kauai, or Hawaii Island (also known as the Big Island) on future trips. But for your first visit to Hawaii, Oahu is an excellent starting point to experience the best of what the islands have to offer.
What is the number 1 attraction in Hawaii?

While it's subjective and can vary depending on personal preferences, one of the most iconic and popular attractions in Hawaii is Waikiki Beach. Located on the island of Oahu, Waikiki Beach is renowned for its picturesque setting, golden sands, and crystal-clear waters. It offers a range of activities such as swimming, sunbathing, surfing, and enjoying breathtaking views of Diamond Head crater. The vibrant atmosphere, bustling nightlife, and proximity to shops and restaurants further contribute to its appeal. As a result, Waikiki Beach consistently ranks among the top attractions in Hawaii for visitors from around the world.