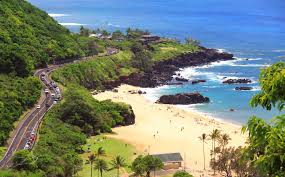 Hawaii Tourist Attractions: Discover the Aloha Spirit in Paradise
Hawaii, with its stunning landscapes, warm tropical climate, and rich cultural heritage, has long been a dream destination for travelers from all over the world. From pristine beaches to lush rainforests and majestic volcanoes, this archipelago offers an abundance of natural wonders that will leave you in awe. But beyond its breathtaking beauty, Hawaii is also known for its unique blend of cultures and the famous Aloha spirit that welcomes visitors with open arms. Let's explore some of Hawaii's top tourist attractions that capture the essence of this enchanting paradise.
Waikiki Beach: Located on the island of Oahu, Waikiki Beach is an iconic destination known for its golden sands and crystal-clear waters. This vibrant beachfront neighborhood offers a wide range of activities such as surfing lessons, beachside dining, and shopping along Kalakaua Avenue.
Pearl Harbor: A visit to Hawaii wouldn't be complete without paying homage to the historic site of Pearl Harbor on Oahu. Explore the USS Arizona Memorial and learn about the events that shaped American history during World War II.
Haleakala National Park: On the island of Maui, Haleakala National Park is home to Maui's highest peak and one of the world's largest dormant volcanoes. Witness the breathtaking sunrise or sunset from atop Haleakala Crater for a truly unforgettable experience.
Volcanoes National Park: The Big Island of Hawaii boasts Volcanoes National Park, where you can witness firsthand the power and beauty of active volcanoes like Kilauea. Hike through lava fields, explore volcanic craters, and marvel at nature's raw energy.
Na Pali Coast: Located on Kauai's northwestern shore, Na Pali Coast is a mesmerizing stretch of rugged cliffs and emerald valleys that can only be accessed by boat, helicopter, or hiking. Prepare to be captivated by this pristine coastline's dramatic beauty.
Road to Hana: The Road to Hana on Maui is a scenic drive that winds through lush rainforests, cascading waterfalls, and breathtaking coastal vistas. Take your time exploring the many stops along the way, including the famous Seven Sacred Pools at Ohe'o Gulch.
Waimea Canyon: Often referred to as the "Grand Canyon of the Pacific," Waimea Canyon on Kauai offers panoramic views of deep red cliffs and vibrant green valleys. Hike or drive along the canyon rim for awe-inspiring vistas that will take your breath away.
Polynesian Cultural Center: Immerse yourself in Polynesian culture at the Polynesian Cultural Center on Oahu. Experience traditional dances, music, and crafts from Hawaii and other Pacific Island nations while gaining a deeper understanding of their rich heritage.
Lanikai Beach: Nestled on Oahu's windward coast, Lanikai Beach is renowned for its powdery white sand and turquoise waters. Snorkel in the calm bay or simply relax under swaying palm trees for a quintessential Hawaiian beach experience.
Iolani Palace: Visit Iolani Palace in downtown Honolulu, the only royal palace in the United States. Take a guided tour through this beautifully restored historic landmark and learn about Hawaii's monarchy and its fascinating history.
These are just a few of Hawaii's many captivating tourist attractions that showcase its natural beauty, cultural heritage, and warm hospitality. Whether you're seeking adventure, relaxation, or cultural immersion, Hawaii offers something for every traveler. So pack your bags and get ready to experience the magic of this tropical paradise where Aloha awaits you at every turn.
Frequently Asked Questions about Hawaii Tourist Attractions
What is the number 3 attraction in Hawaii?

The number 3 attraction in Hawaii is Haleakala National Park, located on the island of Maui. This stunning national park is home to Haleakala Crater, one of the world's largest dormant volcanoes. Visitors can witness breathtaking sunrises or sunsets from the summit, explore unique landscapes, and embark on hiking trails that traverse through lush forests and volcanic terrain. Haleakala National Park offers a truly unforgettable experience, showcasing the natural beauty and diverse ecosystems that make Hawaii such a remarkable destination.
What is the number 1 attraction in Hawaii?

While opinions may vary, one of the most renowned and highly regarded attractions in Hawaii is the Pearl Harbor National Memorial on the island of Oahu. This historic site commemorates the events of December 7, 1941, when the Japanese attacked the U.S. naval base at Pearl Harbor, leading to America's entry into World War II.
The centerpiece of the memorial is the USS Arizona Memorial, built over the sunken battleship USS Arizona. Visitors can take a boat tour to reach this solemn monument and pay tribute to the 1,177 crew members who lost their lives during the attack. The memorial also includes informative exhibits and a documentary film that provide deeper insights into this pivotal moment in history.
Pearl Harbor holds immense significance for both Americans and international visitors alike, as it serves as a reminder of sacrifice, resilience, and unity. It offers a powerful experience that honors those who lost their lives while educating visitors about this critical chapter in world history.
What part of Hawaii is best for first time visitors?

For first-time visitors to Hawaii, the island of Oahu is often considered the best starting point. Oahu offers a perfect blend of natural beauty, cultural experiences, and modern amenities, making it an ideal introduction to the Hawaiian Islands. Here are a few reasons why Oahu is a great choice for first-time visitors:
Honolulu and Waikiki: As the capital city of Hawaii, Honolulu offers a bustling urban experience with a vibrant mix of cultures. Waikiki, located in Honolulu, is famous for its beautiful beach and iconic Diamond Head backdrop. It provides easy access to shopping, dining, nightlife, and a variety of water activities.
Pearl Harbor: Oahu is home to Pearl Harbor, a historic site that played a significant role in World War II. Visitors can pay their respects at the USS Arizona Memorial and explore the interactive exhibits at the Pearl Harbor Visitor Center.
Diverse Landscapes: Despite being one of the smaller islands in terms of land area, Oahu boasts diverse landscapes. From stunning beaches like Lanikai and Kailua to lush rainforests in Manoa Valley or Tantalus, there's something for everyone's taste.
Cultural Experiences: Oahu offers numerous opportunities to immerse yourself in Hawaiian culture. Visit sites like Iolani Palace or Bishop Museum to learn about Hawaii's history and monarchy. Attend a traditional luau where you can enjoy hula dancing and indulge in local cuisine.
Outdoor Activities: Adventure enthusiasts will find plenty to do on Oahu. Hike up Diamond Head for panoramic views of Waikiki or explore the beautiful trails in Manoa Falls or Koko Crater Botanical Garden. Surfing lessons are also popular among visitors looking to catch some waves.
Accessibility: With an international airport located in Honolulu, getting to Oahu is relatively convenient compared to other islands in Hawaii. It serves as a hub for inter-island flights, making it easier to explore other islands during your trip.
While Oahu is often recommended for first-time visitors, each island in Hawaii has its own unique charm and attractions. If time allows, consider exploring other islands like Maui, Kauai, or the Big Island on subsequent trips to get a broader taste of Hawaii's beauty.
What is Hawaii most known for?

Hawaii is most known for its stunning natural beauty, including its pristine beaches, lush rainforests, and majestic volcanoes. The islands are famous for their warm tropical climate, making them a popular destination for beach lovers and outdoor enthusiasts. Hawaii is also renowned for its unique culture and the Aloha spirit that embraces visitors with warmth and hospitality. The islands have a rich Polynesian heritage, which is celebrated through hula dancing, traditional music, and delicious Hawaiian cuisine. Additionally, Hawaii is known for being home to iconic landmarks such as Pearl Harbor, Waikiki Beach, and the volcanoes of the Big Island.