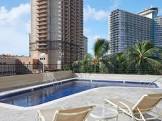 Palms at Waikiki: A Tropical Paradise in the Heart of Honolulu
Nestled in the vibrant city of Honolulu, Palms at Waikiki is a true tropical paradise that offers an unforgettable Hawaiian experience. Located just steps away from the world-famous Waikiki Beach, this luxurious hotel is a haven for those seeking relaxation, adventure, and everything in between.
As you step into Palms at Waikiki, you are immediately greeted by the warm aloha spirit and a sense of tranquility. The hotel's lush surroundings, adorned with swaying palm trees and vibrant tropical flowers, create a serene atmosphere that instantly transports you to an island paradise.
The accommodations at Palms at Waikiki are nothing short of extraordinary. With spacious rooms and suites boasting modern amenities and breathtaking views of the Pacific Ocean or the majestic Diamond Head crater, every moment spent here is an opportunity to indulge in luxury and comfort.
Beyond the comfort of your room, Palms at Waikiki offers a range of world-class facilities to enhance your stay. Take a refreshing dip in the sparkling outdoor pool or unwind in one of the relaxing hot tubs while soaking up the Hawaiian sun. For those seeking rejuvenation, indulge in a spa treatment that combines traditional Hawaiian techniques with modern wellness practices.
One cannot mention Palms at Waikiki without highlighting its prime location. Steps away from iconic Waikiki Beach, guests have easy access to pristine white sands and crystal-clear turquoise waters. Whether you're looking to catch some waves, embark on a thrilling water sports adventure, or simply bask in the sun with a good book, this beachfront oasis has it all.
Exploring beyond the hotel grounds is equally enticing. Immerse yourself in Hawaiian culture by visiting nearby attractions such as the Honolulu Zoo or taking part in traditional hula lessons. For shopaholics and food enthusiasts, world-class shopping centers and renowned restaurants dot the surrounding streets, offering a diverse range of options to satisfy any craving.
At Palms at Waikiki, the spirit of aloha is not just a greeting but a way of life. The dedicated staff members are passionate about sharing the beauty and culture of Hawaii with every guest, ensuring that your stay is nothing short of extraordinary. From arranging personalized excursions to recommending hidden gems off the beaten path, their expertise and warm hospitality will make your visit truly unforgettable.
Whether you're seeking a romantic getaway, a family vacation, or an adventure-filled escape, Palms at Waikiki has it all. With its idyllic location, luxurious accommodations, and unparalleled service, this tropical paradise invites you to experience the true essence of Hawaii in all its splendor. Come and discover why Palms at Waikiki is the perfect destination for your next Hawaiian adventure.
7 Frequently Asked Questions about Palms at Waikiki: Your Ultimate Guide
What is the best time to visit Waikiki?

The best time to visit Waikiki largely depends on your personal preferences and what you hope to experience during your trip. However, there are a few factors to consider when choosing the ideal time for your visit.
Weather-wise, Waikiki experiences warm and pleasant temperatures throughout the year, with average highs ranging from the mid-70s to mid-80s Fahrenheit (24-30 degrees Celsius). The region enjoys a tropical climate, with occasional rain showers that help keep the landscape lush and vibrant. Generally, Waikiki has two main seasons: a drier season from April to October and a wetter season from November to March. However, even during the wetter months, rainfall is usually brief and intermittent.
If you're looking for the best beach weather and fewer crowds, consider visiting during the drier season (April to October). During this time, you can expect plenty of sunshine and warm temperatures ideal for swimming, sunbathing, and water activities. Keep in mind that this is also peak tourist season with higher hotel rates and more crowded beaches.
For those seeking a quieter experience with potentially lower prices on accommodations, visiting during the shoulder seasons of spring (April to June) or fall (September to November) may be preferable. During these months, you can still enjoy pleasant weather while avoiding some of the larger crowds.
If you're interested in witnessing cultural events or experiencing local festivals, it's worth checking out specific dates for annual celebrations such as the Honolulu Festival in March or the Aloha Festivals held in September. These events showcase Hawaiian traditions, music, dance performances, and vibrant parades that offer a unique glimpse into local culture.
It's important to note that weather patterns can vary year by year and unexpected changes can occur. Therefore, it's always advisable to check local forecasts closer to your travel dates for accurate information on current conditions.
Ultimately, whether you choose to visit during peak tourist season or during a quieter period, Waikiki's beauty and charm will captivate you regardless of the time of year.
Where can I find palm trees in Waikiki?

In Waikiki, you can find palm trees lining the streets, parks, and beaches, creating a picturesque tropical atmosphere. Here are a few specific locations where you can enjoy the beauty of palm trees:
Kalakaua Avenue: This famous avenue runs parallel to Waikiki Beach and is lined with tall palm trees on both sides. Take a leisurely stroll along this vibrant street and soak in the tropical ambiance.
Kapiolani Park: Located at the eastern end of Waikiki, Kapiolani Park is a lush green space that offers a peaceful retreat from the bustling city. The park is adorned with numerous palm trees, providing shade and beauty as you relax or enjoy outdoor activities.
Fort DeRussy Beach Park: Situated near the Hilton Hawaiian Village in Waikiki, this beach park boasts a beautiful stretch of sand fringed with swaying palm trees. It's an ideal spot to unwind, have a picnic, or simply enjoy the stunning ocean views.
Queen Kapiolani Regional Park: Just outside of Waikiki but still within close proximity, this expansive park features an abundance of palm trees scattered throughout its grounds. It's a great place for leisurely walks or picnics amidst nature.
Hotels and Resorts: Many hotels and resorts in Waikiki have their own beautifully landscaped grounds adorned with palm trees. You can often find them surrounding pool areas or lining pathways leading to beachfront access.
Remember that Hawaii is known for its diverse range of palm tree species, including coconut palms (niu), royal palms (roystonea regia), date palms (phoenix dactylifera), and more. So keep your eyes peeled as you explore Waikiki—you're sure to encounter these iconic symbols of paradise wherever you go!
How far is Waikiki from Honolulu Airport?

Waikiki is located approximately 10 miles (16 kilometers) from Honolulu International Airport. The driving time from the airport to Waikiki can vary depending on traffic conditions, but it typically takes around 20-30 minutes. It's a relatively short and convenient journey, allowing visitors to quickly reach their accommodations and start enjoying the beauty of Waikiki and its surroundings.
Are there any free activities in Waikiki?

Absolutely! While Waikiki is known for its luxurious resorts and vibrant nightlife, there are also plenty of free activities to enjoy in this beautiful Hawaiian destination. Here are a few suggestions:
Waikiki Beach: The most iconic attraction in Waikiki, this stunning stretch of golden sand is free for everyone to enjoy. Spend the day lounging under the sun, swimming in the crystal-clear waters, or simply taking a leisurely stroll along the shoreline.
Sunset at Magic Island: Located just outside of Waikiki, Magic Island is a picturesque park that offers breathtaking views of the sunset over the Pacific Ocean. Pack a picnic, find a cozy spot on the grassy lawn, and witness nature's spectacular show.
Duke Kahanamoku Statue: Pay homage to one of Hawaii's most legendary figures at the Duke Kahanamoku Statue on Kuhio Beach. This iconic statue commemorates Duke Kahanamoku, an Olympic gold medalist and surfing pioneer who popularized the sport worldwide.
Hula Shows: Immerse yourself in Hawaiian culture by attending free hula shows that take place regularly along Kalakaua Avenue. These captivating performances showcase traditional hula dances accompanied by live music, providing a glimpse into Hawaii's rich heritage.
Honolulu Zoo: While admission fees apply for entry into the Honolulu Zoo, you can still enjoy a visit without spending a dime by exploring its beautiful grounds and gardens from outside the gates. Marvel at exotic animals and immerse yourself in nature as you stroll along Kapahulu Avenue.
Diamond Head Hike: For outdoor enthusiasts seeking adventure, embark on a hike up Diamond Head State Monument. While there is an entrance fee to access the trailhead, it offers stunning panoramic views of Waikiki and Oahu's coastline once you reach the summit.
Fort DeRussy Beach Park: Located near Hilton Hawaiian Village, Fort DeRussy Beach Park is a peaceful oasis amidst the bustling Waikiki scene. Enjoy a picnic, relax under the shade of palm trees, or take a leisurely walk along the beach.
These are just a few examples of the many free activities you can enjoy in Waikiki. Remember to check local event listings and visitor centers for additional free events and attractions happening during your stay.
What hotels are near Waikiki Beach?

There are numerous hotels near Waikiki Beach, catering to a variety of preferences and budgets. Here are a few popular options:
Hilton Hawaiian Village Waikiki Beach Resort: Located on the beachfront, this expansive resort offers multiple towers with a range of accommodations, along with a variety of restaurants, pools, and even its own lagoon.
The Royal Hawaiian, a Luxury Collection Resort: Known as the "Pink Palace of the Pacific," this iconic hotel offers a luxurious experience with its historic charm, elegant rooms, and beachfront location.
Outrigger Waikiki Beach Resort: Situated directly on Waikiki Beach, this resort provides stunning ocean views and easy access to shopping and dining options along Kalakaua Avenue.
Moana Surfrider, A Westin Resort & Spa: Another historic gem, this beachfront hotel combines classic elegance with modern amenities. It features beautiful architecture and offers various dining options.
Sheraton Waikiki: With its prime location on Kalakaua Avenue, this hotel boasts panoramic ocean views and an array of amenities including multiple pools, restaurants, and live entertainment.
Hyatt Regency Waikiki Beach Resort and Spa: This upscale resort features spacious rooms with balconies offering ocean or city views. It also offers several dining options and a rooftop pool area.
Aston Waikiki Beach Hotel: Situated directly across from Waikiki Beach, this hotel provides comfortable accommodations at an affordable price point while still offering easy access to the beach.
These are just a few examples of the many hotels near Waikiki Beach. It is recommended to research further based on specific preferences such as location, amenities, and budget to find the perfect fit for your stay in paradise.
Is it safe to swim in the ocean at Waikiki Beach?

Swimming in the ocean at Waikiki Beach is generally considered safe, but it's important to exercise caution and be aware of certain factors that can affect safety. Here are a few things to keep in mind:
Lifeguards: Waikiki Beach has lifeguards stationed along the shore who are trained to monitor and respond to any potential dangers. It's always a good idea to swim near their designated areas and follow their instructions.
Currents and Waves: Like any beach, Waikiki can experience changing ocean conditions. Pay attention to warning signs, flags, or announcements regarding strong currents or high surf. Avoid swimming during times of rough surf or when there are hazardous conditions present.
Reef Protection: Waikiki Beach is protected by an offshore coral reef that acts as a natural barrier, creating a calm swimming area close to the shore. However, it's important to be mindful of the reef and avoid standing or walking on it as it is fragile and home to various marine life.
Swim within Your Abilities: It's essential to assess your own swimming abilities and only venture into the water if you feel comfortable and confident. If you're not a strong swimmer, consider staying in shallower areas where you can touch the bottom.
Sun Protection: While this doesn't directly relate to safety in the water, it's worth mentioning that protecting your skin from the sun is crucial when spending time at the beach. Apply sunscreen regularly, wear protective clothing, and seek shade during peak sun hours.
As with any beach destination, it's advisable to use common sense and follow local guidelines for safe ocean activities. If you have any concerns or questions regarding ocean conditions or safety at Waikiki Beach, don't hesitate to consult with lifeguards or local authorities who can provide up-to-date information specific to your visit.
What restaurants are located near Waikiki Beach?

Waikiki Beach is surrounded by a plethora of restaurants, offering a diverse range of cuisines to suit every palate. Here are some popular dining establishments located near Waikiki Beach:
Duke's Waikiki: Located right on the beachfront, Duke's offers a relaxed atmosphere and serves up delicious Hawaiian-inspired dishes with a focus on fresh seafood. Don't miss their famous Hula Pie for dessert.
Hula Grill Waikiki: Situated in the heart of Waikiki, Hula Grill offers a fusion of traditional Hawaiian flavors with modern culinary techniques. Enjoy ocean views while savoring their fresh catch of the day or their mouthwatering kalua pork.
House Without A Key: Nestled within the iconic Halekulani hotel, this restaurant features live Hawaiian music and hula performances during sunset. Indulge in their Pacific Rim cuisine, including favorites like misoyaki butterfish and island-style poke.
Roy's Waikiki Beach: Created by renowned chef Roy Yamaguchi, this upscale restaurant showcases his signature blend of Hawaiian and Asian fusion cuisine. From perfectly seared fish to delectable desserts, Roy's delivers an unforgettable dining experience.
Marukame Udon: If you're craving something quick and casual, head to Marukame Udon for authentic Japanese udon noodles made fresh daily. Choose from an array of toppings and enjoy watching the skilled chefs prepare your meal right before your eyes.
Sansei Seafood Restaurant & Sushi Bar: For sushi lovers, Sansei is a must-visit destination offering creative rolls and fresh seafood in a trendy setting. Their innovative sushi combinations and flavorful Asian-inspired dishes are sure to impress.
Arancino di Mare: This Italian eatery brings a taste of Italy to Waikiki with its extensive menu featuring homemade pasta, wood-fired pizzas, and classic Italian dishes prepared with a Hawaiian twist. Don't forget to try their tiramisu for a sweet ending.
These are just a few examples of the many dining options available near Waikiki Beach. From traditional Hawaiian cuisine to international flavors, there is something to satisfy every craving within easy reach of this beautiful beachfront destination.