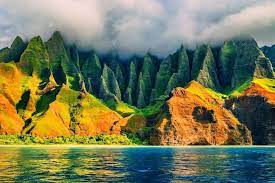 Discover the Enchanting Beauty of Hawaii: Must-Visit Tourist Places
Hawaii, known as the Aloha State, is a tropical paradise brimming with breathtaking landscapes, vibrant culture, and warm hospitality. From stunning beaches to majestic volcanoes, this archipelago offers a diverse range of tourist attractions that will leave you in awe. Let's embark on a virtual journey through some of the must-visit places in Hawaii.
Waikiki Beach (Oahu): Nestled on the island of Oahu, Waikiki Beach is renowned for its golden sands and crystal-clear waters. This iconic beach is lined with luxurious resorts, world-class shopping centers, and bustling nightlife. Whether you're looking to relax under swaying palm trees or ride the waves with seasoned surfers, Waikiki Beach has something for everyone.
Haleakala National Park (Maui): Prepare to be mesmerized by the ethereal beauty of Haleakala National Park. Located on Maui, this park is home to Haleakala volcano, which stands at over 10,000 feet above sea level. Witness a breathtaking sunrise or sunset from its summit and explore the otherworldly landscapes filled with volcanic craters and unique flora.
Na Pali Coast (Kauai): The Na Pali Coast on Kauai is a true natural wonder that will leave you speechless. With towering cliffs plunging into the Pacific Ocean and lush green valleys dotted with waterfalls, it's no wonder this coastline has been featured in numerous movies. Take a boat tour or hike along the Kalalau Trail for an unforgettable adventure.
Volcanoes National Park (Big Island): On Hawaii Island (also known as Big Island), Volcanoes National Park showcases the raw power and beauty of nature. Witness active volcanoes like Kilauea and Mauna Loa as they continuously shape and reshape the landscape. Explore lava tubes, hike through volcanic craters, and marvel at the diverse ecosystems that thrive in this volcanic environment.
Pearl Harbor (Oahu): Step back in time and pay homage to history at Pearl Harbor. This historic site on Oahu is home to the USS Arizona Memorial, where you can learn about the events that unfolded during World War II. Visit the USS Missouri Battleship and the Pacific Aviation Museum to gain a deeper understanding of this pivotal moment in history.
Hanauma Bay (Oahu): Dive into the vibrant underwater world of Hanauma Bay, a protected marine life conservation area on Oahu. Snorkel among colorful coral reefs teeming with tropical fish and sea turtles, or simply relax on the sandy beach and soak up the sun. Don't forget to respect the marine life and follow sustainable snorkeling practices.
Road to Hana (Maui): Embark on an unforgettable road trip along the scenic Road to Hana on Maui's eastern coast. Wind your way through lush rainforests, cascading waterfalls, and hidden beaches. Stop at various viewpoints along the way to capture stunning vistas and immerse yourself in nature's beauty.
These are just a few glimpses of what Hawaii has to offer. Each island has its own unique charm and attractions waiting to be explored. Whether you seek adventure, relaxation, or cultural experiences, Hawaii will captivate your heart with its unparalleled beauty and warm aloha spirit. So pack your bags, embrace the aloha spirit, and embark on an unforgettable journey through this tropical paradise called Hawaii!
Top 4 Frequently Asked Questions about Tourist Places in Hawaii
Where should I go for my first time in Hawaii?

For your first time in Hawaii, it's hard to go wrong with the island of Oahu. Known as "The Gathering Place," Oahu offers a perfect blend of stunning natural beauty, rich cultural experiences, and vibrant city life. Here are a few places you should consider visiting on your first trip:
Waikiki Beach: Start your journey at the world-famous Waikiki Beach in Honolulu. This iconic beach is known for its golden sands, clear turquoise waters, and breathtaking sunsets. Enjoy swimming, surfing, or simply relaxing under the shade of a palm tree.
Pearl Harbor: Pay a visit to Pearl Harbor and immerse yourself in history. Explore the USS Arizona Memorial and learn about the events that took place during World War II. The exhibits and museums provide a profound understanding of this significant moment in history.
Diamond Head State Monument: Embark on an adventure to hike up Diamond Head, an iconic volcanic crater that offers panoramic views of Honolulu and the surrounding coastline. The moderate hike is worth it for the breathtaking vistas at the summit.
Polynesian Cultural Center: Dive into Hawaiian culture at the Polynesian Cultural Center on Oahu's North Shore. Experience traditional dances, music, crafts, and indulge in authentic Polynesian cuisine while learning about the rich heritage of Hawaii and other Pacific Island nations.
North Shore: Head to Oahu's North Shore for world-class surfing competitions during winter months (November to February). Even if you're not catching waves yourself, watching professional surfers take on massive waves at famous spots like Pipeline or Sunset Beach is an unforgettable experience.
Kualoa Ranch: Explore the lush landscapes of Kualoa Ranch through various activities such as ATV tours or horseback riding. This scenic location has been featured in many movies and TV shows due to its stunning beauty.
Hanauma Bay Nature Preserve: Snorkel in the crystal-clear waters of Hanauma Bay, a protected marine life conservation area. Marvel at the colorful coral reefs and swim alongside tropical fish and sea turtles.
Remember, Hawaii has much more to offer beyond Oahu. Each island has its own unique charm and attractions. But for your first visit, Oahu provides a great introduction to the beauty, culture, and history of the Hawaiian Islands.
Where is the most visited place in Hawaii?

The most visited place in Hawaii is Waikiki Beach, located on the island of Oahu. Waikiki Beach is a world-famous destination known for its stunning shoreline, vibrant atmosphere, and iconic Diamond Head backdrop. It attracts millions of visitors each year who come to enjoy the beautiful sandy beaches, indulge in water sports, shop at luxury boutiques, dine at renowned restaurants, and experience the energetic nightlife. With its central location and numerous accommodations, Waikiki Beach has become a hub for tourists seeking both relaxation and entertainment in Hawaii.
What is the prettiest place to visit in Hawaii?

Hawaii is blessed with an abundance of stunning places that showcase its natural beauty. While opinions may vary, one of the most widely regarded as the prettiest places to visit in Hawaii is the Na Pali Coast on the island of Kauai.
The Na Pali Coast is a true masterpiece of nature, characterized by dramatic cliffs, lush green valleys, and cascading waterfalls. Its rugged and untouched landscapes create a sense of awe and wonder. The coastline stretches for approximately 17 miles and is only accessible by boat, helicopter, or by hiking the challenging Kalalau Trail.
The sheer magnitude of the cliffs, reaching heights of up to 4,000 feet, combined with the vibrant colors of the ocean and dense foliage, make this place truly breathtaking. The ever-changing weather patterns further add to its allure, as misty clouds roll in and out, creating an ethereal atmosphere.
Visiting the Na Pali Coast allows you to immerse yourself in nature's grandeur. You can take a boat tour or kayak along the coast to witness its majestic beauty up close. Hiking enthusiasts can explore parts of the Kalalau Trail for an incredible adventure through lush valleys and secluded beaches.
Whether you're admiring it from a distance or exploring its hidden gems firsthand, the Na Pali Coast is undoubtedly one of Hawaii's most picturesque destinations. Its raw beauty and untouched landscapes will leave an indelible mark on your heart and create memories that will last a lifetime.
What is the #1 attraction in Hawaii?

The #1 attraction in Hawaii is subjective and can vary depending on personal preferences. However, one of the most popular and iconic attractions that draws visitors from around the world is the Pearl Harbor National Memorial on Oahu. This historic site commemorates the events of December 7, 1941, when Pearl Harbor was attacked by the Japanese, marking the United States' entry into World War II. The memorial includes the USS Arizona Memorial, where visitors can pay their respects to the fallen sailors and learn about this significant moment in history. The Pearl Harbor National Memorial offers a profound and educational experience that honors those who lost their lives while providing insight into an important chapter in American history.