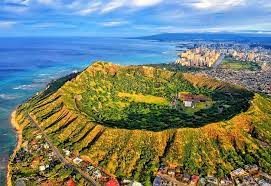 Waikiki Tourist Attractions: Exploring Paradise in Hawaii
When it comes to tropical getaways, few places can rival the beauty and allure of Waikiki in Hawaii. Located on the island of Oahu, Waikiki is a vibrant and bustling neighborhood that offers a plethora of tourist attractions for visitors from around the world. From stunning beaches to rich cultural experiences, there is something for everyone to enjoy in this paradise.
One of the most iconic features of Waikiki is its pristine beaches. With crystal-clear turquoise waters and soft golden sand, it's no wonder that Waikiki Beach attracts millions of visitors each year. Whether you're looking to relax and soak up the sun or try your hand at water sports like surfing or paddleboarding, Waikiki Beach provides the perfect backdrop for your beachside adventures.
For those seeking a taste of Hawaiian history and culture, a visit to the historic landmarks in Waikiki is a must. The famous Diamond Head State Monument stands tall overlooking the neighborhood, offering breathtaking panoramic views of Waikiki and beyond. Embark on a hike up to the summit for an unforgettable experience and an opportunity to learn about the volcanic history of Hawaii.
Another must-visit attraction in Waikiki is the Honolulu Zoo. Home to over 900 different species, including endangered animals from around the world, this family-friendly destination provides an educational and entertaining experience for visitors of all ages. Stroll through lush gardens and observe fascinating wildlife up close while gaining a deeper understanding of conservation efforts.
For those interested in shopping and dining, Waikiki boasts an array of high-end boutiques, local shops, and world-class restaurants. Kalakaua Avenue is known as "Luxury Row," offering designer brands alongside local artisans' creations. Indulge in delicious cuisine ranging from traditional Hawaiian dishes to international flavors prepared by renowned chefs.
No visit to Waikiki would be complete without experiencing the vibrant nightlife. The neighborhood comes alive after sunset with live music, hula performances, and bustling bars. Take a stroll along the lively streets and immerse yourself in the energetic atmosphere that Waikiki is famous for.
Whether you're seeking relaxation, adventure, or cultural enrichment, Waikiki has it all. With its stunning beaches, historic landmarks, diverse wildlife, and vibrant entertainment options, this Hawaiian paradise promises an unforgettable experience for every visitor. So pack your bags and get ready to explore the enchanting attractions of Waikiki – a destination that will leave you with memories to last a lifetime.
Discover the 7 Incredible Pros of Waikiki's Tourist Attractions
Challenges of Waikiki Tourist Attractions: Crowds, Costs, and Limited Choices
Waikiki is home to some of the world's best beaches, offering plenty of activities such as swimming, surfing, and sunbathing.

Waikiki's Pristine Beaches: A Paradise for Water Enthusiasts
When it comes to beach destinations, Waikiki in Hawaii stands out as a true paradise. Renowned for its world-class beaches, this vibrant neighborhood offers visitors an array of activities that cater to water enthusiasts of all kinds.
Waikiki is home to some of the world's best beaches, where the crystal-clear turquoise waters meet the soft golden sand. Whether you're a seasoned swimmer or just looking to cool off, the calm and gentle waves of Waikiki Beach provide the perfect setting for a refreshing dip. The warm tropical climate ensures that the water is always inviting, making it an ideal spot for swimming throughout the year.
For those seeking a bit more adventure, Waikiki's beaches are a haven for surfers. With consistent waves and a variety of breaks suitable for all skill levels, it's no wonder that Waikiki has gained international recognition as a premier surfing destination. Beginners can take lessons from experienced instructors right on the beach, while experienced surfers can challenge themselves on some of Hawaii's most iconic waves.
If lounging under the sun is more your style, Waikiki's beaches offer ample space to relax and soak up the rays. Spread out your beach towel or rent a comfortable beach chair and umbrella to enjoy hours of sunbathing in this tropical paradise. The gentle ocean breeze and stunning views create an idyllic atmosphere that is perfect for unwinding and rejuvenating.
Beyond swimming, surfing, and sunbathing, Waikiki's beaches offer even more activities to keep you entertained. Take part in beach volleyball games with friends or join yoga classes held right on the sand. You can also try your hand at stand-up paddleboarding or rent a kayak to explore the coastline from a different perspective.
The beauty of Waikiki's beaches extends beyond their natural splendor. With numerous beachfront hotels, restaurants, and shops, you'll find everything you need within walking distance. After a day of fun in the sun, indulge in a delicious meal at a seaside restaurant or browse through local boutiques for unique souvenirs.
Whether you're an avid water sports enthusiast or simply looking to relax by the shore, Waikiki's beaches offer something for everyone. With their breathtaking beauty and an abundance of activities, these world-renowned beaches truly embody the spirit of Hawaiian paradise. So pack your beach essentials and get ready to immerse yourself in the incredible experience that Waikiki's beaches have to offer.
Waikiki has a wide variety of restaurants and shops, making it an ideal place for shopping and dining.

Waikiki: A Shopper's and Food Lover's Paradise
When it comes to shopping and dining, Waikiki in Hawaii offers an unparalleled experience. With its wide variety of restaurants and shops, this vibrant neighborhood has become a haven for those seeking the perfect blend of retail therapy and culinary delights.
Waikiki boasts an impressive selection of shops, ranging from high-end boutiques to local artisans' creations. Kalakaua Avenue, also known as "Luxury Row," is a shopper's paradise, featuring renowned designer brands alongside unique Hawaiian treasures. Whether you're in search of fashionable clothing, exquisite jewelry, or one-of-a-kind souvenirs, Waikiki has something to suit every taste and budget.
Food enthusiasts will find themselves in gastronomic heaven while exploring Waikiki's diverse culinary scene. The neighborhood is home to an array of restaurants offering a wide range of cuisines – from traditional Hawaiian dishes using fresh local ingredients to international flavors that will tantalize your taste buds. Immerse yourself in the vibrant atmosphere of open-air eateries or indulge in fine dining experiences crafted by world-class chefs.
One cannot miss the opportunity to try Hawaii's famous plate lunches – a local favorite that combines rice, macaroni salad, and a choice of protein like kalua pork or teriyaki chicken. For seafood lovers, Waikiki offers an abundance of fresh fish options prepared in various mouthwatering styles.
After satisfying your shopping and dining cravings, take a leisurely stroll along the streets of Waikiki as the sun sets. The neighborhood comes alive with street performers showcasing their talents while live music fills the air. Experience the warm aloha spirit as you soak up the lively ambiance that makes Waikiki truly unique.
Whether you're looking for trendy fashion finds or delectable culinary experiences, Waikiki has it all. Its wide variety of restaurants and shops make it an ideal destination for shopping enthusiasts and food lovers alike. So, get ready to indulge in a retail adventure and savor the flavors of Waikiki – a place where shopping and dining dreams come true.
The area is located near many attractions such as the Honolulu Zoo, Diamond Head State Monument, and Koko Head Crater Park.

Convenience and Adventure: Waikiki's Proximity to Exciting Attractions
One of the many advantages of visiting Waikiki is its prime location near a variety of captivating attractions. This bustling neighborhood on the island of Oahu offers visitors easy access to some of Hawaii's most renowned landmarks and natural wonders.
Just steps away from the heart of Waikiki is the Honolulu Zoo, a haven for animal lovers. With over 900 species from around the world, including rare and endangered animals, this family-friendly destination provides an opportunity to observe wildlife up close while learning about conservation efforts.
For those seeking a thrilling outdoor adventure, Diamond Head State Monument beckons. Rising majestically above Waikiki, this iconic volcanic crater offers breathtaking panoramic views of the island. Embarking on a hike to its summit rewards visitors with not only stunning vistas but also insights into Hawaii's geological history.
Another nearby gem is Koko Head Crater Park, which offers an exhilarating challenge for hikers and nature enthusiasts. Ascending over 1,000 steps to reach the summit may be demanding, but the sweeping views of Oahu's southeastern coastline make it all worthwhile.
The proximity of these attractions to Waikiki means that visitors can easily incorporate them into their itinerary without extensive travel or logistical planning. Whether you're in search of cultural enrichment at the zoo, an invigorating hike up a volcanic crater, or panoramic vistas from atop Diamond Head or Koko Head Crater Park, all are within reach when staying in Waikiki.
After exploring these nearby attractions, visitors can return to Waikiki's vibrant streets and enjoy its abundant dining options or relax on its world-famous beaches. The convenience provided by Waikiki's central location allows travelers to maximize their time and immerse themselves fully in all that this tropical paradise has to offer.
So if you're seeking both convenience and adventure during your Hawaiian vacation, look no further than Waikiki. With its proximity to the Honolulu Zoo, Diamond Head State Monument, and Koko Head Crater Park, this vibrant neighborhood ensures that captivating experiences are just a stone's throw away.
Waikiki is known for its lively nightlife with numerous bars and nightclubs to choose from.

Experience the Vibrant Nightlife of Waikiki: A Paradise for Night Owls
When the sun sets in Waikiki, a whole new world comes alive. Renowned for its lively nightlife, this Hawaiian paradise offers a plethora of options for those seeking excitement after dark. With numerous bars and nightclubs to choose from, Waikiki is a haven for night owls looking to dance, socialize, and create unforgettable memories.
Waikiki's nightlife scene caters to diverse tastes and preferences. Whether you're in the mood for live music, DJ sets, or simply sipping on tropical cocktails while enjoying the ocean breeze, you'll find a venue that suits your desires. From intimate lounges to energetic clubs, Waikiki has it all.
One of the highlights of Waikiki's nightlife is the abundance of live music performances. Many bars feature talented local musicians who serenade guests with soothing melodies or get the crowd dancing with energetic beats. Whether you prefer traditional Hawaiian music or contemporary tunes, you'll find a spot where you can immerse yourself in the vibrant sounds of the island.
For those who love to dance until dawn, Waikiki's nightclubs offer an electrifying experience. With state-of-the-art sound systems and renowned DJs spinning tracks that range from EDM to hip-hop and everything in between, these venues are guaranteed to keep your energy levels high throughout the night. Move to the rhythm on spacious dance floors surrounded by fellow revelers and let loose in this tropical party paradise.
What sets Waikiki's nightlife apart is not only its energy but also its unique ambiance. Imagine sipping on a Mai Tai under swaying palm trees or enjoying a refreshing cocktail overlooking the sparkling ocean waters as live music fills the air. The combination of stunning surroundings and vibrant entertainment creates an atmosphere that is truly one-of-a-kind.
Safety is always a priority in Waikiki's nightlife scene. Local establishments and law enforcement work together to ensure a secure environment for visitors and locals alike. So you can let go of any worries and focus solely on having a great time.
Whether you're a party enthusiast or simply looking to unwind after a day of exploring, Waikiki's nightlife offers an unforgettable experience. Soak up the vibrant atmosphere, dance to infectious beats, and create memories that will last a lifetime. Discover why Waikiki is not only famous for its breathtaking beaches but also for its lively nightlife that keeps people coming back for more.
There are plenty of water sports available in Waikiki including parasailing, kayaking, snorkeling, scuba diving and more!

Unleash Your Adventurous Side: Water Sports in Waikiki
If you're a thrill-seeker or simply love being in the water, Waikiki is the perfect destination for you. This tropical paradise offers an abundance of water sports activities that will leave you exhilarated and craving for more. From parasailing to kayaking, snorkeling to scuba diving, there's something for every water enthusiast to enjoy in Waikiki.
One of the most popular water sports in Waikiki is parasailing. Imagine soaring high above the turquoise waters, taking in breathtaking panoramic views of the coastline and Diamond Head. Feel the rush of adrenaline as you glide through the sky, securely harnessed to a colorful parachute. Parasailing in Waikiki is an experience that combines adventure with awe-inspiring beauty.
For those looking to explore the vibrant marine life beneath the surface, snorkeling and scuba diving are must-try activities. Strap on your mask, snorkel, and fins, and dive into a world teeming with colorful coral reefs and tropical fish. The warm waters of Waikiki provide excellent visibility, making it an ideal spot for both beginners and experienced divers alike.
Kayaking is another exciting way to explore the waters of Waikiki. Paddle your way along the coastline, marveling at stunning views while getting a great workout. You can even venture out to nearby offshore islands like Mokulua Islands or Chinaman's Hat for a more secluded kayaking experience.
If you're seeking a unique water adventure, consider trying stand-up paddleboarding (SUP). Glide across calm waters while standing on a specially designed board, enjoying a peaceful and meditative experience. SUP is not only fun but also provides an excellent full-body workout.
Whether you're a beginner or an experienced water sports enthusiast, there are plenty of options available to suit your preferences and skill level in Waikiki. Many local tour operators offer rentals, lessons, and guided tours, ensuring a safe and enjoyable experience for all.
So, get ready to dive into the thrilling world of water sports in Waikiki. From the adrenaline rush of parasailing to the tranquility of paddleboarding, you'll have endless opportunities to create unforgettable memories in this tropical paradise. Don't miss out on the chance to unleash your adventurous side and explore the wonders that await you beneath the sparkling waters of Waikiki.
The area offers a range of accommodations ranging from luxury hotels to budget-friendly hostels – perfect for any traveler's needs!

The Diversity of Accommodations in Waikiki: Where Luxury Meets Affordability
When planning a trip to Waikiki, one of the greatest advantages is the wide range of accommodations available to suit every traveler's needs and budget. Whether you're seeking a luxurious resort experience or a more budget-friendly option, Waikiki has something for everyone.
For those looking to indulge in a lavish getaway, Waikiki offers an array of upscale hotels and resorts that cater to the most discerning travelers. These establishments boast world-class amenities such as private beach access, spa facilities, fine dining restaurants, and breathtaking ocean views. Immerse yourself in luxury and enjoy the impeccable service that these high-end accommodations are renowned for.
On the other hand, if you're traveling on a tighter budget, Waikiki also offers plenty of affordable options without compromising on comfort or convenience. Budget-friendly hostels and guesthouses provide comfortable accommodations at a fraction of the cost of luxury resorts. These properties often feature communal areas where travelers can socialize and share experiences with fellow adventurers from around the world.
In addition to hotels and hostels, Waikiki also offers vacation rentals and condominiums that provide a more home-like atmosphere for those seeking an extended stay or traveling with family or friends. These self-catering options allow visitors to have their own space while enjoying the convenience of being located in the heart of Waikiki.
No matter which type of accommodation you choose, one thing is certain – all visitors will have easy access to Waikiki's stunning beaches, vibrant nightlife, shopping districts, and cultural attractions. The central location of these accommodations ensures that travelers can make the most of their time in this tropical paradise.
Moreover, staying in Waikiki means having convenient access to public transportation networks that can take you to other parts of Oahu if you wish to explore beyond this iconic neighborhood. From here, you can venture out to visit the historic Pearl Harbor, hike through lush rainforests, or discover the breathtaking beauty of the North Shore.
In conclusion, Waikiki's diverse range of accommodations is one of its greatest strengths. Whether you're a luxury traveler or a budget-conscious explorer, there is an option that suits your needs and preferences. So, when planning your trip to Waikiki, rest assured that you'll find the perfect place to call your home away from home while immersing yourself in all the wonders this Hawaiian paradise has to offer.
The breathtaking views from Diamond Head make it one of the most popular tourist attractions in Waikiki!

The Breathtaking Views from Diamond Head: A Must-See Attraction in Waikiki
When it comes to capturing the essence of Waikiki's beauty, one cannot overlook the awe-inspiring views from Diamond Head. This iconic volcanic crater stands tall on the eastern edge of Waikiki, offering visitors an unparalleled vantage point to soak in the stunning scenery that surrounds this tropical paradise.
Known as Le'ahi in Hawaiian, Diamond Head is a significant landmark that has become one of the most popular tourist attractions in Waikiki. Its unique shape and commanding presence make it instantly recognizable, drawing both locals and tourists alike to its breathtaking summit.
The hike up to Diamond Head's summit is an adventure in itself. As you ascend along the well-maintained trail, you'll be treated to panoramic vistas of Waikiki's sparkling waters, lush greenery, and the towering skyline. The trail winds through tunnels and up staircases, adding an element of excitement to your journey.
Reaching the top is a rewarding experience like no other. As you stand at the summit, you'll be greeted by sweeping views that stretch as far as the eye can see. The turquoise waters of the Pacific Ocean meet the golden sands of Waikiki Beach below, creating a picture-perfect scene that will leave you breathless.
The panoramic views from Diamond Head offer more than just natural beauty; they also provide a glimpse into Hawaii's rich history. From this vantage point, you can see remnants of ancient volcanic activity and gain a deeper appreciation for how these islands were formed over millions of years.
Whether you're an avid hiker or simply seeking a memorable experience in Waikiki, visiting Diamond Head is an absolute must. The combination of physical exertion and jaw-dropping views makes it an adventure worth undertaking. So lace up your hiking boots, bring your camera, and prepare to be captivated by the unparalleled beauty that awaits you at the summit of Diamond Head.
In conclusion, the breathtaking views from Diamond Head make it one of the most popular tourist attractions in Waikiki. It offers a unique opportunity to witness the natural splendor and historical significance of this tropical paradise. So don't miss out on this unforgettable experience that will leave you with memories to treasure for a lifetime.
Crowded

Crowded: Navigating the Bustle of Waikiki Tourist Attractions
Waikiki, with its undeniable charm and natural beauty, has become a sought-after destination for travelers from all corners of the globe. However, one con that visitors should be aware of is the high level of crowding in this popular tourist hotspot.
As one of Hawaii's most famous neighborhoods, Waikiki attracts a significant number of tourists and locals alike. The result is a vibrant and bustling atmosphere that can sometimes feel overwhelming, especially during peak travel seasons. From the pristine beaches to the bustling shopping districts, it's not uncommon to encounter large crowds during your visit.
The beaches in Waikiki, known for their picture-perfect beauty, are particularly susceptible to overcrowding. It's essential to arrive early if you're seeking a prime spot on the sand or if you want to try your hand at water sports without feeling crowded. Additionally, popular attractions such as Diamond Head State Monument or local events can draw substantial crowds, making it necessary to plan your visits accordingly.
While the energy and liveliness of Waikiki can be exciting for some, others may prefer a more serene and secluded experience. If you're seeking tranquility and solitude during your vacation, it may be worth exploring other areas on Oahu or neighboring islands with fewer tourists.
However, despite the crowds, there are ways to navigate and make the most of your time in Waikiki. Consider visiting attractions during off-peak hours or exploring lesser-known spots within the neighborhood. For example, venturing beyond the main stretch of Waikiki Beach can lead you to quieter sections where you can enjoy some peace while still being close to the action.
It's also worth noting that local knowledge can go a long way in finding hidden gems and avoiding crowded areas. Engaging with locals or seeking recommendations from experienced tour guides can help you discover less crowded beaches or unique activities that may not be as well-known to tourists.
While the crowds can be a drawback, Waikiki's popularity is a testament to its undeniable allure. The vibrant atmosphere, stunning beaches, and diverse range of attractions continue to captivate visitors year after year. By planning ahead and embracing the energy of this bustling neighborhood, you can still have an incredible experience in Waikiki despite the crowds.
So, prepare yourself for some excitement and embrace the vibrant spirit of Waikiki as you explore its attractions while being mindful of the crowds.
Expensive

Expensive: Navigating the Costs of Waikiki Tourist Attractions
While Waikiki offers a plethora of exciting tourist attractions, it's important to acknowledge that some visitors may find the experience to be quite expensive. From accommodations to dining and activities, the costs associated with exploring Waikiki can add up quickly, making it challenging for budget-conscious travelers to fully enjoy all that this paradise has to offer.
One of the primary expenses in Waikiki is accommodations. As a popular tourist destination, hotels and resorts in the area tend to have higher price tags compared to other locations. This can make finding affordable lodging a bit more challenging, especially during peak travel seasons. However, with careful planning and research, budget-friendly options such as guesthouses or vacation rentals can still be found.
Dining is another aspect where costs can quickly escalate in Waikiki. While there are plenty of dining options available, ranging from local eateries to high-end restaurants, many establishments cater to tourists and adjust their prices accordingly. It's important for visitors to be mindful of their budget and explore different dining options beyond the tourist hotspots. Local food trucks or casual eateries often offer delicious meals at more affordable prices.
Participating in activities and attractions in Waikiki can also strain one's wallet. Popular water sports like surfing lessons or sunset cruises may come with a hefty price tag. Additionally, entrance fees for attractions such as museums or cultural centers can add up if you plan on visiting multiple sites. Prioritizing which activities are most important and seeking out discounts or package deals can help mitigate some of these costs.
However, it's essential to note that not all experiences in Waikiki come with a high price tag. The beautiful beaches are free for everyone to enjoy, allowing visitors to soak up the sun and take a dip in the ocean without spending a dime. Exploring local parks and gardens provides an opportunity to appreciate the natural beauty of the area at no cost.
While it's true that Waikiki can be expensive, it doesn't mean that budget-conscious travelers should shy away from visiting this stunning destination. By planning ahead, researching affordable options, and being selective with activities, visitors can still have a memorable experience in Waikiki without breaking the bank. Remember, it's not always about how much money you spend, but rather the quality of experiences and connections made during your time in this tropical paradise.
Limited Options

Limited Options: Navigating the Crowds in Waikiki
Waikiki, with its undeniable charm and natural beauty, has become a magnet for tourists from all corners of the globe. However, one con that visitors may encounter is the limited options for activities or attractions that aren't already overcrowded. With the sheer number of people flocking to this popular destination, it's important to plan ahead and be prepared for potential crowds.
One of the main challenges faced by visitors to Waikiki is finding secluded spots on the beach. While Waikiki Beach is undeniably stunning, it can get quite crowded during peak tourist seasons. Finding a prime spot to lay down your towel and relax may require some patience and careful timing. Alternatively, exploring nearby beaches or venturing out early in the morning can offer a quieter experience away from the hustle and bustle.
Popular attractions such as Diamond Head State Monument or the Honolulu Zoo can also draw large crowds. It's advisable to plan your visits during off-peak hours or consider exploring alternative attractions that may provide a more intimate experience. Researching lesser-known local gems or seeking recommendations from locals can help you discover hidden gems off the beaten path.
Another aspect affected by the influx of tourists is dining options. Waikiki offers an array of restaurants catering to various tastes and budgets, but popular establishments often have long waiting times due to high demand. Making reservations in advance or exploring eateries outside of the main tourist areas can alleviate this issue and provide a chance to savor authentic local cuisine.
While navigating through crowded streets might be inevitable at times, it's worth noting that Waikiki's popularity stems from its undeniable allure. Despite these limitations, there are still plenty of opportunities to enjoy all that this tropical paradise has to offer. By planning ahead, venturing beyond the typical tourist spots, and embracing flexibility in your itinerary, you can make the most of your time in Waikiki while avoiding the crowds.
Remember, even with limited options, Waikiki's natural beauty and cultural richness shine through. So, embrace the vibrant atmosphere, seek out hidden gems, and savor the moments that make your visit to Waikiki truly unique.