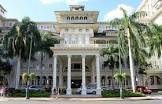 Surfrider Hotel Waikiki: Where Aloha Meets the Waves
Nestled in the heart of Waikiki, the Surfrider Hotel stands as a beacon of Hawaiian hospitality and surf culture. With its prime location just steps away from the iconic Waikiki Beach, this boutique hotel offers an unforgettable experience for travelers seeking both relaxation and adventure.
From the moment you step into the Surfrider Hotel, you'll be greeted by a warm aloha spirit that permeates every aspect of your stay. The friendly staff is dedicated to ensuring your comfort and making you feel at home. Whether it's recommending the best local restaurants or helping you arrange surf lessons, their personalized service goes above and beyond to create a memorable Hawaiian getaway.
The hotel itself exudes a laid-back charm that reflects the rich surfing heritage of Waikiki. The design pays homage to vintage surf culture, with stylish interiors featuring retro-inspired furnishings and artwork. Each room is thoughtfully appointed with modern amenities, ensuring a comfortable stay while still maintaining a distinct Hawaiian vibe.
But it's not just about the aesthetics – Surfrider Hotel offers an array of amenities to enhance your experience. Take a dip in their rooftop pool while enjoying panoramic views of Diamond Head and the Pacific Ocean. Unwind at their outdoor lounge area, perfect for sipping tropical cocktails as you watch surfers catching waves in front of iconic Waikiki Beach.
For those seeking adventure, Surfrider Hotel is perfectly situated for all things water sports. Grab one of their complimentary beach cruisers and explore the vibrant neighborhood or rent a surfboard from their on-site shop before hitting the waves. If surfing isn't your thing, there are plenty of other activities nearby, from snorkeling in Hanauma Bay to hiking up Diamond Head Crater.
When it comes to dining options, Surfrider Hotel has you covered. Their on-site restaurant serves up delicious farm-to-table cuisine, highlighting the flavors of Hawaii with a modern twist. From fresh seafood to locally sourced produce, every dish is a celebration of the island's culinary heritage.
Beyond its commitment to providing a memorable stay for its guests, Surfrider Hotel is also dedicated to preserving the natural beauty of Hawaii. They actively participate in eco-friendly practices and support local sustainability initiatives, ensuring that future generations can continue to enjoy the pristine beaches and crystal-clear waters.
So whether you're a seasoned surfer or simply seeking an authentic Hawaiian experience, Surfrider Hotel Waikiki offers the perfect blend of comfort, style, and adventure. Immerse yourself in the vibrant surf culture of Waikiki while enjoying all the amenities this boutique hotel has to offer. Get ready to catch some waves and create memories that will last a lifetime at Surfrider Hotel Waikiki – where aloha meets the waves.
7 Essential Tips for an Unforgettable Stay at Surfrider Hotel Waikiki
Book your stay in advance to get the best rates.

Surfrider Hotel Waikiki: Book in Advance for the Best Rates
Planning a trip to the beautiful shores of Waikiki? If you're considering a stay at the Surfrider Hotel, we have a valuable tip for you: book your stay in advance to secure the best rates and ensure a seamless vacation experience.
As one of the most sought-after hotels in Waikiki, Surfrider Hotel offers an exceptional blend of comfort, style, and proximity to the beach. With its prime location and impeccable service, it's no surprise that this boutique hotel is a popular choice among travelers.
By booking your stay in advance, you not only guarantee your spot at this coveted hotel but also unlock access to exclusive deals and discounts. The early bird truly catches the worm when it comes to securing the best rates. By planning ahead and reserving your room well in advance, you can take advantage of special promotions that may be available for early bookings.
Additionally, booking ahead allows you to have more flexibility in choosing your preferred room type or suite. Whether you're looking for an ocean view room or a cozy hideaway, reserving early increases your chances of securing exactly what you desire.
Beyond financial savings and room selection advantages, booking in advance also provides peace of mind. Knowing that your accommodation is secured well ahead of time allows you to focus on other aspects of your trip planning with less stress. You can spend more time researching activities, exploring local attractions, or simply daydreaming about your upcoming Hawaiian adventure.
To make the most out of your stay at Surfrider Hotel Waikiki, we highly recommend taking advantage of their early booking options. Keep an eye out for special promotions and packages that may be available when reserving directly through their website or contacting their reservations team.
Remember: paradise awaits those who plan ahead! Book your stay at Surfrider Hotel Waikiki in advance to enjoy the best rates, secure your preferred room type, and ensure a worry-free vacation in the heart of Waikiki.
Take advantage of the free shuttle service to explore Waikiki and nearby attractions.

Explore Waikiki and Beyond with Surfrider Hotel's Free Shuttle Service
When staying at the Surfrider Hotel in Waikiki, you not only have access to its prime location near the famous Waikiki Beach but also a convenient and complimentary shuttle service that allows you to explore the vibrant neighborhood and nearby attractions with ease.
The hotel's free shuttle service is a fantastic perk for guests, as it provides a hassle-free way to discover all that Waikiki has to offer. Whether you're in the mood for shopping, dining, or simply exploring the local culture, this shuttle service is your ticket to convenience and adventure.
Hop aboard the comfortable shuttle and let it whisk you away to popular destinations within Waikiki. Visit the renowned Ala Moana Shopping Center, where you can indulge in retail therapy at a variety of high-end stores or savor diverse culinary delights at its many restaurants. The shuttle also stops at the vibrant International Market Place, where you can browse through unique boutiques, enjoy live entertainment, and sample delicious local cuisine.
If you're looking to immerse yourself in nature, take advantage of the shuttle's stops at Kapiolani Park and Diamond Head State Monument. Kapiolani Park offers a serene escape from the bustling city with its lush green spaces, picnic areas, and scenic views. Meanwhile, Diamond Head State Monument beckons adventure enthusiasts with its iconic hiking trail leading to breathtaking panoramic vistas of Oahu's coastline.
The free shuttle service is not limited to exploring Waikiki alone – it also takes guests beyond its borders. Venture out to nearby attractions such as Pearl Harbor or the famous North Shore, known for its world-class surfing spots like Pipeline and Sunset Beach. With transportation provided by Surfrider Hotel's shuttle service, you can embark on unforgettable day trips without worrying about transportation logistics.
In addition to offering convenience and accessibility, this complimentary shuttle service allows you to make the most of your time in Waikiki. Instead of navigating through traffic or searching for parking, you can sit back, relax, and enjoy the scenic ride while planning your next adventure.
So, make sure to take advantage of Surfrider Hotel's free shuttle service during your stay. It's a fantastic opportunity to explore Waikiki and its surrounding attractions effortlessly, ensuring that you don't miss out on any of the incredible experiences that Hawaii has to offer.
Enjoy complimentary beach chairs, towels and umbrellas on Waikiki Beach.

Make the Most of Your Beach Time at Surfrider Hotel Waikiki
When you stay at Surfrider Hotel Waikiki, your beach experience is taken to the next level. One of the many perks of this boutique hotel is that guests can enjoy complimentary beach chairs, towels, and umbrellas on Waikiki Beach.
Imagine strolling down to the pristine shores of Waikiki Beach, knowing that everything you need for a day of relaxation and fun is provided for you. No need to worry about packing cumbersome beach gear or renting expensive equipment – Surfrider Hotel has got you covered.
With their convenient beach service, you can simply grab a towel and head out to claim your spot on the golden sands. Settle into a comfortable beach chair and soak up the warm Hawaiian sun or find shade under one of their complimentary umbrellas. Whether you're planning on spending hours reading a book, building sandcastles with your family, or simply taking in the breathtaking views, having access to these amenities makes your time on the beach even more enjoyable.
Surfrider Hotel understands that convenience is key when it comes to making the most of your vacation. They provide these complimentary services so that guests can fully immerse themselves in the beauty and relaxation of Waikiki Beach without any hassle.
So pack light and leave your worries behind – when you stay at Surfrider Hotel Waikiki, all you need to bring is yourself and a sense of adventure. Enjoy every moment on Waikiki Beach with their convenient complimentary beach chairs, towels, and umbrellas. Let go of stress as you bask in the sun's warmth or seek shade under an umbrella while savoring the stunning ocean views. Surfrider Hotel has thoughtfully taken care of all your beach needs so that you can focus on creating unforgettable memories during your stay in paradise.
Take advantage of the hotel's complimentary Wi-Fi access throughout your stay.

Stay Connected at Surfrider Hotel Waikiki: Complimentary Wi-Fi for Uninterrupted Adventures
When you stay at Surfrider Hotel Waikiki, you not only get to experience the beauty of Hawaii but also enjoy the convenience of complimentary Wi-Fi access throughout your stay. This amenity ensures that you can stay connected and make the most of your time in paradise.
Whether you're sharing your stunning beachfront photos with friends and family or researching the best local attractions, having access to reliable Wi-Fi is a game-changer. Stay connected with loved ones back home, check emails, or simply browse the web to plan your next adventure on the island.
With Surfrider Hotel's complimentary Wi-Fi, you can easily explore all that Waikiki has to offer. Discover hidden gems, find recommendations for local dining spots, or book exciting activities with just a few clicks. Having this connectivity at your fingertips allows you to make informed decisions and maximize your time in this beautiful destination.
After a day of exploring the vibrant streets of Waikiki or catching waves on the beach, return to your comfortable room at Surfrider Hotel and take advantage of the high-speed internet connection. Share your favorite moments from the day's adventures on social media or unwind by streaming your favorite shows or movies.
Surfrider Hotel understands that staying connected is essential in today's digital world while still allowing you to disconnect from everyday stresses and immerse yourself in the Hawaiian experience. With their complimentary Wi-Fi access, you can strike a perfect balance between staying connected and enjoying everything this tropical paradise has to offer.
So whether you're sharing breathtaking sunsets over Waikiki Beach or researching nearby hiking trails, Surfrider Hotel's complimentary Wi-Fi ensures that you have everything you need at your fingertips. Stay connected throughout your stay and make unforgettable memories while enjoying all that Waikiki has in store for you.
Take advantage of the hotel's fitness center and outdoor swimming pool for a refreshing swim or workout session during your stay.

Stay Fit and Refreshed at Surfrider Hotel Waikiki
When it comes to staying active and refreshed during your vacation, Surfrider Hotel Waikiki has you covered. With its fantastic fitness center and inviting outdoor swimming pool, you can keep up with your exercise routine while enjoying the beautiful Hawaiian surroundings.
The hotel's fitness center is well-equipped with state-of-the-art equipment, providing everything you need for a satisfying workout. Whether you prefer cardio exercises or strength training, you'll find a variety of machines and free weights to suit your fitness goals. Stay energized and maintain your routine as you soak in the vibrant atmosphere of Waikiki.
If swimming is more your style, the hotel's outdoor swimming pool offers the perfect opportunity for a refreshing dip. Take a leisurely swim or get in some laps to kick-start your day or wind down after exploring the island. As you glide through the water, bask in the warm Hawaiian sun and enjoy the soothing ambiance of this tropical paradise.
The pool area at Surfrider Hotel is designed with relaxation in mind. Lounge chairs are strategically placed around the pool, allowing you to unwind and soak up some rays while sipping on a refreshing beverage from their poolside bar. It's an ideal spot to catch up on some reading or simply take in the breathtaking views of Waikiki Beach.
Whether you're an avid fitness enthusiast or just looking to stay active during your vacation, Surfrider Hotel Waikiki provides excellent facilities that cater to your needs. Maintain your exercise routine or try something new while enjoying all that this beautiful destination has to offer.
So don't forget to pack your workout gear and swimsuit when visiting Surfrider Hotel Waikiki. Take advantage of their fitness center and outdoor swimming pool for a refreshing swim or invigorating workout session during your stay. Stay fit, stay refreshed, and make the most out of your Hawaiian getaway!
Try out some of the delicious Hawaiian cuisine served at Surfrider Hotel's restaurant, Aloha Table & Bar, located on-site at the hotel property.

Indulge in Authentic Hawaiian Flavors at Aloha Table & Bar, Surfrider Hotel Waikiki
When it comes to experiencing the vibrant culinary scene of Hawaii, Surfrider Hotel's on-site restaurant, Aloha Table & Bar, is a must-visit destination. Located within the hotel property, this dining establishment offers a delightful culinary journey that showcases the rich flavors and traditions of Hawaiian cuisine.
Aloha Table & Bar is dedicated to serving up delicious farm-to-table dishes that highlight the freshest local ingredients. With a menu inspired by the diverse cultures that have influenced Hawaiian cuisine over the years, you'll find an array of mouthwatering options that will tantalize your taste buds.
Start your culinary adventure with some classic appetizers like poke bowls or crispy coconut shrimp. These dishes perfectly capture the essence of Hawaiian flavors, combining fresh seafood with tropical ingredients and seasonings. As you savor each bite, you'll be transported to the shores of Hawaii.
For those seeking a heartier meal, Aloha Table & Bar offers an enticing selection of main courses. Indulge in traditional Hawaiian favorites such as kalua pork or loco moco – a savory dish featuring a juicy hamburger patty topped with a fried egg and smothered in rich gravy. Each dish is thoughtfully prepared to showcase the unique flavors and culinary heritage of Hawaii.
To complement your meal, be sure to explore their extensive drink menu which includes signature cocktails inspired by tropical fruits and local spirits. Sip on a refreshing mai tai or enjoy a glass of locally brewed craft beer while taking in the vibrant atmosphere of the restaurant.
The ambiance at Aloha Table & Bar is as inviting as its menu. The warm and welcoming interior reflects the laid-back spirit of Hawaii while incorporating stylish elements that create an inviting atmosphere for diners. Whether you're enjoying a meal with friends or having a romantic dinner for two, this restaurant provides an unforgettable dining experience.
As a guest at Surfrider Hotel, you have the convenience of savoring these delectable Hawaiian dishes just steps away from your room. After a day of exploring Waikiki or hitting the waves, there's no better way to unwind than by treating yourself to an authentic Hawaiian feast at Aloha Table & Bar.
So, if you're staying at Surfrider Hotel Waikiki, make sure to carve out some time to experience the culinary delights at Aloha Table & Bar. From fresh seafood to traditional Hawaiian favorites, this on-site restaurant promises a memorable dining experience that will leave you craving more of Hawaii's exquisite flavors.
Make sure to check out all of the great shopping opportunities nearby such as Kalakaua Avenue and International Marketplace for souvenirs and unique items from Hawaii!

When staying at Surfrider Hotel Waikiki, don't miss out on the fantastic shopping opportunities that surround the area. Just a short distance away, you'll find Kalakaua Avenue and the International Marketplace, both offering an array of options for souvenirs and unique items from Hawaii.
Kalakaua Avenue is known as the "Rodeo Drive of the Pacific," lined with high-end boutiques, designer stores, and luxury brands. Here, you can indulge in some retail therapy and find everything from fashion and jewelry to cosmetics and electronics. Whether you're looking for a stylish Hawaiian shirt or a trendy piece of local artwork, Kalakaua Avenue has something for everyone.
For a more eclectic shopping experience, head to the International Marketplace. This vibrant open-air shopping center is a treasure trove of local artisans, boutiques, and specialty stores. Explore the maze-like pathways filled with colorful stalls offering unique handmade crafts, traditional Hawaiian products, and one-of-a-kind souvenirs. From locally made jewelry to hand-carved wooden sculptures, you'll discover an abundance of keepsakes to commemorate your time in Hawaii.
Beyond just shopping for souvenirs, these areas also offer delightful dining options where you can savor delicious local cuisine or grab a refreshing tropical drink. Take a break from browsing and refuel at one of the many restaurants or cafes that dot Kalakaua Avenue or within the International Marketplace itself.
Whether you're seeking mementos to take home or simply love exploring different shops, make sure to carve out some time during your stay at Surfrider Hotel Waikiki to visit Kalakaua Avenue and the International Marketplace. These vibrant shopping destinations provide a unique opportunity to immerse yourself in the local culture while indulging in some retail therapy. So go ahead – shop till you drop and bring back a piece of Hawaii with you!