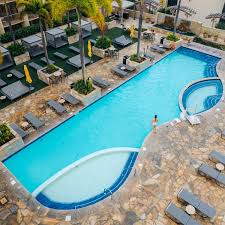 Embassy Suites Hilton Waikiki: Your Ultimate Hawaiian Retreat
Nestled in the heart of Waikiki, Embassy Suites Hilton Waikiki offers a luxurious and unforgettable experience for travelers seeking the perfect Hawaiian getaway. With its prime location, stunning views, and exceptional amenities, this hotel is an ideal choice for both leisure and business travelers alike.
Location, Location, Location
Situated just steps away from world-renowned Waikiki Beach, Embassy Suites Hilton provides easy access to the sun-soaked shores and crystal-clear waters that have made Hawaii famous. Whether you're looking to relax on the beach or try your hand at thrilling water sports, this hotel puts you right in the center of it all.
Stunning Views
Prepare to be captivated by breathtaking panoramic views of the Pacific Ocean or the vibrant cityscape from your spacious suite. Each suite boasts a private lanai (balcony) where you can unwind while taking in the beauty that surrounds you. Imagine waking up to a stunning sunrise over the ocean or enjoying a romantic sunset with your loved ones – these moments are made even more magical at Embassy Suites Hilton Waikiki.
Exceptional Amenities
Embassy Suites Hilton prides itself on providing top-notch amenities that cater to every guest's needs. From their complimentary cooked-to-order breakfast to their evening reception featuring drinks and snacks, they ensure that each guest starts and ends their day with satisfaction. The hotel also offers a state-of-the-art fitness center, perfect for those looking to maintain their exercise routine while on vacation.
For business travelers, Embassy Suites Hilton has you covered with its well-equipped meeting rooms and business center. Whether you're hosting a conference or need a quiet space to work, their facilities provide everything necessary for a successful trip.
Immerse Yourself in Hawaiian Hospitality
The true essence of Hawaii lies not only in its breathtaking landscapes but also in its warm hospitality. At Embassy Suites Hilton Waikiki, the staff is dedicated to providing genuine aloha spirit, ensuring that your stay is both comfortable and memorable. From personalized service to local recommendations, they are always ready to assist you with a smile.
Explore the Island
While Embassy Suites Hilton offers a wealth of amenities and comforts within its doors, it also serves as an excellent base for exploring the wonders of Oahu. From the iconic Diamond Head Crater to the historic Pearl Harbor, there is no shortage of attractions to discover. The hotel's knowledgeable concierge can guide you in planning excursions and adventures that suit your interests.
Embassy Suites Hilton Waikiki is more than just a hotel; it's an invitation to immerse yourself in the beauty, culture, and hospitality that Hawaii has to offer. Whether you're seeking relaxation or adventure, this luxurious retreat provides everything needed for an unforgettable Hawaiian experience. So pack your bags and get ready to create memories that will last a lifetime at Embassy Suites Hilton Waikiki!
Frequently Asked Questions about Embassy Suites Hilton Waikiki
Can you walk on the beach at night Waikiki?

Yes, you can walk on the beach at night in Waikiki. Waikiki Beach is a popular destination for both locals and tourists, and it remains open to the public throughout the day and night. The beach is well-lit, making it safe and enjoyable for evening strolls or romantic walks under the moonlight.
Walking along the shoreline at night offers a unique experience, as you can enjoy the tranquil sounds of the ocean and witness stunning views of the city lights reflecting on the water. It's a peaceful time to take in the beauty of Waikiki Beach without the crowds that are typically present during the day.
However, it's important to exercise caution and be aware of your surroundings while walking on any beach at night. It is advisable to stay in well-populated areas, stick to designated paths or sidewalks, and avoid isolated or poorly lit areas for your safety.
Remember to respect any local regulations or guidelines that may be in place regarding beach access during certain hours. Overall, walking on Waikiki Beach at night can be a memorable experience that allows you to appreciate its beauty from a different perspective.
How much is parking at Embassy Suites Waikiki?

The parking fees at Embassy Suites Hilton Waikiki may vary, and it is best to check with the hotel directly for the most up-to-date information. As parking rates can change over time, it is recommended to contact the hotel's front desk or visit their official website for specific details regarding parking fees and any available discounts or promotions. The hotel staff will be happy to assist you with any inquiries you may have regarding parking options during your stay.
How far is Embassy Suites Hilton Waikiki from the beach?

Embassy Suites Hilton Waikiki is conveniently located just a short walk away from the world-famous Waikiki Beach. The exact distance may vary depending on which part of the beach you wish to access, but on average, it takes approximately 5 minutes to reach the beach from the hotel. This close proximity allows guests to easily enjoy the sun, sand, and surf without having to travel far. Whether you're looking to relax on the beach or partake in various water activities, Embassy Suites Hilton Waikiki offers a convenient and accessible location for beach lovers.
How many towers are at the Embassy Suites Waikiki?

Embassy Suites Waikiki consists of a single tower.