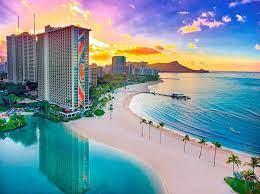 Discover the Exquisite Paradise of Hilton Waikiki
Nestled in the heart of Waikiki, Hilton Waikiki is a premier destination for those seeking an unforgettable Hawaiian getaway. With its stunning views, luxurious accommodations, and exceptional service, this iconic hotel offers a slice of paradise like no other.
As you step into the grand lobby of Hilton Waikiki, you are immediately greeted by a warm aloha spirit that permeates throughout the property. The elegant design and tropical ambiance set the stage for an indulgent experience that combines modern comfort with authentic Hawaiian charm.
The hotel boasts an array of spacious rooms and suites, each meticulously designed to provide a sanctuary where guests can unwind and recharge. From sweeping ocean vistas to breathtaking cityscapes, every room offers a unique perspective on the beauty that surrounds it. The thoughtful amenities and plush furnishings ensure that your stay is nothing short of exceptional.
When it comes to dining, Hilton Waikiki takes culinary excellence to new heights. Indulge your taste buds with delectable creations at MAC 24/7, where you can savor mouthwatering dishes inspired by local flavors. From hearty breakfasts to late-night bites, this 24-hour restaurant caters to all cravings.
For those seeking relaxation and rejuvenation, the hotel's rooftop pool provides a tranquil oasis amidst the bustling cityscape. Lounge on comfortable sunbeds while soaking up panoramic views of Waikiki Beach or take a refreshing dip in the sparkling waters. The poolside bar offers refreshing cocktails and light bites to complete your blissful experience.
Hilton Waikiki's prime location allows guests to easily explore all that Waikiki has to offer. Just steps away from world-renowned beaches, vibrant shopping districts, and exciting entertainment options, you'll find yourself immersed in the vibrant energy of this iconic neighborhood.
Whether you're looking for adventure or tranquility, Hilton Waikiki has something for everyone. Embark on a thrilling hike up Diamond Head, immerse yourself in the local culture at the nearby Honolulu Museum of Art, or simply bask in the sun on Waikiki Beach. The hotel's knowledgeable concierge team is always ready to assist you in curating the perfect itinerary for your Hawaiian adventure.
At Hilton Waikiki, every detail is meticulously crafted to ensure an unforgettable experience. From the moment you arrive until your departure, you'll be embraced by genuine Hawaiian hospitality that will leave a lasting impression.
Indulge in the beauty and serenity of Hilton Waikiki and create memories that will last a lifetime. Book your stay today and embark on a journey to discover the true essence of paradise.
Frequently Asked Questions about Hilton Waikiki: Beach Proximity, Amenities, Nearby Restaurants, Parking Rates, Pool Availability, and Airport Shuttle Service
How close is the Hilton Waikiki to the beach?

Hilton Waikiki is conveniently located just a short walk away from the world-famous Waikiki Beach. You can easily access the beach within minutes from the hotel, allowing you to soak up the sun, take a refreshing swim in the turquoise waters, or simply relax on the sandy shores. The hotel's prime location ensures that you can easily enjoy all that Waikiki Beach has to offer without having to travel far.
What amenities does the Hilton Waikiki offer?

Hilton Waikiki offers a range of exceptional amenities to enhance your stay and ensure a memorable experience. Some of the key amenities include:
Rooftop Pool: Enjoy a relaxing swim in the hotel's rooftop pool, offering panoramic views of Waikiki Beach and the surrounding cityscape. Lounge on comfortable sunbeds while soaking up the Hawaiian sun.
Fitness Center: Stay active and maintain your workout routine at the fully equipped fitness center, featuring state-of-the-art exercise equipment.
On-site Dining: Indulge in culinary delights at MAC 24/7, the hotel's 24-hour restaurant. From breakfast to late-night bites, savor delicious dishes inspired by local flavors.
Concierge Services: The knowledgeable concierge team is available to assist you with arranging activities, tours, and transportation during your stay. They can provide recommendations on local attractions, dining options, and more.
Business Center: For guests traveling on business, Hilton Waikiki offers a convenient business center equipped with computers, printers, and other essential office amenities.
Valet Parking: Take advantage of the hotel's valet parking service for added convenience and peace of mind.
Gift Shop: Browse through a selection of souvenirs, snacks, and essentials at the on-site gift shop.
Wi-Fi Access: Stay connected throughout your stay with complimentary Wi-Fi available in all public areas and guest rooms.
Laundry Services: Hilton Waikiki provides laundry services for your convenience so you can keep your wardrobe fresh during your stay.
Event Spaces: Whether you're planning a corporate meeting or a special celebration, Hilton Waikiki offers versatile event spaces that can be tailored to meet your needs.
These are just some of the amenities that Hilton Waikiki provides to ensure a comfortable and enjoyable stay for its guests.
What restaurants are near the Hilton Waikiki?

Hilton Waikiki is surrounded by a plethora of dining options that cater to a variety of tastes and preferences. Here are a few notable restaurants located near the hotel:
MAC 24/7: Located within Hilton Waikiki, MAC 24/7 offers a diverse menu featuring American comfort food with a Hawaiian twist. Open 24 hours, this restaurant is perfect for any time of day or night.
Doraku Sushi: Just a short walk from the hotel, Doraku Sushi is known for its fresh and innovative sushi creations. With an extensive menu and stylish ambiance, it's an excellent choice for sushi lovers.
Marukame Udon: Situated in the nearby Waikiki Shopping Plaza, Marukame Udon offers authentic Japanese udon noodles made fresh in-house. This casual eatery provides a unique dining experience at affordable prices.
Duke's Waikiki: Located right on the beachfront, Duke's Waikiki is a legendary restaurant named after Duke Kahanamoku, Hawaii's iconic surfer. Enjoy delicious seafood dishes while taking in breathtaking ocean views.
Hula Grill Waikiki: Also situated on the beachfront, Hula Grill offers a blend of Hawaiian flavors with contemporary cuisine. Delight in their farm-to-table dishes while enjoying live music and stunning sunset views.
Wolfgang's Steakhouse: If you're craving a mouthwatering steak, Wolfgang's Steakhouse is just steps away from Hilton Waikiki. Indulge in prime cuts of beef cooked to perfection along with classic sides and elegant ambiance.
Heavenly Island Lifestyle: Known for its farm-to-table concept and healthy options, Heavenly Island Lifestyle offers an array of dishes made with locally sourced ingredients. Enjoy flavorful salads, sandwiches, smoothies, and more.
These are just a few examples of the many dining options available near Hilton Waikiki. Whether you're in the mood for international cuisine, local Hawaiian dishes, or upscale dining experiences, you'll find a wide range of restaurants to satisfy your culinary desires within walking distance of the hotel.
How much is parking at the Hilton Waikiki?

The parking rates at Hilton Waikiki may vary, so it's best to contact the hotel directly for the most up-to-date information. The hotel staff will be able to provide you with accurate details regarding parking availability, rates, and any special offers or discounts that may be available during your stay.
Does the Hilton Waikiki have a pool?

Yes, Hilton Waikiki does have a pool. The hotel features a rooftop pool where guests can relax and enjoy panoramic views of Waikiki Beach and the surrounding cityscape. The pool area offers comfortable sunbeds for lounging and a poolside bar where guests can indulge in refreshing cocktails and light bites. It's the perfect spot to unwind and soak up the Hawaiian sunshine during your stay at Hilton Waikiki.
Is there a shuttle service from the airport to the Hilton Waikiki?

Yes, Hilton Waikiki offers a convenient shuttle service from the airport to the hotel. The hotel's dedicated shuttle provides a hassle-free transportation option for guests, allowing you to relax and enjoy the journey from the moment you arrive in Hawaii. The friendly and professional drivers will ensure a comfortable ride, providing you with a seamless transition from the airport to your luxurious accommodations at Hilton Waikiki. To arrange for the shuttle service, we recommend contacting the hotel directly or including your request when making your reservation.