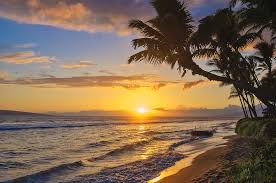 Kaanapali Beach: A Paradise on Maui
Kaanapali Beach, located on the west coast of Maui, is a stunning stretch of golden sand and crystal-clear waters that has been attracting visitors for decades. With its beautiful sunsets, gentle waves, and palm trees swaying in the breeze, Kaanapali Beach is a true paradise that offers something for everyone.
One of the most popular activities at Kaanapali Beach is swimming. The water is warm and calm, making it ideal for families with children as well as those who want to relax and soak up the sun. There are also several snorkeling spots along the beach where visitors can see colorful fish and even sea turtles.
For those who prefer more active pursuits, Kaanapali Beach has plenty to offer. Jet skiing, parasailing, and stand-up paddleboarding are just a few of the many water sports available. Visitors can also take a sunset cruise or go whale watching during whale season (December through May).
In addition to its natural beauty and recreational opportunities, Kaanapali Beach is home to several world-class resorts that offer luxurious accommodations and amenities. Many of these resorts have their own private sections of the beach where guests can enjoy exclusive access to loungers, umbrellas, and other beach equipment.
But even if you're not staying at one of these resorts, there are still plenty of options for dining and shopping along Kaanapali Beach. Whalers Village is a popular open-air shopping center that features a variety of stores selling everything from souvenirs to high-end fashion.
Overall, Kaanapali Beach is an idyllic destination that embodies the spirit of Hawaii. Whether you want to relax in the sun or explore the ocean's depths, this beach has something for everyone. So grab your sunscreen and head on over to Kaanapali Beach – you won't be disappointed!
5 Essential Tips for a Perfect Day at Kaanapali Beach
Wear plenty of sunscreen and a hat to protect yourself from the sun.

When visiting Kaanapali Beach, it's important to protect yourself from the sun's harmful rays. The Maui sun can be intense, and prolonged exposure can lead to sunburn, skin damage, and even skin cancer. To ensure that you have a safe and enjoyable time at the beach, be sure to wear plenty of sunscreen and a hat.
Sunscreen should be applied liberally and frequently throughout the day, especially after swimming or sweating. Look for a broad-spectrum sunscreen with an SPF of 30 or higher, which will protect against both UVA and UVB rays. Don't forget to apply sunscreen to all exposed areas of your body, including your face, ears, neck, arms, and legs.
A hat is also an essential item for a day at Kaanapali Beach. A wide-brimmed hat will provide additional protection for your face and neck while keeping you cool in the hot sun. Look for a lightweight hat made from breathable material for maximum comfort.
By taking these simple precautions, you can enjoy all that Kaanapali Beach has to offer without putting your health at risk. So don't forget to pack plenty of sunscreen and a hat before heading out to this beautiful Maui destination!
Bring water shoes or reef-safe sandals to protect your feet while swimming in the ocean.

When visiting Kaanapali Beach, it's important to remember that the ocean is home to a variety of creatures that can be harmful to humans. While swimming in the ocean, it's a good idea to wear water shoes or reef-safe sandals to protect your feet from sharp rocks, coral, and other hazards.
Water shoes or reef-safe sandals are designed to provide traction and support while also protecting your feet from cuts and abrasions. They are especially useful when exploring rocky areas or when swimming in areas with coral reefs.
Not only do water shoes or reef-safe sandals protect your feet, but they also help preserve the delicate marine ecosystem. Traditional flip-flops or sneakers can damage coral and other marine life if stepped on or kicked up by swimmers.
So, before you head out for a day of swimming at Kaanapali Beach, make sure to pack a pair of water shoes or reef-safe sandals. Your feet – and the environment – will thank you!
Arrive early to get the best spot on the beach and avoid crowds.

If you're planning a visit to Kaanapali Beach on Maui, arriving early is a smart move. Not only will you get the best spot on the beach, but you'll also avoid the crowds that tend to arrive later in the day.
By arriving early, you can stake out your spot on the sand and set up your beach gear before it gets too busy. You'll have plenty of room to spread out and enjoy the sun without feeling cramped or crowded. Plus, you'll have a front-row seat for one of Kaanapali Beach's famous sunsets.
Another advantage of arriving early is that you can take advantage of the cooler morning temperatures. The sun is not as strong in the morning, so it's a great time to go for a swim or take a walk along the beach.
Overall, arriving early at Kaanapali Beach is definitely worth it if you want to make the most of your time there. So set your alarm clock and get ready for a day of fun in the sun!
Pack a picnic lunch and snacks so you don't have to leave for food during your visit.

One of the best ways to fully enjoy your day at Kaanapali Beach is to pack a picnic lunch and snacks. Not only does it save you time and money, but it also allows you to fully immerse yourself in the beauty of the beach without having to leave for food.
There are several options for packing a picnic lunch at Kaanapali Beach. Many local grocery stores offer pre-made sandwiches, salads, and other grab-and-go items that are perfect for a beach picnic. Alternatively, you can bring your own homemade sandwiches or wraps, fruit, chips, and other snacks.
Having a picnic on the beach also allows you to take advantage of the many picnic tables and grills available along the shore. You can grill up some burgers or hot dogs while enjoying the ocean view, or simply sit back and relax with your favorite sandwich.
By packing your own food, you can stay at Kaanapali Beach all day without having to worry about leaving for meals. This means more time to soak up the sun, swim in the ocean, or explore all that this beautiful beach has to offer.
So next time you visit Kaanapali Beach, consider packing a picnic lunch and snacks. It's an easy way to make the most of your day at this stunning Maui destination!
Don't forget your camera – Kaanapali Beach has some of the most beautiful scenery in Hawaii!

Don't Miss Out on Capturing the Beauty of Kaanapali Beach
If you're planning a trip to Kaanapali Beach, don't forget to bring your camera! This stunning beach is home to some of the most beautiful scenery in Hawaii, and you won't want to miss capturing it on film.
From the golden sand and crystal-clear waters to the palm trees swaying in the breeze, there are endless photo opportunities at Kaanapali Beach. Whether you're an amateur photographer or a seasoned pro, you'll find plenty of inspiration here.
One of the best times to take photos at Kaanapali Beach is during sunset. The colors are simply breathtaking and make for some truly unforgettable shots. You can also capture photos of local wildlife, such as sea turtles and colorful fish that can be found in the waters just off the beach.
But even if photography isn't your thing, having a camera on hand is still a good idea. You never know when you might stumble upon a special moment or memory that you'll want to capture forever.
So before you head out to Kaanapali Beach, make sure your camera is charged and ready to go. You won't regret taking the time to snap some photos of this beautiful slice of paradise in Hawaii!