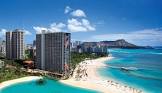 Discover the Paradise of Hilton Village Waikiki Beach
Nestled along the shores of the world-renowned Waikiki Beach, Hilton Village stands as a true paradise destination in Honolulu, Hawaii. With its stunning ocean views, luxurious accommodations, and an array of amenities, this iconic resort offers an unforgettable experience for every traveler.
Spanning across 22 acres of tropical gardens and waterfalls, Hilton Village is a self-contained oasis that caters to all your needs. Whether you're seeking relaxation or adventure, there is something for everyone within this expansive property.
The resort boasts over 2,860 guest rooms and suites, each designed with comfort and style in mind. From spacious balconies offering breathtaking views of the Pacific Ocean to elegant furnishings and modern amenities, every detail has been carefully curated to ensure a memorable stay.
For those looking to unwind and rejuvenate, Hilton Village offers a variety of indulgent options. Take a dip in one of the five swimming pools, including the iconic Super Pool – the largest in Waikiki – or lounge on pristine white sand beaches just steps away from your room. Indulge in a spa treatment at Mandara Spa or enjoy a workout at one of the fitness centers equipped with state-of-the-art facilities.
Food enthusiasts will be delighted by the diverse culinary offerings available at Hilton Village. With over 20 restaurants and bars on-site, guests can embark on a culinary journey around the world without leaving the resort. From traditional Hawaiian cuisine to international flavors crafted by renowned chefs, there is something to satisfy every palate.
Beyond its luxurious accommodations and amenities, Hilton Village also provides easy access to some of Oahu's most popular attractions. Explore Diamond Head State Monument or immerse yourself in Hawaiian history at Iolani Palace. For those seeking retail therapy, world-class shopping is just minutes away at Ala Moana Center.
Whether you're traveling for business or pleasure, Hilton Village offers exceptional event spaces and conference facilities. With over 150,000 square feet of flexible meeting space, state-of-the-art technology, and a dedicated team of event professionals, this resort is the perfect venue for conferences, weddings, or any special occasion.
At Hilton Village Waikiki Beach, the spirit of aloha is embraced in every aspect of your stay. Immerse yourself in the vibrant culture and natural beauty of Hawaii while enjoying unparalleled hospitality and service. Come and experience the magic of Hilton Village Waikiki Beach – where paradise truly awaits.
Frequently Asked Questions about Hilton Hawaiian Village Waikiki Beach
How far is Hilton Hawaiian Village from the beach?

Hilton Hawaiian Village is conveniently located on Waikiki Beach in Honolulu, Hawaii. As a beachfront resort, it offers direct access to the beautiful sandy shores of Waikiki Beach. The exact distance between the hotel and the beach may vary depending on which specific building or accommodation you are staying in within the expansive Hilton Village property. However, guests can generally expect a very short walk of just a few minutes from their accommodations to reach the beachfront.
What beach is Hilton Hawaiian Village?

Hilton Hawaiian Village is located on the beautiful shores of Waikiki Beach in Honolulu, Hawaii. Waikiki Beach is one of the most famous and iconic beaches in the world, known for its golden sand, crystal-clear waters, and breathtaking views. Hilton Hawaiian Village offers guests direct access to this stunning beach, allowing them to enjoy all the sun, surf, and relaxation that Waikiki has to offer.
Can non guests use Hilton Hawaiian Village pool?

Yes, non-guests can use the pools at Hilton Hawaiian Village in Waikiki. The resort offers a day pass option for visitors who are not staying at the hotel but would like to enjoy the pool facilities. This allows individuals to experience the beautiful pools and amenities that Hilton Hawaiian Village has to offer. It's a great opportunity for locals or tourists staying at nearby accommodations to enjoy a day of relaxation and fun in a tropical setting. Please note that availability and pricing may vary, so it's recommended to contact the resort directly for more information on day passes and any specific requirements or restrictions.
Can anyone use the Hilton Lagoon in Waikiki?

Yes, the Hilton Lagoon in Waikiki is open to the public and can be enjoyed by anyone, not just guests of the Hilton Village resort. The lagoon offers a beautiful and safe environment for swimming, paddleboarding, and kayaking. It is surrounded by a sandy beach area with lounge chairs and umbrellas available for rent. Visitors can also take advantage of the nearby restaurants and bars located within the Hilton Village resort while enjoying their time at the lagoon. Whether you are a local resident or a tourist staying at another hotel, you are welcome to experience the Hilton Lagoon and its picturesque setting in Waikiki.