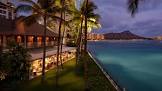 Experience Unparalleled Luxury at Halekulani Hotel Waikiki
Nestled in the heart of Waikiki, Halekulani Hotel stands as a beacon of luxury and tranquility amidst the vibrant energy of Hawaii's most iconic beachfront. With its legendary reputation, impeccable service, and breathtaking ocean views, this five-star hotel has become a haven for discerning travelers seeking an unforgettable Hawaiian experience.
Upon entering the elegant lobby, guests are greeted with warm aloha spirit and a sense of timeless elegance. The hotel's name itself translates to "House Befitting Heaven," and it truly lives up to its heavenly reputation. From the meticulously manicured gardens to the stunning architecture, every detail has been carefully crafted to create an atmosphere of refined opulence.
Halekulani boasts an impressive array of accommodations, each designed with comfort and sophistication in mind. The spacious rooms and suites feature plush furnishings, luxurious bedding, and private lanais that offer breathtaking views of the Pacific Ocean or Diamond Head. Every room is meticulously appointed with modern amenities to ensure a seamless stay for guests.
Culinary delights await at Halekulani's award-winning restaurants. Indulge in exquisite fine dining at La Mer, where French cuisine is elevated to new heights by Chef de Cuisine Alexandre Trancher. For a taste of contemporary island flavors, Orchids offers a delightful array of Pacific Rim-inspired dishes using locally sourced ingredients. And don't miss out on afternoon tea at House Without A Key, where you can savor delicious treats while enjoying live Hawaiian music against the backdrop of a stunning sunset.
When it comes to relaxation and rejuvenation, Halekulani leaves no stone unturned. The hotel's spa is a sanctuary of serenity where guests can indulge in luxurious treatments inspired by traditional Hawaiian healing practices. Unwind by the sparkling pool or take advantage of complimentary yoga classes offered on select days.
Beyond its luxurious amenities, Halekulani Hotel is also dedicated to preserving the natural beauty of its surroundings. The hotel actively participates in various environmental initiatives, including conservation efforts and sustainable practices, ensuring that future generations can continue to enjoy the pristine beauty of Hawaii.
Whether you're seeking a romantic getaway, a family vacation, or a luxurious escape, Halekulani Hotel Waikiki offers an unparalleled experience that will leave you with memories to cherish for a lifetime. Immerse yourself in the aloha spirit and let this iconic hotel be your gateway to the enchanting wonders of Hawaii.
5 Essential Tips for a Memorable Stay at Halekulani Hotel Waikiki
Make sure to take advantage of the complimentary shuttle service offered by Halekulani Hotel Waikiki; it can take you to nearby attractions like Diamond Head and the Honolulu Zoo.

Enhance Your Stay at Halekulani Hotel Waikiki with Complimentary Shuttle Service
When staying at the luxurious Halekulani Hotel in Waikiki, be sure to take full advantage of the complimentary shuttle service offered to guests. This convenient amenity allows you to effortlessly explore nearby attractions, making your Hawaiian getaway even more memorable.
The shuttle service provided by Halekulani Hotel offers easy access to popular destinations such as Diamond Head and the Honolulu Zoo. Diamond Head, a famous volcanic crater, is an iconic landmark that offers stunning panoramic views of Waikiki and the surrounding coastline. By utilizing the shuttle service, you can effortlessly reach this natural wonder and embark on an unforgettable hike to its summit.
For those seeking a wildlife adventure, the Honolulu Zoo is another must-visit destination conveniently accessible through the hotel's shuttle service. Home to a diverse range of animal species from around the world, this family-friendly attraction provides an opportunity to get up close and personal with fascinating creatures in a beautiful tropical setting.
By taking advantage of the complimentary shuttle service, you not only save time but also eliminate any worries about parking or navigating unfamiliar roads. Sit back, relax, and let Halekulani Hotel take care of your transportation needs while you focus on creating lasting memories.
Remember to check with the hotel concierge for shuttle schedules and availability. Whether you're a nature enthusiast or simply looking to explore nearby attractions, this complimentary service ensures that your stay at Halekulani Hotel is as convenient and enjoyable as possible.
Immerse yourself in luxury and let Halekulani's complimentary shuttle service be your gateway to discovering the captivating wonders of Waikiki.
Take advantage of the hotel's free Wi-Fi, which is available in all guest rooms and public areas.

Stay Connected: Enjoy Complimentary Wi-Fi at Halekulani Hotel Waikiki
In today's digital age, staying connected is more important than ever, even when you're on a dream vacation in paradise. At Halekulani Hotel Waikiki, guests can take full advantage of the hotel's complimentary Wi-Fi, available in all guest rooms and public areas.
Whether you need to check your emails, share your stunning beachfront photos with friends and family, or simply browse the web for local attractions and recommendations, the free Wi-Fi at Halekulani ensures that you can stay connected effortlessly.
Imagine lounging on your private lanai with a refreshing drink in hand, while streaming your favorite music or catching up on your favorite shows. With reliable and high-speed internet access throughout the hotel, you can seamlessly connect to the digital world while enjoying the tranquility of this luxurious oasis.
Not only is the Wi-Fi accessible in guest rooms, but also in public areas such as the lobby, restaurants, and poolside. So whether you're savoring a delicious meal at Orchids or taking a leisurely swim by the pool, you can stay connected without any interruptions.
Halekulani Hotel understands that connectivity is an essential part of our daily lives. That's why they go above and beyond to provide their guests with complimentary Wi-Fi access throughout their stay. Now you can easily share your incredible experiences at this iconic hotel with friends and loved ones back home or simply stay up-to-date with work matters if needed.
So go ahead and take advantage of this modern convenience during your stay at Halekulani Hotel Waikiki. Stay connected effortlessly while immersing yourself in the beauty and luxury that this renowned hotel has to offer.
Enjoy a delicious meal at one of Halekulani Hotel Waikiki's five restaurants, where you can find everything from Hawaiian regional cuisine to sushi and steakhouse fare.

Indulge in Culinary Delights at Halekulani Hotel Waikiki
When it comes to dining, Halekulani Hotel Waikiki takes gastronomy to a whole new level. With its five exquisite restaurants, guests are treated to a culinary journey that showcases the best of Hawaiian regional cuisine, sushi, and steakhouse fare.
For those seeking an authentic taste of Hawaii, Orchids is a must-visit. This elegant restaurant offers a menu inspired by Pacific Rim flavors, featuring locally sourced ingredients that highlight the vibrant culinary traditions of the islands. From fresh seafood to tantalizing desserts, every dish is crafted with precision and creativity.
If you're in the mood for an extraordinary fine dining experience, look no further than La Mer. This renowned restaurant has earned numerous accolades for its exceptional French cuisine. Led by Chef de Cuisine Alexandre Trancher, La Mer invites guests on a culinary voyage filled with exquisite flavors and impeccable service.
For sushi enthusiasts, there's no better place than Orchids' sister restaurant, Orchids Sushi Bar. Here, skilled sushi chefs create masterpieces using the finest ingredients sourced from around the world. From traditional nigiri to innovative rolls, each bite is a testament to the artistry and dedication of these talented chefs.
If you're craving perfectly cooked steaks and prime cuts of meat, Lewers Lounge & House Without A Key have got you covered. These two restaurants offer a delightful blend of classic steakhouse favorites and contemporary island-inspired dishes. Whether you choose to dine in an elegant setting or enjoy live Hawaiian music at House Without A Key's iconic beachfront location, both venues promise an unforgettable dining experience.
No matter which restaurant you choose at Halekulani Hotel Waikiki, one thing is certain – your taste buds will be treated to an extraordinary culinary adventure. So sit back, relax, and savor every bite as you immerse yourself in the flavors of Hawaii at this exceptional hotel.
Relax with a massage or facial at the hotel's spa, or go for a swim in one of its two outdoor pools surrounded by lush tropical gardens.

Indulge in Blissful Relaxation at Halekulani Hotel Waikiki
Looking for the ultimate relaxation experience during your stay at Halekulani Hotel Waikiki? Look no further than the hotel's luxurious spa and inviting outdoor pools.
Step into the serene oasis of the hotel's spa and leave behind the stresses of everyday life. Treat yourself to a rejuvenating massage or a revitalizing facial, expertly tailored to meet your individual needs. The skilled therapists will transport you to a state of pure bliss, using soothing techniques and high-quality products to restore your body and mind.
If you prefer to soak up the Hawaiian sun while enjoying a refreshing swim, head to one of Halekulani's two outdoor pools. Surrounded by lush tropical gardens, these pools offer a tranquil setting where you can unwind and bask in the beauty of nature. Take a leisurely swim in the crystal-clear waters or simply lounge by the poolside with a tropical drink in hand.
Whether you choose to pamper yourself with a spa treatment or take a dip in one of the pools, these experiences at Halekulani Hotel Waikiki are designed to provide unparalleled relaxation. Soothe your senses, rejuvenate your spirit, and let go of all worries as you immerse yourself in pure tranquility.
At Halekulani, luxury meets serenity, creating an unforgettable experience that will leave you feeling refreshed and renewed. Make time for self-care during your stay and embrace the opportunity to relax amidst tropical paradise.
Make sure to book early; during peak season, rooms can fill up quickly due to Halekulani Hotel Waikiki's popularity among tourists and locals alike!

Secure Your Slice of Paradise: Book Early at Halekulani Hotel Waikiki!
If you're dreaming of a luxurious Hawaiian getaway at the renowned Halekulani Hotel Waikiki, here's a valuable tip: make sure to book your stay well in advance! This iconic hotel's popularity among both tourists and locals means that rooms can fill up quickly, especially during peak seasons.
Halekulani Hotel's reputation for impeccable service, breathtaking ocean views, and world-class amenities has made it a highly sought-after destination. Whether you're planning a romantic escape, a family vacation, or simply seeking a tranquil retreat, this five-star hotel offers an unforgettable experience.
By booking early, you'll secure your slice of paradise and ensure that you don't miss out on the opportunity to indulge in the luxury and tranquility that Halekulani has to offer. Imagine waking up to stunning views of the Pacific Ocean or Diamond Head from your private lanai, or treating yourself to delectable cuisine at their award-winning restaurants.
Peak seasons in Waikiki can get busy with travelers from around the world eager to experience the beauty and aloha spirit of Hawaii. By reserving your room well ahead of time, you'll have peace of mind knowing that you've secured your preferred dates and accommodations.
So don't wait until it's too late! Plan ahead and make your reservations early to ensure that you have the opportunity to experience the unparalleled luxury and hospitality of Halekulani Hotel Waikiki. Start counting down the days until your dream Hawaiian vacation becomes a reality!