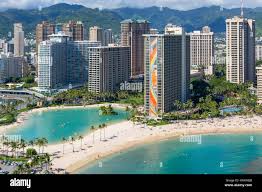 Discover the Unparalleled Luxury of Hilton Waikiki Beach Hotel
Nestled in the heart of Waikiki, Hilton Waikiki Beach Hotel stands as a beacon of elegance and comfort, offering an unforgettable experience for travelers seeking a perfect Hawaiian getaway. With its prime location just steps away from the world-famous Waikiki Beach, this renowned hotel is a haven for those in search of relaxation, adventure, and everything in between.
As you step into the grand lobby of Hilton Waikiki Beach Hotel, you are greeted by a warm aloha spirit that permeates throughout the property. The hotel's commitment to exceptional service is evident from the moment you arrive until your departure. The friendly staff is always on hand to ensure that your stay surpasses all expectations.
The spacious and beautifully appointed guest rooms and suites at Hilton Waikiki Beach Hotel provide an oasis of tranquility amidst the vibrant energy of Waikiki. Each room boasts modern amenities, plush bedding, and breathtaking views of either the Pacific Ocean or the stunning cityscape. Whether you're traveling solo, as a couple, or with family and friends, there is a room type to suit every need.
Indulge your taste buds at one of the hotel's exceptional dining establishments. M.A.C. 24/7 serves up mouthwatering American comfort food with a modern twist around the clock. For those seeking authentic Hawaiian cuisine, head to Hau Tree Cantina where you can savor traditional dishes while enjoying panoramic ocean views. And if you're in need of a refreshing cocktail or a light snack after a day at the beach, visit LBLE Lounge & Bar for some laid-back vibes.
When it comes time to relax and unwind, Hilton Waikiki Beach Hotel offers an array of amenities designed to cater to your every desire. Take a dip in the sparkling outdoor pool surrounded by lush tropical foliage or soak up some sun on one of the comfortable lounge chairs. For those looking to maintain their fitness routine, the hotel's state-of-the-art fitness center is equipped with the latest equipment.
Beyond the hotel's luxurious accommodations and amenities, Hilton Waikiki Beach Hotel is ideally situated for exploring all that Waikiki has to offer. Immerse yourself in the vibrant local culture by visiting nearby attractions such as Diamond Head State Monument, Honolulu Zoo, or the iconic International Market Place. And of course, don't forget to spend ample time basking in the sun and surf on world-famous Waikiki Beach.
Whether you're seeking a romantic getaway, a family vacation, or an adventure-filled trip with friends, Hilton Waikiki Beach Hotel provides an unparalleled experience that will leave you with lasting memories. From its prime location to its exceptional service and luxurious amenities, this hotel truly embodies the spirit of aloha. Book your stay today and discover why Hilton Waikiki Beach Hotel is the ultimate destination for a remarkable Hawaiian escape.
Frequently Asked Questions about Hilton Waikiki Beach Hotel
How far is the Hilton Waikiki Beach from the beach?

Hilton Waikiki Beach Hotel is conveniently located just steps away from the iconic Waikiki Beach. Guests can easily access the beach within a short walking distance from the hotel. Whether you're looking to soak up the sun, take a leisurely stroll along the shoreline, or enjoy various water activities, you'll find yourself just moments away from the beautiful sandy shores of Waikiki Beach when staying at Hilton Waikiki Beach Hotel.
Can you walk on Waikiki Beach at night?

Absolutely! Waikiki Beach is a vibrant destination that can be enjoyed both day and night. While the beach itself doesn't close, it's important to note that some facilities and services may have limited hours during the nighttime.
Walking along Waikiki Beach at night can be a magical experience. The soft glow of the moon, the sound of gentle waves, and the twinkling lights from nearby hotels and restaurants create a unique atmosphere. The beachfront promenade, known as Kalakaua Avenue, is well-lit and bustling with activity even after sunset.
Strolling along Waikiki Beach at night allows you to enjoy a different perspective of this iconic destination. You can take in the stunning views of Diamond Head, watch surfers catching waves under floodlights, or simply relax on the sand and listen to the soothing sounds of the ocean.
It's important to exercise caution and be aware of your surroundings while walking on any beach at night. Stick to well-populated areas, avoid isolated sections, and always follow any safety guidelines provided by local authorities. Additionally, it's advisable to bring a flashlight or use the lights from your smartphone for better visibility.
Whether you choose to take a leisurely walk or simply sit back and enjoy the ambiance, experiencing Waikiki Beach at night can be a memorable part of your visit to Hawaii.
Does Hilton Waikiki have beach access?

Yes, Hilton Waikiki Beach Hotel has direct beach access. Located just steps away from the world-famous Waikiki Beach, guests can easily walk from the hotel to the shoreline and enjoy the sun, sand, and surf. The hotel's prime location ensures that beach lovers have convenient access to all the activities and beauty that Waikiki Beach has to offer. Whether you're looking to relax on the sandy shores, take a swim in the crystal-clear waters, or try your hand at exciting water sports, Hilton Waikiki Beach Hotel provides easy access to one of Hawaii's most iconic beaches.
What towers have been refurbished at Hilton Hawaiian Village Waikiki Beach?

At Hilton Hawaiian Village Waikiki Beach, several towers have undergone recent refurbishments to enhance the guest experience. Here are some of the towers that have been refurbished:
Ali'i Tower: The Ali'i Tower offers a luxurious and exclusive experience for guests. It has recently been renovated to provide a more contemporary and sophisticated ambiance. The rooms have been updated with modern furnishings, stylish decor, and upgraded amenities.
Rainbow Tower: The iconic Rainbow Tower at Hilton Hawaiian Village has also undergone renovations to ensure a comfortable and memorable stay for guests. The tower now features refreshed guest rooms with a modern Hawaiian aesthetic, incorporating vibrant colors and local artwork.
Tapa Tower: The Tapa Tower received a makeover to create a fresh and inviting atmosphere. The newly refurbished rooms showcase a blend of contemporary design elements with traditional Hawaiian touches, offering guests a comfortable and authentic island experience.
These refurbishments reflect Hilton's commitment to providing guests with exceptional accommodations that combine comfort, style, and the unique spirit of Hawaii. By continuously updating their facilities, Hilton Hawaiian Village Waikiki Beach ensures that visitors can enjoy the best possible stay in one of the most beautiful destinations in the world.