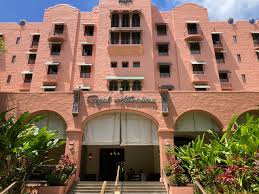 Discover the Timeless Elegance of the Royal Hawaiian Hotel in Waikiki
Nestled along the pristine shores of Waikiki Beach, the Royal Hawaiian Hotel stands as a testament to timeless elegance and rich history. With its iconic pink facade and stunning Spanish-Moorish architecture, this legendary hotel has been a symbol of luxury and hospitality since its opening in 1927.
Stepping into the Royal Hawaiian Hotel is like stepping into a bygone era. The grandeur of its interior transports guests to a world of opulence and sophistication. From the moment you enter the majestic lobby, adorned with crystal chandeliers and hand-painted ceilings, you are enveloped in an atmosphere of regal charm.
The hotel boasts 528 luxurious guest rooms and suites, each meticulously designed to provide comfort and tranquility. Offering breathtaking views of either the Pacific Ocean or the lush gardens, these accommodations are an oasis of relaxation amidst paradise. With modern amenities seamlessly blending with classic touches, guests can enjoy the perfect balance between old-world charm and contemporary convenience.
One cannot mention the Royal Hawaiian Hotel without highlighting its impeccable service. The dedicated staff members are committed to providing personalized attention to every guest, ensuring that their stay is nothing short of extraordinary. Whether it's arranging for a private beachside dinner or recommending hidden gems for exploration around Oahu, they go above and beyond to create unforgettable experiences.
Beyond its luxurious accommodations, the Royal Hawaiian Hotel offers an array of world-class amenities. Indulge in a rejuvenating spa treatment at Abhasa Spa, where ancient Hawaiian healing traditions merge with modern techniques. Lounge by one of the hotel's sparkling pools or take a leisurely stroll through its beautifully manicured gardens. For those seeking adventure, water sports activities such as surfing or paddleboarding are readily available just steps away from your doorstep.
Dining at the Royal Hawaiian Hotel is an experience in itself. With multiple award-winning restaurants on-site, guests can savor a variety of culinary delights. From fine dining at Azure, specializing in seafood delicacies, to casual beachside fare at Surf Lanai, there is something to satisfy every palate. Don't forget to indulge in the hotel's signature Mai Tai cocktail while enjoying the mesmerizing sunset views from the beachfront Mai Tai Bar.
The Royal Hawaiian Hotel's location is also ideal for exploring the vibrant surroundings of Waikiki. From high-end shopping on Kalakaua Avenue to cultural experiences at nearby attractions like the Honolulu Museum of Art or the historic Iolani Palace, there is no shortage of activities to immerse yourself in the local culture.
In conclusion, the Royal Hawaiian Hotel in Waikiki embodies luxury, elegance, and a deep appreciation for Hawaiian heritage. With its timeless charm and exceptional service, it continues to be a beloved destination for discerning travelers seeking an unforgettable experience. Whether you are looking for relaxation, adventure, or cultural immersion, this iconic hotel offers it all against a backdrop of unparalleled beauty.
Frequently Asked Questions About the Royal Hawaiian Hotel in Waikiki
How much are the rooms at the Royal Hawaiian Hotel?

The room rates at the Royal Hawaiian Hotel vary depending on the season, availability, and the specific type of room or suite you choose. It is best to visit the official website of the hotel or contact their reservations department directly for the most accurate and up-to-date information regarding room rates and availability. They will be able to provide you with detailed pricing based on your desired dates of stay and specific accommodation preferences.
Why is Royal Hawaiian Hotel pink?

The Royal Hawaiian Hotel is famously known for its pink color, which has become an iconic symbol of the hotel. The reason behind its pink hue dates back to its early days.
When the hotel was first built in 1927, it was designed to reflect the architectural style of the Spanish-Moorish era. The renowned architect responsible for the design, Warren and Wetmore, envisioned a vibrant and distinctive color scheme that would set the hotel apart from its surroundings.
During that time, pink was a popular color associated with luxury and elegance. It was believed to evoke a sense of romance and tropical allure. To achieve this unique aesthetic, the exterior walls were coated with a soft pink hue using a blend of crushed coral and white paint. This choice of color not only complemented the hotel's architectural style but also harmonized with the natural beauty of Waikiki Beach.
Over the years, the Royal Hawaiian Hotel's pink exterior has become an iconic landmark in Waikiki and a beloved symbol of Hawaii's hospitality industry. It has been affectionately nicknamed "The Pink Palace of the Pacific" due to its majestic appearance and regal ambiance.
The enduring popularity of this distinctive color has led to its preservation throughout renovations and updates over time. Today, visitors can still admire the Royal Hawaiian Hotel's signature pink facade as they arrive at this historic destination, immersing themselves in its timeless charm and elegance.
Did Elvis stay at the Royal Hawaiian Hotel?

Yes, Elvis Presley did stay at the Royal Hawaiian Hotel during his visits to Hawaii. The King of Rock and Roll was known to have a fondness for the islands and frequently stayed at the hotel during his trips. His stays at the Royal Hawaiian Hotel added to its reputation as a preferred destination for celebrities and further solidified its status as an iconic landmark in Waikiki.
Was the Royal Hawaiian Hotel always pink?

No, the Royal Hawaiian Hotel was not always pink. The iconic pink color that the hotel is known for today was actually introduced in the 1950s. Prior to that, the hotel had a more subdued color scheme with white exterior walls. It was during a renovation in the 1950s that the decision was made to paint the hotel's exterior in a vibrant shade of pink, which has since become synonymous with its identity and charm. The pink hue adds to the hotel's unique character and has become an iconic feature of Waikiki's landscape.