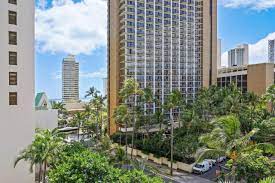 The Darmic Waikiki Banyan: A Tropical Paradise in the Heart of Waikiki
Nestled in the heart of Waikiki, the Darmic Waikiki Banyan stands tall as a beacon of relaxation and tranquility amidst the bustling city. This tropical paradise offers a unique and unforgettable experience for visitors seeking an escape from the ordinary.
As you enter the Darmic Waikiki Banyan, you are greeted by a lush courtyard filled with towering banyan trees, swaying palms, and vibrant tropical flowers. The serene atmosphere immediately transports you to a world of peace and serenity. Whether you're on a family vacation or a romantic getaway, this hidden oasis is sure to captivate your senses.
The Darmic Waikiki Banyan boasts an impressive array of amenities that cater to every guest's needs. The spacious and beautifully appointed suites offer stunning views of either the Pacific Ocean or the majestic Diamond Head crater. Each suite is thoughtfully designed with comfort in mind, featuring modern furnishings, fully equipped kitchens, and private lanais where you can unwind while enjoying breathtaking sunsets.
One of the highlights of staying at the Darmic Waikiki Banyan is its exceptional recreational facilities. Take a dip in one of two sparkling swimming pools, complete with waterfalls and hot tubs for ultimate relaxation. The little ones will love splashing around in the children's pool or playing at the onsite playground. Stay active at the tennis and basketball courts or break a sweat at the fitness center equipped with state-of-the-art equipment.
When it comes to exploring Waikiki's vibrant scene, guests at Darmic Waikiki Banyan are spoiled for choice. Just steps away from world-famous beaches such as Waikiki Beach and Kuhio Beach Park, sun-worshippers can soak up rays or try their hand at thrilling water sports like surfing and paddleboarding. For those seeking retail therapy, the nearby International Market Place and Royal Hawaiian Center offer a wide selection of high-end boutiques, local shops, and delicious dining options.
Beyond the immediate vicinity of Waikiki, the Darmic Waikiki Banyan serves as an ideal base for exploring the rest of Oahu. From here, you can easily embark on unforgettable adventures such as hiking to the top of Diamond Head for panoramic views, visiting Pearl Harbor and paying homage to history, or immersing yourself in the vibrant local culture at the Polynesian Cultural Center.
At the end of a day filled with adventure or relaxation, return to the Darmic Waikiki Banyan and indulge in a peaceful evening under swaying palm trees. Whether you choose to unwind with a cocktail by the poolside or enjoy a quiet dinner on your private lanai, this tropical paradise will leave you feeling rejuvenated and inspired.
The Darmic Waikiki Banyan is more than just a place to stay; it's an experience that will create lasting memories. With its prime location, luxurious amenities, and warm hospitality, it truly embodies the spirit of aloha. So why wait? Book your stay at the Darmic Waikiki Banyan today and let this tropical oasis be your gateway to paradise.
Frequently Asked Questions about Darmic Waikiki Banyan: Amenities, Beach Proximity, Pool, Nearby Restaurants, Parking, Wi-Fi, and Check-in/Check-out Times
What amenities are offered at Darmic Waikiki Banyan?

At Darmic Waikiki Banyan, guests can enjoy a wide range of amenities designed to enhance their stay and provide a comfortable and enjoyable experience. Some of the amenities offered include:
Spacious Suites: The resort offers well-appointed suites with modern furnishings, fully equipped kitchens, and private lanais (balconies) that offer stunning views of either the Pacific Ocean or Diamond Head.
Swimming Pools: Guests can take a refreshing dip in one of two sparkling swimming pools at the resort. The pools are complemented by waterfalls and hot tubs, creating a serene and relaxing atmosphere.
Children's Pool and Playground: Families traveling with children will appreciate the dedicated children's pool where little ones can splash around safely. Additionally, there is an onsite playground for kids to enjoy.
Fitness Center: Stay active during your stay at the fully equipped fitness center, which features state-of-the-art exercise equipment for guests who want to maintain their workout routine while on vacation.
Tennis and Basketball Courts: Sports enthusiasts can engage in friendly matches on the tennis or basketball courts provided at the resort.
BBQ Areas: Enjoy a delightful outdoor dining experience with family and friends using the BBQ areas available on-site. These areas are perfect for grilling up your favorite meals while enjoying the tropical surroundings.
Laundry Facilities: For added convenience, Darmic Waikiki Banyan offers laundry facilities for guests to use during their stay.
24-Hour Security: The resort provides 24-hour security to ensure the safety and peace of mind of all guests.
Concierge Services: The friendly staff at Darmic Waikiki Banyan is ready to assist guests with any inquiries or requests they may have during their stay, including recommendations for local attractions, dining options, or arranging transportation services.
Parking: The resort offers parking facilities for guests who choose to rent a car and explore the island at their own pace.
These amenities are designed to provide guests with comfort, convenience, and opportunities for relaxation and recreation during their stay at Darmic Waikiki Banyan.
How close is Darmic Waikiki Banyan to the beach?

The Darmic Waikiki Banyan is conveniently located just a short walk from the world-famous Waikiki Beach. Guests can easily access the beach within a few minutes, making it an ideal choice for those looking to soak up the sun, swim in the crystal-clear waters, or engage in exciting water sports. The close proximity to the beach allows guests to enjoy the beauty of Waikiki's shoreline without having to travel far.
Is there a pool at Darmic Waikiki Banyan?

Yes, the Darmic Waikiki Banyan features two sparkling swimming pools for guests to enjoy. These pools are perfect for taking a refreshing dip, lounging by the water, or simply soaking up the Hawaiian sun. The pools are complemented by waterfalls and hot tubs, adding to the overall relaxation and tropical ambiance of the property. Whether you're looking to cool off after a day of exploring or simply want to unwind in the serene surroundings, the pools at Darmic Waikiki Banyan provide a delightful retreat for guests.
Are there any restaurants nearby Darmic Waikiki Banyan?

Absolutely! The Darmic Waikiki Banyan is conveniently located in the heart of Waikiki, surrounded by a plethora of dining options to suit every palate. Here are just a few restaurants that are within walking distance from the property:
Duke's Waikiki: This iconic beachfront restaurant offers a relaxed atmosphere and serves up delicious Hawaiian-inspired cuisine, including fresh seafood and tropical cocktails.
Hula Grill Waikiki: Situated right on the sands of Waikiki Beach, Hula Grill offers a stunning oceanfront dining experience with a menu featuring locally sourced ingredients and traditional Hawaiian flavors.
Marukame Udon: If you're craving authentic Japanese udon noodles, Marukame Udon is a must-visit. This popular spot serves up freshly made udon noodles in a variety of flavorful broths.
Eggs 'n Things: For a hearty breakfast or brunch, Eggs 'n Things is a local favorite. Indulge in their fluffy pancakes, omelets, or loco moco while enjoying the laid-back vibe.
Roy's Waikiki: Renowned chef Roy Yamaguchi's flagship restaurant offers an exquisite fusion of European techniques and Asian flavors. Enjoy innovative dishes like misoyaki butterfish or macadamia nut-crusted mahi-mahi.
Tiki's Grill & Bar: Located on the rooftop of the Aston Waikiki Beach Hotel, Tiki's Grill & Bar offers panoramic views of Waikiki Beach along with a menu featuring Pacific Rim cuisine and tropical cocktails.
These are just a few options near the Darmic Waikiki Banyan – there are many more restaurants within walking distance that cater to various tastes and budgets. Whether you're craving local Hawaiian cuisine, international flavors, or something in between, you'll find plenty of culinary delights just steps away from your accommodation.
Does Darmic Waikiki Banyan offer free parking?

Yes, the Darmic Waikiki Banyan offers free parking for its guests. This convenient amenity allows you to explore Waikiki and the surrounding areas without worrying about finding a parking spot or incurring additional expenses. Whether you choose to rent a car or bring your own, rest assured that parking at the Darmic Waikiki Banyan is complimentary, making your stay even more hassle-free.
Is Wi-Fi available at Darmic Waikiki Banyan?

Yes, Wi-Fi is available at Darmic Waikiki Banyan. Guests can enjoy complimentary high-speed internet access throughout the property, including in their suites and common areas. Whether you need to stay connected for work or simply want to share your vacation moments with friends and family, you can rely on the reliable Wi-Fi service provided by Darmic Waikiki Banyan.
What is the check-in and check-out time at Darmic Waikiki Banyan?

At the Darmic Waikiki Banyan, check-in time is typically at 3:00 PM, and check-out time is at 11:00 AM. These timings allow our dedicated staff to ensure that each suite is thoroughly cleaned and prepared for the next guest's arrival. However, please note that specific check-in and check-out times may vary, so it's always a good idea to double-check with the hotel directly or refer to your booking confirmation for any updates or special arrangements.