What are the best hotels near Waikiki Beach?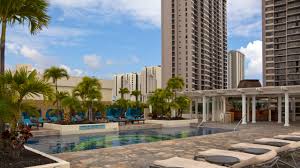 Waikiki Beach is one of the most iconic and beloved beaches in the world. Located on the island of Oahu in Hawaii, Waikiki Beach is known for its stunning beauty, perfect weather, and abundance of activities. With its popularity comes a wide array of hotels to choose from when planning your vacation.
The Royal Hawaiian Hotel is one of the most popular and renowned hotels in Waikiki Beach. Known as the "Pink Palace of the Pacific", this historic hotel has been a favorite among travelers since it opened in 1927. It offers luxurious accommodations, an award-winning spa, and a variety of dining options. The hotel also boasts an impressive location right on Waikiki Beach's white sandy shoreline.
The Sheraton Waikiki is another popular hotel in Waikiki Beach. This modern hotel offers guests stunning views of Diamond Head and the Pacific Ocean from its rooms and suites. The Sheraton also features a variety of amenities including a lagoon-style pool with waterfalls, a spa and fitness center, multiple restaurants, and even a club lounge for guests to enjoy during their stay.
If you're looking for something more affordable than the Royal Hawaiian or Sheraton Waikiki hotels, there are plenty of other options available as well. The Outrigger Reef Waikiki Beach Resort offers comfortable rooms with ocean views at an affordable price point. The Aston at The Waikiki Banyan also provides great value for money with its spacious suites and convenient location close to all the attractions of Waikiki Beach.
No matter what kind of accommodation you're looking for during your stay in Waikiki Beach, you'll be sure to find something that fits your needs perfectly! From luxurious resorts to budget-friendly options – there's something for everyone at this iconic beach destination!
What are the most commonly asked questions about Waikiki Beach Hotels?
What is the difference between Honolulu and Waikiki?

Honolulu is the capital and largest city in Hawaii, while Waikiki is a neighborhood located within Honolulu. Waikiki is known for its beaches, hotels, and nightlife.
Is Waikiki Beach worth visiting?

Yes, Waikiki Beach is definitely worth visiting. It is one of the most popular beaches in the world and offers a variety of activities for all ages, from swimming and surfing to shopping and dining. There are also plenty of places to stay nearby, with a range of accommodation options available.
Can you walk all of Waikiki Beach?

No, the beach is 2.5 miles long and it would be impossible to walk the entire length of it.
What is the best Waikiki Beach?

The best Waikiki Beach is arguably Duke Kahanamoku Beach. Located on the south shore of Waikiki, this beach is popular for its calm waters and beautiful views. It's also great for swimming, snorkeling, and sunbathing.