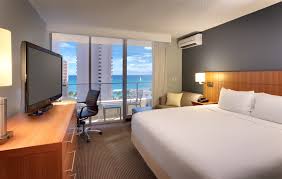 Oahu Waikiki Hotels: Experience Paradise in Style
When it comes to tropical getaways, few places can rival the beauty and charm of Oahu, Hawaii. And at the heart of this stunning island lies the world-famous Waikiki Beach, a destination that has captured the hearts of travelers from around the globe. To truly make the most of your Oahu experience, staying at one of the many luxurious Waikiki hotels is an absolute must.
Waikiki is renowned for its pristine beaches, breathtaking sunsets, and vibrant atmosphere. It's a place where modernity meets tradition, offering a perfect blend of relaxation and excitement. With an array of world-class hotels lining its shores, visitors are spoiled for choice when it comes to finding their ideal accommodation.
From renowned international hotel chains to boutique resorts that exude local charm, Waikiki offers something for every type of traveler. These hotels boast stunning ocean views, direct beach access, and a plethora of amenities that will make your stay unforgettable.
For those seeking the ultimate luxury experience, there are iconic five-star resorts that cater to your every whim. Imagine waking up to panoramic views of the Pacific Ocean from your private balcony or indulging in a rejuvenating spa treatment after a day spent exploring the island. The attention to detail and impeccable service provided by these establishments will leave you feeling pampered and relaxed.
If you prefer a more intimate setting with personalized service, boutique hotels in Waikiki offer a unique experience. These hidden gems often showcase local artistry and design while providing an intimate atmosphere that allows guests to truly connect with their surroundings. Immerse yourself in Hawaiian culture as you enjoy traditional music performances or savor exquisite farm-to-table cuisine at on-site restaurants.
Beyond luxurious accommodations, these hotels also provide convenient access to some of Oahu's most iconic attractions. Take a leisurely stroll along Kalakaua Avenue where you'll find high-end shopping boutiques, world-class restaurants, and vibrant nightlife. Visit the historic Diamond Head State Monument and hike to the summit for breathtaking panoramic views of Waikiki and beyond. And of course, don't forget to spend lazy days on the golden sands of Waikiki Beach, where you can soak up the sun or try your hand at surfing.
Whether you're a honeymooning couple, a family seeking adventure, or a solo traveler in search of tranquility, Oahu's Waikiki hotels offer an experience like no other. With their unrivaled locations, luxurious amenities, and warm Hawaiian hospitality, these accommodations provide the perfect base for exploring all that this enchanting island has to offer.
So why wait? Start planning your dream vacation to Oahu today and immerse yourself in the beauty and luxury that Waikiki hotels have to offer. Create memories that will last a lifetime as you discover paradise in style.
8 Essential Tips for Oahu Waikiki Hotel Bookings
Book in advance to get the best rates and availability at Oahu Waikiki hotels.

Booking in Advance: Unlocking the Best Rates and Availability at Oahu Waikiki Hotels
Planning a trip to Oahu's Waikiki Beach? One of the best tips for ensuring a smooth and stress-free experience is to book your hotel in advance. Not only does this give you peace of mind, but it also allows you to secure the best rates and availability at the highly sought-after Oahu Waikiki hotels.
As a popular tourist destination, Waikiki attracts visitors from all corners of the globe. Its stunning beaches, vibrant atmosphere, and array of activities make it a dream destination for many. However, this popularity means that accommodations can fill up quickly, especially during peak travel seasons.
By booking your hotel in advance, you are giving yourself an advantage. You have access to a wider range of options, allowing you to choose from the best rooms and suites available. Whether you're looking for an oceanfront view, a spacious family suite, or a cozy boutique hotel experience, booking ahead ensures that you have more choices at your disposal.
Another benefit of booking in advance is that it often comes with better rates. Hotels tend to offer discounted prices for early bookings as an incentive for travelers to plan ahead. By taking advantage of these deals, you can save money and allocate those savings towards other aspects of your trip.
Furthermore, booking early allows you to avoid the stress and uncertainty that may arise from last-minute arrangements. You can relax knowing that your accommodation is secured well in advance, leaving you with more time to plan other aspects of your itinerary or simply look forward to your upcoming vacation.
To book in advance effectively, start by researching different hotels in Waikiki that align with your preferences and budget. Take note of their cancellation policies and any additional fees so that you can make an informed decision. Once you've found the perfect hotel, make your reservation as soon as possible to secure the best rates and availability.
Remember, booking in advance is a valuable tip that can make a significant difference in your Oahu Waikiki experience. It ensures that you have a wide selection of accommodations to choose from, allows you to take advantage of discounted rates, and provides peace of mind knowing that your hotel is secured well ahead of your arrival. So don't wait, start planning your trip today and unlock the best rates and availability at Oahu Waikiki hotels!
Look for packages that include meals, entertainment, or activities for a great deal.

When planning a trip to Oahu's Waikiki Beach, finding the best deals on hotels can make your vacation even more enjoyable. One valuable tip is to look for hotel packages that include meals, entertainment, or activities. These packages not only provide convenience but also offer great value for money.
Many Waikiki hotels offer special packages that bundle accommodations with additional perks. By opting for a package deal, you can enjoy a variety of benefits while saving money in the process. One common inclusion is meals, where you can savor delicious cuisine at on-site restaurants or enjoy breakfast buffets to start your day off right.
In addition to meals, these packages often include entertainment options such as live music performances or traditional Hawaiian shows. Immerse yourself in the local culture and experience the vibrant spirit of Hawaii without having to venture far from your hotel.
Moreover, some packages may offer exciting activities that allow you to explore the island's natural beauty and engage in thrilling adventures. From snorkeling excursions to hiking tours, these bundled deals provide an opportunity to make the most of your time in Oahu.
By choosing a package deal that includes meals, entertainment, or activities, you not only simplify your planning process but also potentially save money compared to booking everything separately. It's an excellent way to enhance your overall experience while staying within your budget.
When searching for these packages, be sure to check the hotel's website directly or consult with travel agents who specialize in Hawaii vacations. They can guide you towards the best deals and help customize your package according to your preferences and interests.
So next time you're considering a trip to Oahu's Waikiki Beach, remember this valuable tip: look for hotel packages that include meals, entertainment, or activities. Not only will you find convenience and value but also have an unforgettable experience filled with delightful moments and adventures in paradise.
Read reviews from previous guests to find out what others thought of their stay.

When planning a trip to Oahu, Waikiki hotels offer a wide range of options to choose from. To ensure you make the right choice for your stay, it's always a good idea to read reviews from previous guests. These reviews can provide valuable insights into what others thought of their experience at a particular hotel.
By reading reviews, you can gain valuable information about the quality of service, cleanliness, amenities, and overall guest satisfaction. Pay attention to common themes or recurring comments in the reviews. If multiple guests mention exceptional customer service or comfortable rooms, it's likely that the hotel excels in those areas.
Reading reviews also helps manage expectations. Every traveler has different preferences and priorities when it comes to accommodations. By hearing from others who have stayed at the hotel, you can get a better sense of whether it aligns with your personal needs and preferences.
Keep in mind that while reviews are helpful, they should be taken with a grain of salt. Some individuals may have had unique experiences that may not reflect the overall quality of the hotel. It's important to consider both positive and negative feedback and weigh them against your own priorities.
Fortunately, there are numerous platforms available where you can find reliable reviews from verified guests. Websites like TripAdvisor, Booking.com, or even social media platforms often feature honest and unbiased opinions from previous visitors.
So before you make your final decision on which Waikiki hotel to book for your Oahu adventure, take some time to read through reviews from previous guests. Their experiences and insights can help guide you towards finding the perfect accommodation that will enhance your stay on this beautiful island paradise.
Ask about any special discounts or promotions available when booking your stay.

When planning your stay at one of the fabulous Waikiki hotels in Oahu, it's always a good idea to inquire about any special discounts or promotions that may be available. Many hotels offer exclusive deals and packages that can help you save money while enjoying a luxurious experience.
By asking about discounts or promotions, you may discover hidden gems such as discounted rates for extended stays, complimentary breakfast, spa credits, or even free upgrades to higher room categories. These offers can add tremendous value to your stay and allow you to make the most of your budget.
Hotels often have seasonal promotions or limited-time offers that are not advertised on their websites. By reaching out directly or speaking with a reservation agent, you can uncover these special deals and take advantage of them before they expire.
Furthermore, if you are flexible with your travel dates, it's worth asking if there are any specific days or periods when rates are lower. Hotels sometimes have lower occupancy during weekdays or certain seasons, which can translate into more affordable rates for guests.
Remember to mention any affiliations you may have when making inquiries. For example, if you are a member of a loyalty program or have memberships with certain organizations like AAA or AARP, there may be additional discounts available specifically for members.
Being proactive and asking about special discounts or promotions is a smart way to make your Oahu Waikiki hotel experience even more enjoyable. You might be pleasantly surprised by the savings and added perks that come along with it. So don't hesitate to reach out and inquire – it could make all the difference in creating a memorable and affordable stay in paradise.
Check if the hotel offers free shuttle services to nearby attractions and beaches.

Make the Most of Your Oahu Adventure: Check for Free Shuttle Services at Waikiki Hotels
When planning your stay in Oahu's vibrant Waikiki Beach area, it's essential to consider the convenience and accessibility of your chosen hotel. One valuable tip to enhance your experience is to check if the hotel offers free shuttle services to nearby attractions and beaches. This small detail can make a significant difference in maximizing your time exploring the island.
Oahu is renowned for its stunning beaches, iconic landmarks, and cultural sites. However, navigating the island's diverse offerings can sometimes be challenging, especially if you're unfamiliar with the area. That's where complimentary shuttle services provided by select Waikiki hotels come in handy.
By choosing a hotel that offers this convenient amenity, you'll have easy access to popular attractions without worrying about transportation logistics or parking fees. Imagine hopping on a comfortable shuttle bus right from your hotel lobby and being whisked away to breathtaking beaches like Hanauma Bay or picturesque destinations like Pearl Harbor. These shuttles often operate on a regular schedule, allowing you to plan your day efficiently and make the most of your time on Oahu.
Additionally, these shuttle services can be a great way to explore beyond the immediate Waikiki area. You can venture out to nearby neighborhoods such as downtown Honolulu or visit local markets like Ala Moana Center for shopping and dining experiences. With transportation taken care of, you'll have more freedom to immerse yourself in the beauty and culture of Oahu without worrying about navigating unfamiliar roads or finding parking spots.
Checking if your chosen Waikiki hotel offers free shuttle services is as simple as visiting their website or reaching out directly. Many hotels proudly highlight this perk as it adds immense value to guests' overall experience. It's worth noting that while some shuttles operate within walking distance of the hotel, others may require advance reservations or have specific pick-up points nearby.
By taking advantage of these complimentary shuttle services, you'll not only save time and money but also have the opportunity to explore Oahu's treasures hassle-free. So, when planning your stay in Waikiki, make sure to consider this tip and choose a hotel that provides free shuttle services to nearby attractions and beaches. It's a small detail that can make a big difference in enhancing your Oahu adventure.
Find out what amenities are included with your room such as Wi-Fi, fitness centers, pools, etc., before booking your stay.

When planning your stay at one of the fabulous Oahu Waikiki hotels, it's essential to consider the amenities offered to ensure a comfortable and enjoyable experience. Before booking your room, take a moment to find out what amenities are included.
One of the most important amenities to check for is Wi-Fi access. In today's connected world, staying connected with family, friends, or work is crucial. Most hotels in Waikiki offer complimentary Wi-Fi, allowing you to stay connected throughout your stay without any additional charges.
Fitness enthusiasts will be pleased to know that many Waikiki hotels feature state-of-the-art fitness centers. Whether you prefer cardio workouts or weight training, these facilities provide an opportunity to maintain your fitness routine while on vacation. Start your day with an energizing workout before heading out to explore the island's natural beauty.
Another amenity worth considering is a pool. Oahu's tropical climate makes swimming a popular activity year-round. Relax and cool off in the hotel's pool after a day of sightseeing or soak up the sun while lounging by the poolside. Some hotels even offer stunning rooftop pools with panoramic views of Waikiki Beach and the surrounding coastline.
Additionally, it's worth checking if your chosen hotel offers complimentary beach services such as beach chairs, umbrellas, or towels. These conveniences can make your beach days even more enjoyable without having to worry about bringing along bulky equipment.
By taking the time to research and understand what amenities are included with your room, you can ensure that your stay at one of Oahu's Waikiki hotels exceeds your expectations. From convenient Wi-Fi access for staying connected to fitness centers and pools for relaxation and recreation, these amenities add value and comfort to your vacation experience.
So before finalizing your reservation, make sure to inquire about these amenities and any additional services that may enhance your stay. By doing so, you'll be able to choose a hotel that aligns with your preferences and guarantees a memorable stay in the breathtaking paradise of Waikiki.
Consider staying at an all-inclusive resort for a stress-free vacation experience with everything taken care of for you!

Consider Staying at an All-Inclusive Resort in Oahu Waikiki: A Stress-Free Vacation Experience
When it comes to planning a vacation, sometimes the thought of organizing every detail can be overwhelming. That's where all-inclusive resorts come in, offering a stress-free and convenient option for travelers seeking a seamless vacation experience. And when it comes to Oahu Waikiki hotels, considering an all-inclusive resort can be a game-changer.
An all-inclusive resort takes care of everything for you, from accommodations and meals to activities and entertainment. This means you can truly relax and enjoy your time in paradise without worrying about additional costs or making reservations for every little thing.
Imagine waking up each morning in your comfortable room with stunning ocean views, knowing that your breakfast is just steps away. Indulge in a delicious buffet spread or order from a menu curated by talented chefs who specialize in local Hawaiian cuisine. With all-inclusive resorts, your meals are included, allowing you to savor the flavors of the island without any added expenses.
But it doesn't stop at meals. These resorts often offer a wide range of activities and amenities that cater to every interest. From water sports like snorkeling, paddleboarding, and surfing to land-based activities like yoga classes or guided hikes, there's something for everyone. And the best part? It's all included in your package.
For those seeking relaxation and rejuvenation, many all-inclusive resorts have on-site spas where you can indulge in luxurious treatments such as massages or facials. Spend your days lounging by the pool or on the pristine beach while sipping on tropical cocktails from the poolside bar – it's all part of the stress-free experience.
One of the advantages of staying at an all-inclusive resort is that you have access to various entertainment options without having to leave the property. Enjoy live music performances, cultural shows, or even themed parties organized by the resort's entertainment team. There's always something happening, ensuring that you're never bored during your stay.
Choosing an all-inclusive resort in Oahu Waikiki not only offers convenience and peace of mind but also allows you to make the most of your time on this beautiful island. With everything taken care of for you, you can focus on creating unforgettable memories and immersing yourself in the vibrant culture and natural beauty that Oahu has to offer.
So if you're looking for a stress-free vacation experience where everything is taken care of, consider staying at an all-inclusive resort in Oahu Waikiki. Sit back, relax, and let the resort handle the details while you enjoy a truly hassle-free getaway in paradise.
Take advantage of early check-in and late check-out options if available – this will give you more time to enjoy the sights and sounds of Waikiki without worrying about rushing back to the hotel!

Make the Most of Your Oahu Waikiki Hotel Experience: Early Check-In and Late Check-Out
When it comes to exploring the vibrant paradise of Waikiki, every minute counts. That's why savvy travelers know to take advantage of the early check-in and late check-out options offered by many Oahu Waikiki hotels. By doing so, you can maximize your time in this beautiful destination without any worries about rushing back to your hotel.
Early check-in allows you to start your adventure as soon as you arrive on the island. Instead of waiting until the standard check-in time, you can settle into your room earlier and get a head start on exploring all that Waikiki has to offer. Drop off your luggage, freshen up, and hit the streets with excitement, knowing that every moment counts.
Late check-out is equally valuable, especially if you have a later flight or want to squeeze in some last-minute activities before bidding farewell to this tropical paradise. Rather than feeling rushed to pack up and leave early in the morning, you can enjoy a leisurely breakfast or take one final dip in the ocean before returning to your hotel. With extended time at your disposal, you can soak up more of Waikiki's sights and sounds without feeling pressured.
Not all hotels offer early check-in or late check-out as standard options, but it's worth checking with your chosen accommodation before arrival. Some hotels may provide these services for an additional fee or even complimentary, depending on availability. It's always a good idea to inquire about these options during the booking process or contact the hotel directly for more information.
By taking advantage of early check-in and late check-out options at Oahu Waikiki hotels, you're giving yourself precious extra hours to immerse yourself in the beauty and allure of this tropical paradise. Explore stunning beaches, indulge in local cuisine, shop for unique souvenirs along Kalakaua Avenue, or simply relax and soak up the Hawaiian sun a little longer.
So, plan your itinerary wisely and make the most of your time in Waikiki. With early check-in and late check-out, you can enjoy a seamless and stress-free experience, ensuring that every moment of your stay is filled with unforgettable memories.