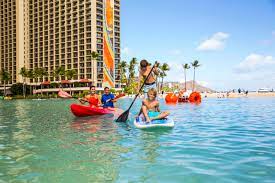 Discover the Ultimate Paradise at Hilton Waikiki Beach Resort
Nestled in the heart of Waikiki, Hilton Waikiki Beach Resort is a true gem that offers an unforgettable Hawaiian experience. With its prime location just steps away from the world-famous Waikiki Beach, this resort is a perfect blend of luxury, comfort, and tropical charm.
As soon as you step into the elegant lobby, you'll be greeted by warm smiles and the spirit of aloha. The resort boasts spacious and beautifully appointed rooms and suites, each designed to provide a tranquil oasis for guests to unwind after a day of exploring the island. From private balconies with stunning ocean or city views to plush bedding and modern amenities, every detail has been carefully considered to ensure your stay is nothing short of exceptional.
One of the highlights of Hilton Waikiki Beach Resort is its rooftop pool deck. Take a dip in the sparkling pool while enjoying panoramic views of Waikiki's skyline and Diamond Head. Lounge on comfortable sunbeds or sip on refreshing cocktails from the poolside bar as you soak up the Hawaiian sunshine. For those seeking ultimate relaxation, indulge in a rejuvenating spa treatment at the on-site Mandara Spa, where skilled therapists will transport you to a state of pure bliss.
Food enthusiasts will be delighted by the culinary offerings at Hilton Waikiki Beach Resort. M.A.C. 24/7 Restaurant + Bar serves up delicious American comfort food with a modern twist, offering an extensive menu that caters to all tastes. From hearty breakfasts to mouthwatering burgers and delectable desserts, your taste buds are in for a treat.
If you're looking to explore beyond the resort's grounds, Hilton Waikiki Beach Resort is perfectly situated for easy access to some of Oahu's most iconic attractions. Take a leisurely stroll along Kalakaua Avenue and discover an array of shops, restaurants, and entertainment options. Immerse yourself in the rich history and culture of Hawaii with a visit to the nearby Honolulu Museum of Art or Iolani Palace.
For adventure seekers, the resort's concierge can assist in arranging thrilling activities such as snorkeling, surfing lessons, or even a helicopter tour to witness the breathtaking beauty of the island from above. Whether you're seeking relaxation or adventure, Hilton Waikiki Beach Resort has something for everyone.
At Hilton Waikiki Beach Resort, hospitality is not just a job; it's a way of life. The dedicated team is committed to ensuring your stay exceeds all expectations. From personalized service to thoughtful amenities and unforgettable experiences, every moment spent at this resort will create lasting memories.
So why wait? Book your stay at Hilton Waikiki Beach Resort and let the magic of Hawaii embrace you. Experience the true essence of aloha and discover why this tropical paradise has captured the hearts of travelers from around the world.
Frequently Asked Questions about Hilton Waikiki Beach Resort: Lagoon Access, Proximity to the Beach, Beach Availability, and Breakfast Options
Can anyone use the Hilton Lagoon in Waikiki?

Yes, anyone can use the Hilton Lagoon in Waikiki. The Hilton Lagoon is a beautiful man-made saltwater lagoon located adjacent to the Hilton Hawaiian Village Waikiki Beach Resort. It offers a safe and family-friendly environment for swimming, paddleboarding, kayaking, and other water activities.
While the lagoon is part of the Hilton Hawaiian Village resort property, it is open to the public and accessible to both guests of the resort and visitors alike. You do not need to be a guest of the hotel to enjoy the lagoon.
The lagoon provides a calm and protected area for water recreation, making it especially popular among families with children or those who prefer a more relaxed swimming experience compared to the open ocean. There are rental facilities nearby where you can easily rent equipment such as paddleboards or kayaks if you don't have your own.
Whether you're staying at the Hilton Hawaiian Village or simply visiting Waikiki, spending time at the Hilton Lagoon can be a wonderful way to enjoy Hawaii's beautiful waters in a safe and picturesque setting.
How far is the Hilton Waikiki Beach from the beach?

Hilton Waikiki Beach Resort is conveniently located just steps away from the world-famous Waikiki Beach. Guests can easily access the beach within a short walking distance from the resort. Whether you're looking to soak up the sun, take a refreshing swim, or try your hand at surfing, the beautiful shores of Waikiki Beach are right at your doorstep when staying at Hilton Waikiki Beach Resort.
Does Hilton Waikiki have a beach?

Yes, Hilton Waikiki Beach Resort is conveniently located just steps away from the world-famous Waikiki Beach. Guests have direct access to the pristine sand and turquoise waters, allowing them to indulge in the beauty and relaxation of this iconic Hawaiian beach. Whether you want to sunbathe, swim, or try your hand at various water activities, the beach is easily accessible from the resort.
Does Hilton Hawaiian Village have free breakfast?

Yes, Hilton Hawaiian Village offers various dining options, including restaurants that provide breakfast. However, it's important to note that the availability of complimentary breakfast may vary depending on the specific package or rate you choose when making your reservation. Some packages or rates may include complimentary breakfast as part of the stay, while others may require an additional fee. It is recommended to check with the hotel directly or review the details of your booking to determine if breakfast is included.