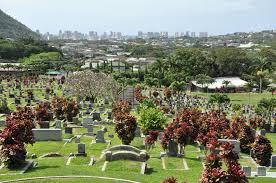 Oahu Cemetery is a historic cemetery located in Honolulu, Hawaii. It is the final resting place for many notable people from Hawaii and beyond, including members of the Hawaiian royal family, politicians, and military personnel.
The cemetery was established in 1844 and covers an area of about 35 acres. It is one of the oldest cemeteries in Hawaii and contains a variety of grave markers from different eras. The cemetery also includes a memorial park dedicated to those who served in World War II.
The cemetery features several monuments dedicated to various individuals and events. One of the most prominent monuments is the Statue of Liberty, which was erected in 1952 to commemorate the centennial anniversary of the United States' independence. Other monuments include those dedicated to fallen soldiers from both World Wars and the Korean War.
The cemetery also houses several mausoleums that are open to visitors. These mausoleums contain remains of many famous figures from Hawaiian history, such as Queen Liliuokalani and King Kalakaua. In addition, there are several gravesites belonging to prominent political figures such as former U.S. President Barack Obama's grandparents Stanley Dunham and Madelyn Dunham; his mother Ann Dunham; his father Barack Obama Sr.; as well as other notable people from Hawaii's past such as King Kamehameha I, Queen Kaahumanu, and John Young (the first foreign advisor to Kamehameha).
Oahu Cemetery has become a popular tourist destination due to its historical significance and beauty. Visitors can take guided tours or explore on their own while taking in some breathtaking views of Honolulu and Diamond Head crater in the background.
No matter what your reason for visiting Oahu Cemetery may be, it is sure to provide an unforgettable experience that will stay with you for years to come!
What are the 4 most commonly asked questions about Oahu Cemetery?
How much is a burial plot in Oahu?

The cost of a burial plot in Oahu can vary widely depending on the cemetery and the size of the plot. Prices can range from $1,500 to $30,000 or more.
Who owns Oahu mortuary?

Oahu Mortuary is owned by the Ohana Funeral Home Group, which is based in Honolulu, Hawaii.
What is the oldest cemetery on Oahu?

The oldest cemetery on Oahu is the Royal Mausoleum of Hawaii, located in Nu'uanu Valley. It was established in 1865 and is the final resting place of many members of the Hawaiian royal family.
How do I find out where someone is buried in Hawaii?

To find out where someone is buried in Hawaii, you can search online burial records or contact the cemetery where the person was buried. You can also contact the Hawaiian Department of Health for information about burial records.