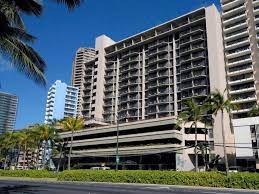 Aqua Waikiki: Where Hawaiian Hospitality Meets Modern Comfort
Nestled in the heart of Waikiki, Aqua Waikiki is a premier hotel that offers a perfect blend of Hawaiian hospitality and modern comfort. With its prime location just steps away from beautiful beaches, vibrant shopping districts, and exciting nightlife, Aqua Waikiki is the ideal choice for travelers seeking an unforgettable Hawaiian experience.
As soon as you step into Aqua Waikiki, you'll be greeted by warm and friendly staff who are dedicated to ensuring your stay is exceptional. Their genuine aloha spirit will make you feel right at home from the moment you arrive. The hotel's commitment to providing exceptional service is evident in every detail, whether it's the personalized recommendations for exploring the island or the thoughtful touches that make your stay comfortable and convenient.
One of the standout features of Aqua Waikiki is its stylish and contemporary accommodations. The rooms are designed with both aesthetics and functionality in mind, offering a relaxing sanctuary after a day of adventure. With plush bedding, modern amenities, and stunning views of either the city or ocean, each room provides a tranquil retreat where you can unwind and recharge.
When it comes to dining options, Aqua Waikiki has something for every palate. The hotel boasts an array of on-site restaurants that showcase the diverse flavors of Hawaii. From traditional Hawaiian cuisine to international fare with a local twist, you'll find an enticing selection of dishes that will satisfy your cravings. Don't forget to try some refreshing tropical cocktails at the hotel's bars while enjoying live music or taking in breathtaking sunset views.
For those looking to relax and rejuvenate, Aqua Waikiki offers an inviting pool area where you can soak up the sun or take a refreshing dip in crystal-clear waters. If you prefer some pampering, indulge in a spa treatment that combines ancient Hawaiian healing techniques with modern wellness practices. The spa's serene atmosphere will transport you to a state of pure bliss.
Beyond the hotel's doors, Aqua Waikiki is surrounded by an abundance of activities and attractions. Take a leisurely stroll to the world-famous Waikiki Beach, where you can bask in the sun, surf gentle waves, or try your hand at stand-up paddleboarding. Explore the vibrant Kalakaua Avenue, known for its high-end shops, local boutiques, and lively entertainment options. And for those seeking a taste of Hawaiian history and culture, nearby landmarks like Diamond Head and Iolani Palace are waiting to be discovered.
Whether you're visiting Hawaii for a romantic getaway, a family vacation, or a solo adventure, Aqua Waikiki offers an unforgettable experience that captures the essence of this tropical paradise. With its exceptional service, stylish accommodations, and prime location in the heart of Waikiki, it's no wonder why Aqua Waikiki is a favorite among travelers seeking an authentic Hawaiian experience. Come and immerse yourself in the beauty and charm of Aqua Waikiki – your gateway to an extraordinary Hawaiian adventure.
9 Essential Tips for Maximizing Your Aqua Waikiki Experience
Book your stay well in advance to get the best rates and availability.

Planning a trip to Aqua Waikiki? Here's a valuable tip: book your stay well in advance to secure the best rates and availability.
Aqua Waikiki is a highly sought-after hotel in the heart of Waikiki, known for its exceptional service, stylish accommodations, and prime location. With its popularity among travelers, it's no surprise that rooms can fill up quickly, especially during peak seasons or special events.
By booking your stay well in advance, you not only ensure that you secure your preferred dates but also increase your chances of getting the best rates. As demand for accommodations rises closer to your travel dates, prices may increase accordingly. By planning ahead and reserving your room early, you can take advantage of any early bird discounts or promotional offers that may be available.
Moreover, booking in advance allows you to have a wider selection of room types and views. Whether you prefer an ocean view room or a city-facing one, securing your reservation early gives you more options to choose from.
Keep in mind that Aqua Waikiki offers flexible cancellation policies for most reservations. So even if your plans change unexpectedly, you can still have peace of mind knowing that you have some flexibility.
To make the most of your visit to Aqua Waikiki and ensure a seamless experience from start to finish, don't forget to book your stay well in advance. By doing so, you'll not only secure the best rates but also guarantee yourself a memorable stay at this exceptional hotel in the heart of Waikiki.
Take advantage of the hotel's complimentary shuttle service to nearby attractions and beaches.

Make the Most of Aqua Waikiki's Complimentary Shuttle Service
When staying at Aqua Waikiki, one of the many perks you can enjoy is their complimentary shuttle service to nearby attractions and beaches. This convenient amenity allows you to explore the best of what Waikiki has to offer without worrying about transportation or parking.
With the hotel's shuttle service, you can easily access popular destinations such as Waikiki Beach, Ala Moana Center, and Diamond Head. Whether you're in the mood for a day of sunbathing on the golden sands, shopping at renowned retailers, or hiking up a volcanic crater for breathtaking views, Aqua Waikiki has got you covered.
The shuttle service not only saves you time and money but also provides a stress-free way to navigate around the area. You won't have to worry about finding parking spaces or dealing with traffic congestion. Instead, sit back and relax in air-conditioned comfort as the shuttle takes you to your desired destination.
Additionally, the hotel's knowledgeable staff can offer recommendations on nearby attractions and help plan your itinerary. They are well-versed in local knowledge and can provide valuable insights on hidden gems that may not be as well-known to tourists.
Whether you're a first-time visitor or a seasoned traveler to Waikiki, taking advantage of Aqua Waikiki's complimentary shuttle service is a smart choice. It allows you to make the most of your time on the island by effortlessly exploring its renowned attractions and beautiful beaches. So sit back, relax, and let Aqua Waikiki take care of your transportation needs while you focus on creating unforgettable memories during your stay in paradise.
Pack a beach bag with sunblock, towels, and other necessities for a day at the beach.

Heading to Aqua Waikiki for a sun-soaked day at the beach? Don't forget to pack your beach bag with all the essentials for a perfect day in paradise!
First and foremost, sunscreen is an absolute must. The Hawaiian sun can be intense, so be sure to choose a broad-spectrum sunscreen with a high SPF to protect your skin from harmful UV rays. Apply it generously and remember to reapply throughout the day for maximum protection.
Next, pack a couple of towels. Whether you're planning on lounging on the sand or taking a dip in the sparkling blue waters, having a soft and absorbent towel will enhance your beach experience. It's also handy for drying off after swimming or simply laying out to soak up some sun.
In addition to sunblock and towels, there are a few other necessities you should consider including in your beach bag. One of them is a hat or visor to shield your face from direct sunlight. A wide-brimmed hat not only provides shade but also adds a touch of style to your beach attire.
Don't forget to bring along some sunglasses to protect your eyes from the bright Hawaiian sunshine. Opt for sunglasses with UV protection that will safeguard your eyes from harmful rays while allowing you to enjoy the stunning views without squinting.
Staying hydrated is crucial when spending time under the sun, so make sure to pack plenty of water or other refreshing beverages in your beach bag. It's important to stay hydrated throughout the day, especially in warm weather.
Lastly, consider bringing some entertainment options like a good book, magazine, or even a portable speaker for some relaxing tunes. These little extras can enhance your beach experience and provide moments of leisure and enjoyment as you unwind by the ocean.
By packing these essentials in your beach bag, you'll be well-prepared for an unforgettable day at Aqua Waikiki's beautiful beaches. Soak up the sun, take refreshing dips in the ocean, and create lasting memories in this tropical paradise. Enjoy your beach day to the fullest!
Take advantage of the on-site amenities such as the pool, hot tub, fitness center, and spa services.

When staying at Aqua Waikiki, make sure to take full advantage of the fantastic on-site amenities that are designed to enhance your overall experience. From relaxation to fitness and wellness, Aqua Waikiki offers a range of facilities that cater to your every need.
First and foremost, indulge in the refreshing pool area. Whether you want to take a leisurely swim or simply soak up the sun while lounging by the poolside, this inviting oasis provides the perfect setting for relaxation. Immerse yourself in crystal-clear waters and let your worries melt away as you enjoy a moment of tranquility.
For those seeking ultimate relaxation, don't miss out on the hot tub. Sink into the warm bubbling waters and let its soothing jets work their magic on your tired muscles. It's an ideal spot to unwind after a day of exploring or simply to enjoy a peaceful evening under the stars.
Maintaining your fitness routine is made easy at Aqua Waikiki's well-equipped fitness center. Whether you prefer cardio workouts or strength training, you'll find state-of-the-art equipment that will help you stay active during your stay. Keep up with your exercise regimen while enjoying panoramic views of the city or ocean from large windows that flood the space with natural light.
To truly pamper yourself, be sure to take advantage of the spa services offered at Aqua Waikiki. Indulge in a range of treatments that combine ancient Hawaiian healing techniques with modern wellness practices. From rejuvenating massages to revitalizing facials, these spa services will leave you feeling refreshed and rejuvenated.
By utilizing these on-site amenities at Aqua Waikiki, you can elevate your stay from ordinary to extraordinary. Whether it's taking a dip in the pool, unwinding in the hot tub, staying fit in the fitness center, or indulging in spa treatments, these offerings add an extra layer of comfort and luxury to your Hawaiian getaway.
So go ahead and treat yourself. Embrace the opportunity to relax, rejuvenate, and revitalize at Aqua Waikiki's exceptional on-site amenities. Make the most of your stay and create lasting memories in this tropical paradise.
Check out the daily activities schedule for fun things to do during your stay like yoga classes or cultural performances.

Make the Most of Your Stay at Aqua Waikiki: Check Out the Daily Activities Schedule!
When you choose to stay at Aqua Waikiki, you not only get to enjoy the comfort and beauty of the hotel but also a wide range of exciting activities that will enhance your Hawaiian experience. One valuable tip we have for you is to check out the daily activities schedule during your stay.
Aqua Waikiki understands that every traveler has different interests and preferences. That's why they offer a variety of engaging activities for guests to enjoy. By taking a look at the daily activities schedule, you can discover a whole world of fun things to do right within the hotel premises.
If you're looking for a way to relax and rejuvenate, why not join one of the yoga classes? These sessions are led by experienced instructors who will guide you through invigorating poses while surrounded by serene surroundings. It's an excellent opportunity to find inner peace and connect with your body and mind.
For those seeking a deeper understanding of Hawaiian culture, Aqua Waikiki offers cultural performances that showcase traditional music, dance, and storytelling. Immerse yourself in the rich heritage of Hawaii as talented performers take you on a journey through captivating performances that bring ancient traditions to life.
The daily activities schedule also includes various workshops and demonstrations where you can learn about local crafts or try your hand at creating something unique. From lei-making workshops to hula dancing lessons, these interactive experiences allow you to engage with Hawaiian culture in a hands-on way.
By participating in these activities, you not only create lasting memories but also gain a deeper appreciation for the vibrant spirit of Hawaii. It's an opportunity to connect with fellow travelers, interact with knowledgeable instructors, and truly immerse yourself in the local culture.
So, don't forget to grab a copy of the daily activities schedule upon check-in or inquire at the front desk during your stay. Take advantage of this wonderful resource to plan your days and make the most of your time at Aqua Waikiki. Whether you're seeking relaxation, cultural enrichment, or simply some fun-filled moments, the daily activities schedule has something for everyone.
At Aqua Waikiki, they strive to make your stay as memorable and enjoyable as possible. So, be sure to check out the daily activities schedule and embark on a journey of discovery and adventure during your Hawaiian getaway.
Dine at one of Aqua Waikiki's delicious restaurants or grab a quick bite from one of their grab-and-go eateries onsite.

Indulge Your Taste Buds at Aqua Waikiki: A Culinary Paradise
When it comes to satisfying your cravings, Aqua Waikiki has you covered. With a variety of delicious dining options, this premier hotel offers an exceptional culinary experience that will delight even the most discerning palates.
One of the highlights of Aqua Waikiki is its selection of enticing restaurants. From the moment you step foot inside, you'll be greeted by a tantalizing array of flavors that celebrate the rich culinary heritage of Hawaii. Whether you're in the mood for traditional Hawaiian cuisine or international dishes with a local twist, there's something to please every taste bud.
Step into one of Aqua Waikiki's delightful restaurants and prepare to be whisked away on a culinary journey. Immerse yourself in the vibrant atmosphere as skilled chefs create masterpieces using locally sourced ingredients and innovative techniques. From fresh seafood caught from the surrounding waters to mouthwatering grilled meats and vegetarian delights, each dish is crafted with care and passion.
If you're looking for a quick bite on-the-go, Aqua Waikiki also offers convenient grab-and-go eateries right on-site. Perfect for those busy days when you want a satisfying meal without sacrificing time exploring the island, these eateries provide a range of delectable options that are both convenient and delicious. Grab a flavorful sandwich or wrap made with fresh ingredients, or indulge in a refreshing salad bursting with tropical flavors.
No matter which dining option you choose at Aqua Waikiki, you can expect exceptional quality and service. The staff takes great pride in ensuring that your dining experience is memorable, from their warm hospitality to their extensive knowledge of the menu offerings. They are always ready to provide recommendations or accommodate any dietary preferences or restrictions.
Beyond just satisfying your hunger, dining at Aqua Waikiki is an opportunity to immerse yourself in Hawaiian culture through its diverse flavors. Each bite is like a taste of the islands, allowing you to connect with the local culinary traditions and experience the unique fusion of cultures that make Hawaii so special.
So, whether you're in the mood for a leisurely dining experience or a quick bite to fuel your adventures, Aqua Waikiki has the perfect dining option for you. Indulge your taste buds and embark on a culinary journey that will leave you craving more. Discover why Aqua Waikiki is not only a haven for comfort and relaxation but also a paradise for food lovers.
Explore Honolulu's famous nightlife with live music venues and bars located just steps away from the hotel entrance!

Experience the Vibrant Nightlife of Honolulu at Aqua Waikiki!
When the sun sets over the stunning beaches of Waikiki, the city comes alive with an electrifying energy. And if you're staying at Aqua Waikiki, you're just steps away from some of Honolulu's most famous live music venues and bars. Get ready to immerse yourself in the vibrant nightlife scene that this city is renowned for!
Honolulu boasts a diverse and thriving music scene, and Aqua Waikiki puts you right in the heart of it all. Whether you're a fan of rock, reggae, jazz, or local Hawaiian tunes, there's something for everyone just moments away from your hotel room. From intimate spaces showcasing talented local artists to larger venues hosting internationally acclaimed acts, you'll find a variety of options to suit your musical taste.
As you step out of Aqua Waikiki's doors, you'll find yourself surrounded by an array of bars offering unique experiences and delicious libations. Sip on handcrafted cocktails made with tropical flavors while enjoying live music performances that will keep your feet tapping all night long. From cozy lounges to lively beachside bars, each venue has its own distinct ambiance that adds to the allure of Honolulu's nightlife.
One popular spot near Aqua Waikiki is Duke's Waikiki. Located right on the beachfront, this iconic establishment offers live music every night and is known for its laid-back atmosphere and tasty Hawaiian cuisine. Enjoy a refreshing drink while swaying to the sounds of talented musicians against the backdrop of crashing waves – it's an experience not to be missed.
If you're looking for a more upbeat vibe, head over to The Republik. This dynamic concert venue hosts both local and international bands across various genres. With its state-of-the-art sound system and energetic crowd, The Republik guarantees an unforgettable night filled with incredible performances.
For those seeking a taste of Hawaiian culture, visit Blue Note Hawaii. This renowned jazz club showcases both local and international jazz musicians, providing an intimate setting where you can appreciate the artistry of this beloved genre. Sit back, relax, and let the smooth melodies transport you to a world of musical bliss.
No matter which venue you choose to explore, Aqua Waikiki's prime location ensures that you can easily venture out and discover the vibrant nightlife that Honolulu has to offer. After a memorable night of live music and dancing, retreat back to your comfortable accommodations at Aqua Waikiki for a restful night's sleep.
So, if you're ready to experience the pulsating rhythm of Honolulu's nightlife scene, look no further than Aqua Waikiki. With its proximity to live music venues and bars that are just steps away from the hotel entrance, you're in for an unforgettable evening of fun, laughter, and fantastic music. Let Aqua Waikiki be your gateway to exploring the vibrant nightlife that makes Honolulu truly come alive after dark!
Take part in some of Aqua Waikiki's unique activities like stand-up paddleboard lessons or hula dancing classes!

Experience the Aloha Spirit with Aqua Waikiki's Unique Activities
When you stay at Aqua Waikiki, you not only have access to exceptional accommodations but also a range of unique activities that will make your Hawaiian vacation truly unforgettable. Step out of your comfort zone and dive into the local culture by taking part in Aqua Waikiki's exciting offerings, such as stand-up paddleboard lessons or hula dancing classes.
For those seeking adventure on the water, stand-up paddleboarding is a must-try activity. Explore the crystal-clear waters of Waikiki Beach while balancing on a paddleboard, gliding through gentle waves. Whether you're a beginner or an experienced paddler, Aqua Waikiki's professional instructors will guide you through the basics and help you master this popular Hawaiian pastime. It's a fantastic way to connect with nature and create lasting memories.
If you're looking to immerse yourself in Hawaiian traditions, why not join one of Aqua Waikiki's hula dancing classes? Hula is not just a dance; it is an art form that tells stories of Hawaii's rich history and culture. Learn the graceful movements, rhythmic steps, and traditional chants from skilled instructors who are passionate about preserving this cherished Hawaiian tradition. By participating in hula dancing classes at Aqua Waikiki, you'll gain a deeper appreciation for the island's heritage and connect with its vibrant spirit.
What sets Aqua Waikiki apart is its commitment to providing authentic experiences that go beyond typical tourist activities. These unique offerings allow guests to engage with the local community and gain insights into Hawaii's rich cultural tapestry. Whether you choose to ride the waves on a paddleboard or sway to the rhythm of hula dancing, these activities will leave you with treasured memories that will last a lifetime.
So, step out of your comfort zone during your stay at Aqua Waikiki and embrace these distinctive opportunities. Try something new, connect with the local culture, and let the spirit of aloha guide you on an extraordinary journey. Aqua Waikiki's unique activities are designed to create meaningful experiences and deepen your connection with the enchanting island of Hawaii.
Visit nearby attractions like Diamond Head State Monument or take a tour of Pearl Harbor for an unforgettable experience!

Aqua Waikiki: Explore the Wonders Beyond
When you stay at Aqua Waikiki, not only will you enjoy the comfort and hospitality of this premier hotel, but you'll also have access to an array of nearby attractions that promise to make your Hawaiian adventure truly unforgettable.
One must-visit destination near Aqua Waikiki is the iconic Diamond Head State Monument. Situated just a short drive away, this volcanic crater offers breathtaking panoramic views of the island. Lace up your hiking boots and embark on a scenic trail that winds its way up to the summit. As you ascend, you'll be rewarded with sweeping vistas of turquoise waters, lush greenery, and the sparkling cityscape below. The hike may be challenging at times, but the sense of accomplishment and the awe-inspiring views make it all worthwhile.
Another must-see attraction within reach of Aqua Waikiki is Pearl Harbor. Immerse yourself in history as you take a tour of this significant World War II site. Visit the USS Arizona Memorial, where you can pay tribute to those who lost their lives during the attack on Pearl Harbor. Explore the USS Missouri Battleship and step back in time as you walk on the same deck where Japan surrendered, marking the end of World War II. The informative exhibits and powerful memorials at Pearl Harbor provide a poignant reminder of our shared history.
After a day of exploring these nearby attractions, return to Aqua Waikiki for a relaxing evening in paradise. Indulge in a delicious meal at one of their on-site restaurants or unwind by the pool while sipping on a refreshing tropical drink. Reflect on your experiences as you watch a breathtaking sunset paint vibrant hues across the Hawaiian sky.
Whether it's hiking up Diamond Head for stunning views or immersing yourself in history at Pearl Harbor, Aqua Waikiki serves as an ideal base for discovering these remarkable attractions that lie just moments away. Embark on an adventure beyond the hotel's doors and create memories that will last a lifetime.