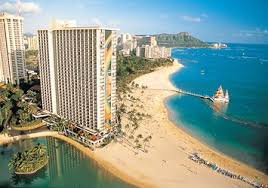 Hilton Hawaiian Village Waikiki: A Paradise within a Paradise
Hilton Hawaiian Village Waikiki is a resort that offers an exceptional experience for travelers visiting the island of Oahu. Located on 22 acres of lush tropical gardens, this resort is a paradise within a paradise. With its prime location on the iconic Waikiki Beach, the Hilton Hawaiian Village is a perfect place to escape from the hustle and bustle of everyday life and enjoy some relaxation in Hawaii.
The resort has over 3,000 guest rooms spread across six towers, each with its own unique design and spectacular views of either the ocean or mountains. The rooms are spacious, well-appointed and provide all the amenities needed for a comfortable stay. From luxurious bedding to high-speed internet access, each room is designed to make guests feel at home.
One of the highlights of the Hilton Hawaiian Village is its impressive range of dining options. With over 20 restaurants and bars on-site, guests can enjoy everything from casual poolside dining to fine dining experiences. The resort also features an outdoor marketplace where guests can sample local cuisine and shop for souvenirs.
For those looking for adventure, there are plenty of activities available at the Hilton Hawaiian Village. The resort has five swimming pools, including an adult-only pool and a saltwater lagoon where guests can swim with tropical fish. There is also a full-service spa offering massages and other treatments to help guests unwind after a day exploring Hawaii.
The Hilton Hawaiian Village also offers cultural activities that allow guests to learn about Hawaii's rich history and culture. From hula lessons to lei-making classes, these activities provide insight into the traditions that have shaped Hawaii into what it is today.
Overall, Hilton Hawaiian Village Waikiki offers an unparalleled experience for travelers visiting Hawaii. With its prime location on Waikiki Beach, stunning views, luxury accommodations, exceptional dining options, exciting activities and cultural experiences – it truly is a paradise within a paradise.
Frequently Asked Questions About Hilton Hawaiian Village Waikiki
Does Hilton Hawaiian Village have free breakfast?

Unfortunately, the Hilton Hawaiian Village Waikiki does not offer free breakfast. However, they do have several dining options on-site where you can purchase breakfast, including a buffet restaurant, cafes and grab-and-go options. Additionally, Hilton Honors members may be eligible for complimentary breakfast depending on their membership level and booking details. It is recommended to check with the hotel directly or consult your booking confirmation for more information on breakfast options and pricing.
Can anyone use the Hilton Lagoon in Waikiki?

Yes, anyone can use the Hilton Lagoon in Waikiki. The lagoon is open to the public and offers a variety of activities such as swimming, stand-up paddleboarding, and kayaking. However, there may be fees associated with some of these activities. Additionally, the lagoon is located on the grounds of the Hilton Hawaiian Village Waikiki Beach Resort, so guests of the resort have convenient access to this beautiful attraction.
Which building is best at Hilton Hawaiian Village?

Choosing the best building at Hilton Hawaiian Village Waikiki depends on your preferences and needs. The resort has six towers, each with its own unique features and views.
The Rainbow Tower is the most iconic building in the resort, with its distinctive rainbow mural on the side. It offers oceanfront rooms with stunning views of Waikiki Beach and Diamond Head.
The Ali'i Tower is a more exclusive tower, offering luxury accommodations and personalized services such as private check-in, a dedicated concierge, and access to an exclusive lounge.
The Tapa Tower is located in the heart of the resort, close to many of the dining options and activities. It offers garden or partial ocean views.
The Diamond Head Tower is located at the quieter end of the resort, offering peaceful surroundings and stunning views of Diamond Head.
The Kalia Tower features modern rooms with contemporary decor and an adults-only pool area.
Finally, the Lagoon Tower offers spacious suites with kitchenettes and balconies overlooking the resort's saltwater lagoon.
Ultimately, it depends on what you are looking for in your stay at Hilton Hawaiian Village Waikiki. If you want stunning ocean views, then Rainbow Tower or Ali'i Tower may be your best option. If you prefer a more peaceful environment, then Diamond Head Tower may be a better choice. If you are traveling with family or friends and need more space, then Lagoon Tower's suites may be ideal.
Can non guests use Hilton Hawaiian Village pool?

Yes, non-guests can use the pools at Hilton Hawaiian Village Waikiki for a fee. The resort offers a pool pass program that allows visitors to access the resort's five swimming pools, including the Super Pool, Paradise Pool, and Keiki Pool. The pool pass program is available on a first-come, first-served basis and is subject to availability.
The cost of the pool pass varies depending on the time of year and demand. During peak season and holidays, the price may be higher than during off-peak times. It is best to check with the resort directly for current pricing information.
It is important to note that the pool pass does not include access to other amenities at Hilton Hawaiian Village, such as fitness facilities or spa services. Additionally, children under 16 years old must be accompanied by an adult at all times while using the pool facilities.
Overall, if you are not staying at Hilton Hawaiian Village but would like to enjoy its beautiful swimming pools during your visit to Waikiki Beach, purchasing a pool pass may be a great option for you.