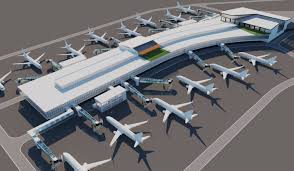 Airports are the gateways to the world. They are bustling hubs of activity where people from all over the globe converge to travel to their destinations. Whether you're a seasoned traveler or a first-time flyer, airports can be both exciting and overwhelming.
The airport experience begins before you even arrive at the terminal. From packing your bags to navigating traffic, there are many factors that can impact your journey. Once you arrive at the airport, you'll need to check in for your flight and go through security screening. This process can be time-consuming, so it's important to arrive early and give yourself plenty of time.
Once you've cleared security, you'll enter the departure lounge where you can relax and wait for your flight. Airports offer a variety of amenities such as restaurants, shops, lounges, and even spas. Some airports even have art exhibits or live music performances to entertain passengers while they wait.
When it's time to board your flight, you'll head to the gate where airline staff will check your boarding pass and ID before allowing you onto the plane. Once on board, flight attendants will provide safety instructions and assist with any needs during the flight.
Upon arrival at your destination airport, you'll disembark from the plane and head through customs if traveling internationally. You'll then collect your luggage from baggage claim before exiting into the arrivals area.
While airports can be hectic places, they are essential for modern-day travel. They provide a means for people all over the world to connect with each other and experience different cultures. So next time you're at an airport, take a moment to appreciate its role in bringing people together from all corners of the globe.
Top 5 Essential Tips for a Smooth Airport Experience
Arrive Early

One of the most important tips for a stress-free airport experience is to arrive early. Whether you're a seasoned traveler or a first-time flyer, arriving early can help you avoid many common travel headaches.
Firstly, arriving early gives you plenty of time to check in for your flight and go through security screening. This process can take longer than expected, especially during peak travel times or if there are any unexpected delays or issues. By giving yourself extra time, you'll have a buffer in case anything goes wrong.
Secondly, arriving early allows you to relax and enjoy the amenities that airports have to offer. Many airports have restaurants, shops, lounges, and even spas where you can pass the time before your flight. You can also use this time to catch up on work or emails if needed.
Lastly, arriving early helps to reduce stress and anxiety associated with travel. Rushing through an airport can be overwhelming and exhausting, which is not how anyone wants to start their trip. By giving yourself enough time, you'll be able to move at a more leisurely pace and enjoy the journey.
In summary, arriving early is one of the best ways to ensure a smooth airport experience. So next time you're traveling by air, make sure to give yourself plenty of time and arrive at the airport with ease!
Check Your Flight Status

If you're planning to travel by air, one of the most important things you can do is check your flight status. This simple tip can save you a lot of time and hassle at the airport.
Flight schedules can change for a variety of reasons such as weather, mechanical issues, or crew availability. By checking your flight status before leaving for the airport, you'll be able to stay informed about any delays or cancellations that may impact your travel plans.
Most airlines offer online tools that allow you to check your flight status in real-time. You can also sign up for email or text alerts that will notify you of any changes to your flight schedule.
If you do discover that your flight has been delayed or cancelled, it's important to act quickly. Contact your airline's customer service department to discuss your options. Depending on the circumstances, they may be able to rebook you on a later flight or offer a refund.
By taking just a few minutes to check your flight status before heading to the airport, you'll be better prepared for any unexpected changes and can avoid unnecessary stress and frustration during your travels.
Pack Light

One of the best tips for a stress-free airport experience is to pack light. Traveling with less luggage not only saves you time and money, but it also makes navigating through the airport much easier.
By packing only what you need, you can avoid the hassle of checking in multiple bags and waiting at baggage claim upon arrival. It also reduces the risk of lost or misplaced luggage, which can be a major headache for any traveler.
In addition to saving time and hassle, packing light can also save you money on baggage fees. Many airlines charge extra fees for checked bags, so avoiding this cost can help keep your travel budget in check.
By packing light, you'll also have an easier time navigating through security checkpoints. With fewer items to unpack and repack, you can breeze through security without holding up the line or causing delays.
So next time you're planning a trip, consider packing light to make your airport experience smoother and more enjoyable. By traveling with only what you need, you'll save time, money, and hassle – leaving more energy for enjoying your destination!
Have Your Documents Ready

One of the most important tips for a smooth airport experience is to have your documents ready. This means having your passport, boarding pass, and any other necessary documents easily accessible and in order before you arrive at the airport.
Having your documents ready can save you time and stress at the check-in counter and security checkpoint. It also helps to prevent delays for other passengers who may be waiting behind you.
Make sure to double-check the requirements for travel to your destination before leaving home. Some countries have specific entry requirements, such as visas or vaccination records, that must be presented upon arrival.
Additionally, it's a good idea to keep all of your important travel documents together in a secure place such as a passport holder or travel wallet. This will help prevent any loss or misplacement of essential documents during your journey.
By having your documents ready and organized, you can streamline the airport process and start your trip off on the right foot. So next time you're heading to the airport, take a few extra minutes to prepare your travel documents beforehand – it will make all the difference!
Stay Connected

Staying connected is an essential tip for any airport traveler. In today's digital age, having access to the internet is crucial for staying informed, entertained, and connected with loved ones. Fortunately, many airports offer free Wi-Fi access throughout the terminal.
To stay connected while at the airport, start by finding a comfortable spot near a power outlet. This will allow you to charge your devices while using them. Many airports also have charging stations or charging lockers available for use.
Once you're settled in, connect to the airport's Wi-Fi network. Most airports have instructions on how to connect posted throughout the terminal, or you can ask an airport staff member for assistance. Be sure to read the terms and conditions before connecting to ensure that you understand any limitations or restrictions.
With internet access in hand, you can check your flight status, browse social media, catch up on work emails, or stream your favorite shows and movies. You can even use video chat apps like Skype or FaceTime to stay in touch with loved ones while you're away.
Staying connected at the airport can help make your travel experience more enjoyable and stress-free. So next time you're waiting for a flight, be sure to take advantage of the free Wi-Fi and stay connected!