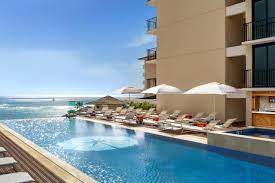 Waikiki Parc: A Hidden Gem in the Heart of Waikiki
Nestled in the vibrant neighborhood of Waikiki, Waikiki Parc stands as a true hidden gem among the towering hotels and bustling streets. With its unique blend of contemporary design, personalized service, and prime location, this boutique hotel offers an unforgettable experience for those seeking a tranquil retreat amidst the energy of Waikiki.
Upon entering Waikiki Parc, guests are immediately greeted by a warm and inviting atmosphere. The hotel's modern aesthetic is complemented by thoughtful touches that pay homage to Hawaiian culture and art. From the moment you step foot into the lobby, you'll be captivated by the stunning artwork on display, showcasing local artists' talent and adding a touch of authenticity to your stay.
The accommodations at Waikiki Parc are designed with both comfort and style in mind. Each room is thoughtfully appointed with contemporary furnishings, plush bedding, and modern amenities to ensure a relaxing stay. Whether you choose a city view room or an ocean view suite, you'll be treated to breathtaking vistas that showcase the beauty of Waikiki.
One of the standout features of this boutique hotel is its commitment to personalized service. The staff at Waikiki Parc go above and beyond to ensure that every guest feels welcomed and well taken care of. From arranging dining reservations at some of the city's finest restaurants to providing insider tips on hidden local gems, they are dedicated to making your stay truly memorable.
For those seeking relaxation or a refreshing dip after a day exploring Waikiki's attractions, Waikiki Parc offers an outdoor pool area that provides an oasis amidst the bustling cityscape. Lounge by the poolside with a tropical drink in hand or take a refreshing swim while enjoying panoramic views of Diamond Head – it's an experience that encapsulates the essence of paradise.
When it comes to dining options, guests at Waikiki Parc are spoiled for choice. The hotel is home to Nobu Honolulu, a world-renowned restaurant that combines traditional Japanese cuisine with innovative flavors. Indulge in an unforgettable dining experience where you can savor exquisite dishes crafted by skilled chefs, all within the comfort of the hotel.
Beyond the comforts of Waikiki Parc, guests will find themselves just steps away from Waikiki's famous beaches, world-class shopping destinations, and vibrant nightlife. Whether you're looking to catch some waves, embark on a shopping spree, or immerse yourself in the local culture, everything is within reach from this centrally located hotel.
In conclusion, Waikiki Parc offers a unique and unforgettable experience for travelers seeking a tranquil haven in the heart of Waikiki. With its contemporary design, personalized service, and prime location, this boutique hotel stands apart from the crowd. Discover a hidden gem that combines modern luxury with authentic Hawaiian hospitality – your perfect retreat awaits at Waikiki Parc.
7 Essential Tips for Enjoying Waikiki Park to the Fullest!
Wear comfortable shoes – the park is quite large, and you'll be doing a lot of walking!

When visiting Waikiki Parc, one important tip to keep in mind is to wear comfortable shoes. The park itself is quite large, and you'll find yourself doing a lot of walking during your stay. Whether you're exploring the lush gardens, strolling along the scenic pathways, or simply enjoying the tranquility of the surroundings, comfortable footwear is essential for a pleasant experience.
With its prime location in Waikiki, there are endless opportunities for exploration just beyond the park's boundaries. From nearby shopping districts to iconic landmarks like Diamond Head, you'll want to be prepared to venture out and discover all that this vibrant neighborhood has to offer.
By wearing comfortable shoes, you can fully immerse yourself in the beauty and excitement of Waikiki without any discomfort or fatigue holding you back. So lace up those sneakers or slip into your most comfortable sandals – whatever suits your style – and get ready to embark on unforgettable adventures while staying at Waikiki Parc.
Bring plenty of water – it can get quite hot in Waikiki Park, so make sure to stay hydrated.

Staying Hydrated: A Must at Waikiki Parc
When visiting the vibrant neighborhood of Waikiki and staying at Waikiki Parc, it's important to keep in mind the tropical climate and the potential for hot weather. One essential tip to ensure a comfortable and enjoyable stay is to bring plenty of water and stay hydrated.
Waikiki Park is known for its stunning beaches, bustling streets, and a plethora of outdoor activities. Whether you're lounging under the sun, exploring the local attractions, or embarking on adventurous excursions, the heat can be quite intense at times. It's crucial to prioritize your well-being by drinking enough water throughout the day.
By staying hydrated, you'll not only quench your thirst but also maintain your energy levels and prevent dehydration. This will allow you to fully embrace all that Waikiki has to offer without feeling fatigued or uncomfortable due to heat-related issues.
Fortunately, Waikiki Parc provides easy access to water sources. You can refill your water bottles at various locations within the hotel or ask the friendly staff for assistance. Additionally, there are many convenience stores nearby where you can purchase bottled water if needed.
Remember to carry a reusable water bottle with you as it's not only environmentally friendly but also convenient for refilling throughout your adventures in Waikiki. This way, you'll always have a refreshing drink on hand whenever you need it.
So, as you prepare for your visit to Waikiki Parc, make staying hydrated a top priority. Pack plenty of water and take regular hydration breaks during your explorations. By doing so, you'll ensure that you enjoy every moment of your stay in this tropical paradise without being hindered by dehydration or discomfort caused by the heat.
Pack snacks – there are plenty of food vendors in the park, but it's always good to have your own snacks on hand.

Waikiki Parc Tip: Pack Snacks for Your Adventures
When visiting Waikiki Parc, one tip that can enhance your experience is to pack your own snacks. While there are plenty of food vendors in the park, having your own snacks on hand can be a convenient and practical choice.
Exploring the beautiful surroundings of Waikiki and its vibrant neighborhood can work up an appetite. Whether you're strolling along the beach, hiking up Diamond Head, or simply enjoying a leisurely walk in the park, having some snacks readily available can keep you energized and satisfied throughout your adventures.
By packing your own snacks, you have the freedom to choose your favorite treats and cater to your personal preferences. Whether it's a bag of trail mix, fresh fruits, or some granola bars, having these handy options ensures that you won't have to rely solely on food vendors or wait until you find a restaurant.
Additionally, packing snacks can be a cost-effective solution. While there are plenty of delicious dining options around Waikiki Parc, eating out for every meal might not be budget-friendly for everyone. By bringing along some snacks from home or picking them up at a local grocery store, you can save money while still enjoying tasty treats whenever hunger strikes.
Moreover, having snacks readily available allows for more flexibility in your daily plans. You won't have to worry about rushing back to the hotel or finding a nearby eatery if hunger strikes unexpectedly. Instead, you can continue exploring at your own pace while savoring your favorite snacks whenever and wherever you desire.
Remember to pack snacks that are easy to carry and won't spoil quickly in the warm Hawaiian climate. Opt for items that are individually wrapped or sealed to maintain freshness throughout the day.
So next time you visit Waikiki Parc, consider packing some snacks before heading out on your adventures. It's a simple tip that can add convenience and flexibility to your day, ensuring that you have a delightful and satisfying experience as you explore the wonders of Waikiki.
Check out the free activities – there are lots of free activities like hula lessons or yoga classes that you can take advantage of while visiting the park.

Make the Most of Your Stay at Waikiki Parc: Enjoy Free Activities
When it comes to enhancing your experience at Waikiki Parc, don't overlook the abundance of free activities available to guests. From hula lessons to yoga classes, these complimentary offerings provide a fantastic opportunity to immerse yourself in Hawaiian culture and maintain your wellness routine while staying at the park.
Waikiki Parc understands that a visit to Hawaii is not just about luxurious accommodations but also about embracing the local traditions and lifestyle. That's why they offer a range of free activities that showcase the unique heritage of the islands. Join in on hula lessons and learn the graceful movements of this traditional Hawaiian dance form. Immerse yourself in the rhythm and spirit of Hawaii as you connect with its rich cultural roots.
If you're looking for a more relaxing way to start your day, take advantage of the complimentary yoga classes offered at Waikiki Parc. Set against the backdrop of stunning ocean views, these classes provide an opportunity to find balance and rejuvenation amidst your vacation. Whether you're an experienced yogi or a beginner, these sessions are designed to cater to all skill levels.
Participating in these free activities not only allows you to engage with Hawaiian culture but also provides an opportunity for social interaction with fellow guests. It's a chance to make new friends, share experiences, and create lasting memories together.
By taking advantage of these complimentary offerings, you can make your stay at Waikiki Parc even more enriching without having to reach into your wallet. So why not seize the opportunity? Embrace the spirit of aloha and join in on these free activities during your visit.
Remember, while enjoying these activities, it's always important to respect the instructors' guidance and be mindful of others around you. Whether you choose hula lessons or yoga classes, let yourself be carried away by the beauty and tranquility that Waikiki Parc has to offer.
So, make the most of your stay at Waikiki Parc by embracing the free activities available. Immerse yourself in Hawaiian culture, connect with fellow guests, and create unforgettable memories. Experience the true essence of aloha as you embark on a journey of discovery and relaxation right at the heart of Waikiki.
Don't forget sunscreen – protect your skin from the sun by applying sunscreen before heading out into the park!

Don't Forget Sunscreen: Protect Your Skin at Waikiki Parc
When visiting the beautiful Waikiki Parc, it's important to remember one essential item: sunscreen. With its prime location in the sun-drenched paradise of Hawaii, protecting your skin from harmful UV rays is crucial for a safe and enjoyable experience.
Before you head out to explore the park or lounge by the pool, take a moment to apply sunscreen generously. Choose a broad-spectrum sunscreen with a high SPF (Sun Protection Factor) to shield your skin from both UVA and UVB rays. This will help prevent sunburns, premature aging, and reduce the risk of skin cancer.
Remember to apply sunscreen at least 15-30 minutes before sun exposure to allow it to fully absorb into your skin. Don't forget commonly overlooked areas such as your ears, back of the neck, and tops of your feet. Reapply every two hours or more frequently if you've been swimming or sweating.
Waikiki Parc offers plenty of outdoor activities and lounging areas where you can soak up the Hawaiian sunshine. By taking a few moments to protect your skin with sunscreen, you can fully enjoy all that this beautiful destination has to offer without worrying about the harmful effects of sun exposure.
So whether you're strolling through the park or relaxing by the poolside, don't forget this simple yet essential tip: apply sunscreen and keep your skin protected from the sun's rays. Your skin will thank you for it, allowing you to fully embrace all that Waikiki Parc has in store for you.
Take photos – Waikiki Park has some incredible views and scenery that you won't want to miss capturing with your camera!

Capture Unforgettable Memories: Photographing the Incredible Views of Waikiki Parc
When visiting Waikiki Parc, be sure to bring your camera along, because you won't want to miss the opportunity to capture the breathtaking views and stunning scenery that this hidden gem has to offer. From the moment you step foot into this boutique hotel, you'll find yourself surrounded by picture-perfect moments that are just waiting to be captured.
The first thing that will catch your eye is the incredible panoramic view of Waikiki. Whether you're staying in a city view room or an ocean view suite, you'll be treated to vistas that will leave you in awe. The golden sands of Waikiki Beach, the sparkling blue waters of the Pacific Ocean, and the iconic silhouette of Diamond Head in the distance – these are sights that deserve to be immortalized through your lens.
As you explore the hotel, take note of the thoughtfully curated artwork on display. Local artists have beautifully captured the spirit and beauty of Hawaii through their creations, providing endless inspiration for your own photography. From vibrant paintings depicting island life to intricate sculptures showcasing Hawaiian culture, these works of art offer unique opportunities for artistic expression.
Venturing beyond Waikiki Parc's doors, you'll find yourself in one of Hawaii's most vibrant neighborhoods. Take a leisurely stroll down Kalakaua Avenue and immerse yourself in the energy and charm of Waikiki. Along the way, keep your camera ready as you encounter street performers showcasing their talents, colorful storefronts filled with local treasures, and vibrant displays of Hawaiian culture.
Of course, no visit to Waikiki would be complete without capturing those quintessential beach moments. Grab your camera and head down to Waikiki Beach where surfers ride gentle waves against a backdrop of swaying palm trees. As the sun begins its descent towards the horizon, prepare yourself for a spectacle like no other – a vibrant sunset that paints the sky in hues of orange, pink, and purple. These magical moments are ones you'll want to cherish forever.
Remember, photography is not just about capturing images; it's about capturing memories. So, as you explore Waikiki Parc and its surroundings, take the time to pause, breathe in the beauty around you, and let your camera do the talking. From stunning landscapes to candid moments of joy, each click of the shutter will help you create a visual story that will transport you back to this unforgettable Hawaiian paradise for years to come.
So don't forget your camera when you visit Waikiki Parc – because with its incredible views and scenery, this hidden gem offers endless opportunities for capturing those picture-perfect moments that will make your trip truly unforgettable.
Respect nature – remember that this is a natural environment, so please don't litter or disturb any wildlife while exploring Waikiki Park!

Respect Nature: Enjoy the Serenity of Waikiki Parc while Preserving its Natural Beauty
As you embark on your journey to explore the wonders of Waikiki Parc, we kindly remind you to respect nature and preserve the natural environment that surrounds this exquisite destination. This tranquil oasis is not only a place of relaxation and enjoyment but also a home to a diverse array of wildlife.
One of the most important aspects of responsible travel is ensuring that we leave no trace behind. Please be mindful of your surroundings and refrain from littering during your time at Waikiki Parc. Keep in mind that even the smallest piece of trash can have a significant impact on the delicate ecosystem that thrives here.
While strolling through the lush greenery or relaxing by the poolside, take a moment to appreciate the beauty and serenity that nature provides. Remember, this is a natural environment where various species of wildlife call home. It is crucial to observe them from a respectful distance and not disturb their habitats.
Waikiki Parc encourages visitors to embrace sustainable practices during their stay. By making conscious choices such as using reusable water bottles, reducing plastic waste, and supporting local businesses that prioritize eco-friendly initiatives, you can contribute to preserving the natural beauty of this remarkable destination.
Let us all come together in our commitment to maintaining Waikiki Parc's pristine surroundings. By respecting nature and being mindful of our actions, we can ensure that future generations will have the opportunity to experience its untouched splendor.
So as you immerse yourself in all that Waikiki Parc has to offer, let us remember our responsibility as stewards of this natural environment. Embrace the beauty around you, tread lightly, and leave only footprints behind – preserving this haven for both present and future travelers to enjoy.