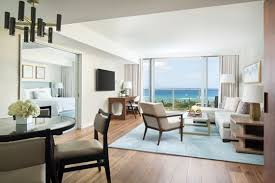 The Ritz-Carlton Waikiki is a luxurious hotel located in the heart of Honolulu, Hawaii. Situated just steps away from Waikiki Beach, this 38-story hotel offers breathtaking views of the ocean and Diamond Head crater. With its elegant design, world-class amenities, and exceptional service, the Ritz-Carlton Waikiki is a true gem in the heart of paradise.
One of the standout features of this hotel is its spacious and beautifully appointed guest rooms and suites. Each room is designed to offer guests a comfortable and luxurious stay, with plush bedding, high-end furnishings, and modern amenities like flat-screen TVs and high-speed internet access. Many rooms also offer stunning ocean views or city views from private balconies or terraces.
The Ritz-Carlton Waikiki also offers an impressive array of dining options for guests to enjoy. From casual poolside fare at The Market to upscale Japanese cuisine at Sushi Sho, there's something for every palate at this hotel. The Lounge serves up craft cocktails and light bites in a chic setting overlooking the Pacific Ocean.
For those looking to unwind and relax during their stay, the Ritz-Carlton Spa offers a range of indulgent treatments designed to soothe both body and mind. Guests can indulge in massages, facials, body treatments, or simply relax in the sauna or steam room.
In addition to its luxurious accommodations and amenities, the Ritz-Carlton Waikiki also boasts an impressive collection of art throughout the hotel. From traditional Hawaiian art to contemporary pieces by local artists, there's plenty to admire as you explore this stunning property.
Overall, the Ritz-Carlton Waikiki offers an exceptional experience for travelers seeking luxury accommodations in one of Hawaii's most beautiful locations. With its stunning views, exceptional service, and world-class amenities, it's no wonder why this hotel is such a popular choice among visitors to Honolulu.
Frequently Asked Questions About Ritz Carlton Waikiki: Beach Distance, Resort Fee, Beach Access, and Number of Floors
How far is the Ritz Carlton Waikiki from the beach?

The Ritz Carlton Waikiki is located just a short walk away from the beach. It is situated only one block from Waikiki Beach, which is one of the most famous beaches in Hawaii, and is known for its soft white sand and crystal-clear waters. Guests can easily reach the beach by foot within a few minutes from the hotel.
Is there a resort fee at Ritz Carlton Waikiki?

Yes, there is a resort fee at the Ritz Carlton Waikiki. The current resort fee is $50 per night plus tax, and it includes a variety of amenities and services such as high-speed internet access, beach chairs and umbrellas, fitness classes, cultural activities, and more. The resort fee is subject to change without notice, so it's always a good idea to check with the hotel directly for the most up-to-date information.
Does Ritz Carlton Waikiki have beach access?

Yes, the Ritz Carlton Waikiki does have beach access. The hotel is located just a few minutes' walk from Waikiki Beach, one of the most famous and popular beaches in Hawaii. Guests can easily access the beach by foot and enjoy its soft sand, turquoise waters, and stunning views of Diamond Head crater. The hotel also provides beach towels and chairs for guests to use during their stay.
How many floors does the Ritz Carlton in Waikiki have?

The Ritz-Carlton in Waikiki has 38 floors.