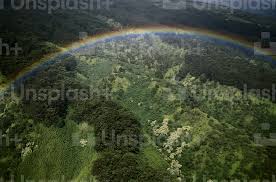 Hawaii is a paradise of natural beauty and vibrant culture. From its lush tropical forests to its pristine white sand beaches, Hawaii is a place of breathtaking beauty and awe-inspiring landscapes. One of the most iconic symbols of Hawaii is the rainbow.
Rainbows are a common sight in Hawaii, appearing in the sky after a rain shower or even during a sunny day. The Hawaiian Islands are located in the middle of the Pacific Ocean, which allows rainbows to form over the islands more frequently than other parts of the world. The rainbows here are some of the most spectacular you will ever see, with vivid colors that span across the sky.
Rainbows have long been part of Hawaiian culture and mythology. Ancient Hawaiians believed that rainbows were a sign from their gods that they were being protected and blessed with good luck. They also believed that rainbows were a bridge between heaven and earth, connecting them to their ancestors who had passed away.
Today, rainbows remain an important part of Hawaiian culture and identity. They are seen as symbols of hope and optimism for Hawaiians, reminding them to stay positive despite any hardships they may face in life. Rainbows are also used as symbols on many Hawaiian flags and logos, representing unity between all people regardless of race or ethnicity.
No matter where you go in Hawaii, you're sure to see a rainbow at some point during your stay. So take some time to pause and appreciate this natural wonder – it's a reminder that no matter how difficult life may seem at times, there is always something beautiful to be found if we look closely enough.
What are the nine most frequently asked questions about Hawaii and rainbows?
What is the best time of year to visit Hawaii?

The best time to visit Hawaii depends on what type of weather and activities you prefer. Generally, the best time to visit Hawaii is between April and October when the weather is warm and dry. During this time, temperatures are mild and there are fewer crowds. The winter months from November to March can be wetter, but this is also a great time to visit if you want to take advantage of lower hotel rates.
Where can I find a rainbow in Hawaii?

Rainbows can be seen all over Hawaii, often during periods of rain or after a storm. They can be seen from beaches, parks, roadsides, and even from your own backyard.
How much does it cost to travel to Hawaii?

The cost of traveling to Hawaii varies greatly depending on the time of year, length of stay, and type of accommodations. Generally speaking, a one-week trip for two people in a hotel or vacation rental can range from $1,500 to $3,000 or more.
Is there a volcano on the Big Island of Hawaii?

Yes, there is a volcano on the Big Island of Hawaii. The volcano, called Kīlauea, is one of the most active volcanoes in the world.
What is the weather like in Hawaii?

The weather in Hawaii varies greatly depending on which island you are on and the time of year. Generally, the temperature ranges from 65-85°F (18-29°C) year-round. During the summer months, temperatures tend to be warmer and more humid, while winters tend to be cooler and drier. Rainfall is common throughout the year, with heavier amounts occurring during the winter months.
Are there any beaches with rainbows in Hawaii?

No, there are no beaches with rainbows in Hawaii. Rainbows occur when light is refracted by water droplets in the atmosphere, and since the ocean is salt water, it does not produce rainbows.
What are some popular activities to do in Hawaii?

Hiking
Surfing
Snorkeling
Swimming with dolphins
Visiting the volcanoes
Exploring the beaches
Whale watching
Shopping in Honolulu and Waikiki
Taking a helicopter tour of the islands
Participating in a luau
Are there any unique cultural experiences I can have in Hawaii?

Yes, there are many unique cultural experiences to be had in Hawaii. Popular experiences include attending a luau, taking part in a traditional hula dance class, visiting a Polynesian cultural center, and attending an outdoor Hawaiian music concert. You can also visit historical sites such as Iolani Palace and Pu'uhonua o Honaunau National Historical Park to learn more about the history and culture of the Hawaiian Islands. Additionally, you can take part in activities such as surfing, snorkeling, or kayaking to get a taste of the local lifestyle.
What type of food should I try when visiting Hawaii?

When visiting Hawaii, you should definitely try the local cuisine! Hawaiian dishes like poi, poke, laulau, and kalua pork are all must-tries. Other local favorites include malasadas (Portuguese donuts), saimin (a noodle soup dish), and shave ice. For dessert, be sure to try haupia (a coconut pudding) or manapua (steamed buns filled with sweet pork).