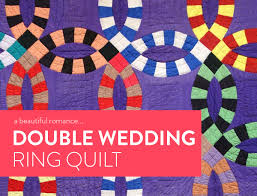 Wedding quilts are a wonderful way to commemorate a special day and create a lasting memory. A wedding quilt is a quilt that is made in honor of the bride and groom's special day. It can be used as a bedspread, wall hanging, or even as a gift for the newlyweds.
The tradition of making wedding quilts dates back to the 1700s, when brides would make quilts for their husbands-to-be as wedding gifts. Today, couples often opt to have their wedding quilts custom-made by professional quilters or even make them themselves. The design of the quilt can be tailored to the couple's individual tastes and interests, with fabrics that reflect the colors and themes of their special day.
When it comes to creating a wedding quilt, couples have many options. They can choose from traditional patchwork designs or more contemporary looks such as applique or reverse applique. Quilters can also incorporate meaningful details into the design such as monograms, initials, or fabric from special dresses worn on the big day. This makes each wedding quilt unique and personal to the couple's story.
In addition to being beautiful works of art, wedding quilts also serve as keepsakes that will last for years to come. They are often passed down through generations as treasured heirlooms that tell stories about family history and love.
No matter how you choose to design your wedding quilt, it is sure to be an unforgettable symbol of your marriage that will bring joy and warmth into your home for years to come!
2. How much should I budget for a wedding quilt?
3. What type of fabric is best for a wedding quilt?
4. How long does it take to make a wedding quilt?
What should a wedding quilt say?

A wedding quilt can say whatever you like! Some popular phrases are "Love is patient, love is kind", "Forever and Always", "Two Hearts, One Love", or simply the couple's names and their wedding date.
What is a wedding quilt?

A wedding quilt is a type of quilt that is traditionally given as a gift to a couple on their wedding day. It is often made by the bride's family or friends, and may be passed down through generations. Wedding quilts are usually made with bright colors and patterns, and often feature meaningful symbols, such as hearts, birds, flowers, and stars.
What are the 3 types of quilts?

Pieced Quilts: Quilts made from pieces of fabric sewn together into a pattern.
Appliqued Quilts: Quilts made by applying fabric shapes to a background fabric.
Wholecloth Quilts: Quilts made from one piece of fabric, often with intricate quilting designs to create texture and pattern.
Is a quilt a good wedding gift?

Yes, a quilt can be a great wedding gift. It is an especially meaningful gift if it is handmade and personalized with the couple's names and wedding date.