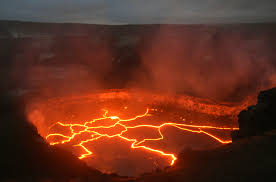 Hawaii is a beautiful paradise, known for its lush tropical beauty. But beneath the surface of its tranquil waters and sandy beaches lies a powerful force of nature – the volcanoes of Hawaii.
Hawaii has five active volcanoes, all located on the Big Island. The most famous is Kilauea, which has been erupting since 1983 and is one of the most active volcanoes in the world. Kilauea is also home to Hawaii's only lava lake, Halemaumau Crater.
The other four active volcanoes are Mauna Loa, Hualalai, Mauna Kea, and Loihi. All of these volcanoes have had periods of activity in the past and could potentially erupt again in the future.
Hawaii's volcanoes are part of what makes it such a unique place to visit. The lava flows from Kilauea can be seen from miles away and provide an incredible sight to behold. Hiking on Mauna Loa or Mauna Kea provides amazing views of Hawaii's volcanic landscape. And if you're lucky enough to witness an eruption, you'll never forget it!
Hawaii's volcanoes are a reminder that nature is both powerful and unpredictable. They provide us with a stark reminder that while we may think we can control our environment, Mother Nature will always have the final say.
What are the four most commonly asked questions about Hawaii volcanoes?
Where are the 3 active volcanoes in Hawaii?

Kilauea
Mauna Loa
Loihi
When was the last time a volcano erupted in Hawaii?

Kilauea Volcano erupted most recently in May 2018.
Is the volcano in Hawaii still erupting 2022?

No, the last eruption of the volcano in Hawaii occurred in 2018.
How many active volcanoes are in Hawaii?

There are currently five active volcanoes in Hawaii: Kilauea, Mauna Loa, Hualalai, Kohala, and Loihi.