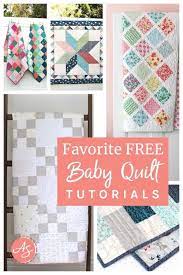 A baby quilt is a special item, perfect for welcoming a new baby into the world. Not only are these quilts beautiful and cozy to wrap the little one in, but they also come with a lot of sentimental value.
A baby quilt is usually made of soft fabrics such as cotton or flannel, and often features bright colors and cute patterns. They are usually larger than regular quilts, so that they can be used as a play mat or for tummy time. They can also be personalized with initials or names to make them extra special.
Baby quilts are often made by family members or friends who want to give something special to the new parents. Handmade items like this can be passed down through generations and become treasured heirlooms that will last for years to come. Quilting can also be therapeutic for the maker, and creating something unique and special for a new baby is an incredibly rewarding experience.
Baby quilts are not just beautiful pieces of art; they have practical uses too! They provide an extra layer of warmth during cold weather and can double up as a blanket in summertime. They can also be used as a play mat on hard floors or carpets, providing cushioning and protection from bumps and bruises while playing.
No matter what type of fabric you choose or design you go with, giving the gift of a handmade baby quilt is sure to bring joy to any new family!
What are the top 5 questions people ask about baby quilts?
How do I make a baby quilt?

Choose a pattern. Decide on a quilt design that you like and that will fit the size of the baby's bed.
Cut the fabric. Measure and cut the fabric pieces according to your quilt pattern, using sharp scissors or a rotary cutter.
Sew the pieces together. Join the pieces together using a sewing machine or by hand-sewing them together with a needle and thread.
Layer and quilt the top. Place batting and backing fabric between the top pieces, then quilt them together with either a machine or hand-quilting technique, such as cross-stitching or tying knots in every few inches of fabric.
Add binding to finish off the edges of your quilt top, then trim away any excess batting or backing fabric from around the edges of your finished quilt top.
What size should a baby quilt be?

A baby quilt should be about 36 inches by 42 inches.
What fabrics are best for a baby quilt?

The best fabrics for a baby quilt are 100% cotton, flannel, and minky fabric. Cotton is soft and breathable, while flannel is warm and cozy. Minky is soft to the touch and comes in a variety of colors and patterns. All three fabrics are safe for babies and can easily be laundered.
How do I choose the right batting for a baby quilt?

When choosing batting for a baby quilt, you should consider the type of quilt you are making, the climate in which the quilt will be used, and personal preference. Cotton batting is a popular choice for baby quilts because it is lightweight and breathable. Polyester batting is also a good option as it is hypoallergenic and provides extra warmth. You may also want to consider wool batting for a baby quilt as it is naturally fire-resistant and can provide extra insulation. Ultimately, the best batting for your baby quilt will depend on your individual preferences and needs.
How do I care for my baby quilt after it is finished?

Once your baby quilt is complete, the best way to care for it is to wash it in cold water on a gentle cycle, and then hang it up to dry. If you'd like, you can also add a fabric softener to the wash cycle. Be sure to avoid using bleach or other harsh chemicals when washing your quilt, as these can damage the fabric and colors. Additionally, try not to dry your quilt in direct sunlight as this can cause fading. Finally, if you ever need to iron your baby quilt, do so on a low setting and use a pressing cloth between the iron and the fabric.