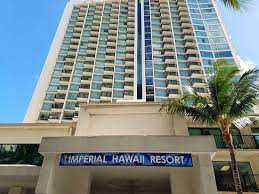 The Imperial Waikiki: A Luxurious Hawaiian Escape
Nestled in the heart of Waikiki, The Imperial Waikiki stands as a beacon of luxury and tranquility amidst the vibrant energy of Oahu's most famous beachfront. This iconic hotel has been a cherished destination for discerning travelers seeking an unforgettable Hawaiian experience.
From the moment you step into the grand lobby, you are greeted by a warm and inviting atmosphere. The Imperial Waikiki seamlessly blends modern elegance with traditional Hawaiian charm, creating a space that feels both sophisticated and authentic. The attention to detail is evident in every aspect of the hotel's design, from the meticulously crafted furnishings to the stunning artwork that adorns its walls.
The Imperial Waikiki offers a range of accommodations to suit every traveler's needs. Whether you're seeking a cozy room with ocean views or a spacious suite with all the comforts of home, you'll find it here. Each room is thoughtfully appointed with luxurious amenities, plush bedding, and private balconies where you can soak in breathtaking views of the Pacific Ocean or the city skyline.
When it comes to dining, The Imperial Waikiki leaves no stone unturned. Indulge your taste buds at one of their exquisite restaurants, each offering a unique culinary experience. From fresh seafood delicacies to innovative fusion cuisine, there is something to satisfy every palate. And for those seeking a refreshing libation after a day of exploration, the hotel's bars and lounges offer an impressive selection of handcrafted cocktails and fine wines.
Beyond its luxurious accommodations and exceptional dining options, The Imperial Waikiki also boasts an array of amenities designed to enhance your stay. Take a dip in their sparkling outdoor pool or relax in one of their cabanas while sipping on a tropical cocktail. Stay active at their state-of-the-art fitness center or unwind with a rejuvenating spa treatment at their wellness center. With attentive service and a commitment to guest satisfaction, The Imperial Waikiki ensures that your every need is met.
What truly sets The Imperial Waikiki apart is its prime location. Step outside the hotel, and you'll find yourself just moments away from the world-famous Waikiki Beach, where you can soak up the sun, try your hand at surfing, or simply stroll along the pristine shoreline. Explore the vibrant neighborhood filled with boutique shops, lively entertainment venues, and a diverse culinary scene. Immerse yourself in Hawaiian culture by visiting nearby historical sites or attending traditional hula performances.
Whether you're seeking a romantic getaway, a family vacation, or a solo adventure, The Imperial Waikiki offers an unparalleled experience that will leave you with cherished memories for years to come. Discover the epitome of luxury and relaxation at this iconic Hawaiian destination. Book your stay at The Imperial Waikiki and let the enchantment of Hawaii unfold before your eyes.
Frequently Asked Questions about Imperial Waikiki: Best Time to Visit, Cost of Stay, Amenities, Pool Availability, Nearby Dining Options, and Discounts/Packages.
What is the best time to visit the Imperial Waikiki?

The Imperial Waikiki is a fantastic destination to visit year-round, thanks to the consistently pleasant weather in Hawaii. However, the best time to visit can depend on your personal preferences and what you hope to experience during your stay.
If you prefer warm and sunny weather, the summer months from June to August are ideal. During this time, temperatures range from the mid-80s to low 90s Fahrenheit (around 29-35 degrees Celsius), making it perfect for beach activities and outdoor exploration. Keep in mind that summer is also a popular tourist season, so the hotel and surrounding areas may be more crowded.
For those who prefer fewer crowds and milder temperatures, consider visiting during the shoulder seasons of spring (April to May) or fall (September to October). During these months, you can still enjoy warm weather with temperatures ranging from the high 70s to low 80s Fahrenheit (around 25-28 degrees Celsius). Additionally, you may find better deals on accommodations during these times.
Winter in Hawaii, from November to March, brings slightly cooler temperatures ranging from the mid-60s to low 70s Fahrenheit (around 18-23 degrees Celsius). While it may be too chilly for swimming at times, it's still a great time for exploring the island's natural beauty through hiking or sightseeing. Winter also marks the peak whale-watching season in Hawaii.
Overall, any time of year can be a wonderful experience at The Imperial Waikiki. Consider your preferences for weather and crowd levels when planning your visit. Remember to book well in advance if you plan on visiting during peak tourist seasons.
How much does it cost to stay at the Imperial Waikiki?

The cost of staying at The Imperial Waikiki can vary depending on factors such as the type of accommodation, the season, and any ongoing promotions or discounts. It is best to visit their official website or contact their reservations team directly for the most accurate and up-to-date pricing information. They will be able to provide you with specific rates based on your desired travel dates and room preferences.
What amenities are available at the Imperial Waikiki?

The Imperial Waikiki offers a range of amenities designed to enhance your stay and provide you with a luxurious and comfortable experience. Here are some of the amenities you can expect to enjoy:
Outdoor Pool: Take a refreshing dip in the hotel's sparkling outdoor pool, surrounded by lush tropical landscaping. Lounge on comfortable sunbeds or relax in one of the cabanas while enjoying the warm Hawaiian sunshine.
Fitness Center: Stay active and maintain your fitness routine at the state-of-the-art fitness center. Equipped with modern exercise equipment, you can work out and stay in shape during your stay.
Wellness Center: Indulge in relaxation and rejuvenation at the hotel's wellness center. Treat yourself to a massage or spa treatment, allowing skilled therapists to melt away any stress or tension.
Restaurants and Bars: The Imperial Waikiki boasts an array of dining options, each offering a unique culinary experience. From fresh seafood delicacies to innovative fusion cuisine, there is something to satisfy every palate. Enjoy fine dining or casual fare at their restaurants, and unwind with handcrafted cocktails or fine wines at their bars and lounges.
Concierge Services: The hotel's knowledgeable concierge team is available to assist you with any requests or inquiries you may have during your stay. Whether you need recommendations for local attractions, assistance with transportation, or help planning activities, they are dedicated to ensuring that your time in Waikiki is memorable.
Room Service: Enjoy the convenience of room service, allowing you to dine in the comfort of your own room whenever you desire.
Business Center: For those traveling for work or needing access to business services, The Imperial Waikiki provides a fully equipped business center with internet access, printing facilities, and meeting rooms.
Wi-Fi Access: Stay connected throughout your stay with complimentary Wi-Fi access available throughout the hotel premises.
These are just some of the amenities offered at The Imperial Waikiki, all designed to make your stay as comfortable and enjoyable as possible.
Is there a pool at the Imperial Waikiki?

Yes, The Imperial Waikiki features a sparkling outdoor pool for guests to enjoy. Whether you want to take a refreshing swim or simply lounge by the poolside, it provides a relaxing and tranquil space to unwind during your stay.
Are there restaurants and bars near the Imperial Waikiki?

Absolutely! The Imperial Waikiki is ideally situated in a vibrant neighborhood that offers a plethora of dining and entertainment options within easy walking distance. From casual eateries to upscale restaurants, you'll find something to suit every taste and occasion.
Just steps away from the hotel, you'll discover an array of local and international cuisines. Whether you're craving fresh seafood, traditional Hawaiian dishes, or international flavors, the surrounding area has it all. From popular chain restaurants to hidden gems, there's no shortage of options to satisfy your culinary desires.
Additionally, the neighborhood boasts a lively bar scene where you can unwind with a refreshing drink after a day of exploring. Enjoy handcrafted cocktails, local craft beers, or fine wines at one of the many bars and lounges nearby. Whether you prefer a relaxed ambiance or a lively atmosphere, you'll find the perfect spot to relax and socialize.
The Imperial Waikiki's concierge team is always available to provide recommendations based on your preferences and assist with reservations. They can guide you to nearby restaurants and bars that align with your tastes and ensure that your dining experiences are memorable.
So whether you're seeking a romantic dinner for two or a fun night out with friends, the Imperial Waikiki's prime location ensures that you have easy access to an abundance of dining and nightlife options right at your doorstep.
Does the Imperial Waikiki offer any discounts or packages?

Yes, The Imperial Waikiki often offers a variety of discounts and packages to enhance your stay and make it even more memorable. These special offers are designed to cater to different preferences and needs of guests. Some common types of discounts and packages available at The Imperial Waikiki include:
Early Booking Discounts: By booking your stay in advance, you can often enjoy discounted rates on rooms or suites. This allows you to secure your preferred accommodation at a lower cost.
Stay Longer, Save More: The Imperial Waikiki may offer discounted rates for guests who choose to extend their stay beyond a certain number of nights. This is a great option for those looking to immerse themselves in the beauty of Hawaii for an extended period.
Seasonal Promotions: During certain times of the year, The Imperial Waikiki may introduce seasonal promotions or limited-time offers. These can include discounted rates, added amenities, or exclusive experiences tailored to the specific season or holiday.
Spa and Wellness Packages: If you're seeking relaxation and rejuvenation, The Imperial Waikiki's wellness center may offer special packages that combine luxurious accommodations with spa treatments, yoga classes, or other wellness activities.
Dining Packages: The hotel's restaurants may occasionally offer dining packages that include special menus or discounts on meals. These packages allow guests to indulge in culinary delights while enjoying savings.
To find out more about current discounts and packages available at The Imperial Waikiki, it is recommended to visit their official website or contact their reservations team directly. They will be able to provide you with detailed information on any ongoing promotions and assist you in selecting the best option for your stay.