Discover Tranquility and Luxury at Aqua Waikiki Pearl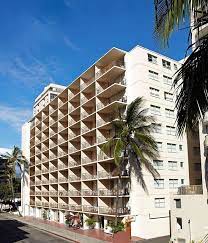 Experience Luxury and Comfort at Aqua Waikiki Pearl
Located in the heart of Waikiki, Aqua Waikiki Pearl offers a truly unforgettable stay in paradise. With its prime location just steps away from the world-famous Waikiki Beach and surrounded by vibrant shops, restaurants, and entertainment options, this hotel is the perfect choice for both leisure and business travelers.
Upon entering Aqua Waikiki Pearl, guests are greeted by a warm and inviting atmosphere. The hotel's modern Hawaiian-inspired décor creates a sense of tranquility, allowing visitors to instantly unwind and embrace the island spirit. The friendly staff is always ready to assist with any requests or questions, ensuring that every guest feels well taken care of throughout their stay.
The accommodations at Aqua Waikiki Pearl are designed with both comfort and style in mind. The spacious rooms and suites feature contemporary furnishings, plush bedding, and all the amenities needed for a relaxing stay. Whether you choose a standard room or opt for a suite with a separate living area, you can expect nothing but utmost comfort during your time here.
One of the highlights of Aqua Waikiki Pearl is its rooftop pool deck. This oasis in the sky offers panoramic views of the city skyline and the majestic Pacific Ocean. Take a dip in the sparkling pool or simply lounge on one of the comfortable sunbeds while soaking up the warm Hawaiian sun. It's an ideal spot to unwind after a day of exploring or to simply enjoy some downtime.
For those seeking culinary delights, Aqua Waikiki Pearl has you covered. The hotel is home to Wailana Coffee House, an iconic eatery that has been serving delicious meals since 1969. Open 24 hours a day, Wailana Coffee House offers an extensive menu featuring classic American breakfast favorites, local Hawaiian dishes, and mouthwatering desserts. It's the perfect place to fuel up before heading out for a day of adventure or to satisfy those late-night cravings.
Aqua Waikiki Pearl also offers a variety of amenities to enhance your stay. Stay connected with complimentary Wi-Fi throughout the property, maintain your fitness routine at the well-equipped fitness center, or take advantage of the hotel's laundry facilities. Additionally, the hotel's convenient location provides easy access to popular attractions such as Diamond Head, Honolulu Zoo, and Ala Moana Center.
Whether you're visiting Hawaii for a romantic getaway, a family vacation, or a business trip, Aqua Waikiki Pearl offers an exceptional experience that combines luxury and convenience. Immerse yourself in the beauty of Waikiki and create memories that will last a lifetime at this remarkable hotel. Book your stay at Aqua Waikiki Pearl today and discover the true essence of aloha spirit in paradise.
Frequently Asked Questions About Aqua Waikiki Pearl: Amenities, Proximity to the Beach, Pool Access, Nearby Restaurants, and Transportation Options
What amenities does Aqua Waikiki Pearl offer?

Aqua Waikiki Pearl offers a range of amenities to ensure a comfortable and enjoyable stay for guests. Some of the amenities provided include:
Rooftop Pool Deck: Enjoy breathtaking views of the city skyline and the Pacific Ocean while taking a refreshing dip in the rooftop pool or lounging on the sunbeds.
Wailana Coffee House: The hotel is home to this iconic eatery, serving delicious meals 24 hours a day. Indulge in classic American breakfast favorites, local Hawaiian dishes, and delectable desserts.
Complimentary Wi-Fi: Stay connected throughout your stay with complimentary high-speed Wi-Fi available in all areas of the hotel.
Fitness Center: Maintain your workout routine at the well-equipped fitness center, featuring modern equipment for all your exercise needs.
Laundry Facilities: Aqua Waikiki Pearl provides convenient on-site laundry facilities, allowing guests to keep their clothes fresh and clean throughout their stay.
Concierge Services: The friendly and knowledgeable staff are ready to assist with any requests or questions you may have, providing recommendations for local attractions, dining options, and arranging transportation if needed.
Air Conditioning: Each room is equipped with air conditioning to ensure a comfortable temperature during your stay, especially during warm Hawaiian days.
24-Hour Front Desk: The hotel's front desk is staffed 24/7, ensuring that there is always someone available to assist you with any needs or inquiries you may have.
With these amenities and more, Aqua Waikiki Pearl strives to provide guests with everything they need for a memorable and enjoyable stay in Waikiki.
How close is Aqua Waikiki Pearl to the beach?

Aqua Waikiki Pearl is conveniently located just a short walk away from the world-famous Waikiki Beach. Guests can easily access the beach within minutes, allowing them to enjoy the sun, sand, and surf without any hassle. The hotel's prime location in the heart of Waikiki ensures that beach lovers have quick and convenient access to one of Hawaii's most iconic stretches of coastline.
Is there a pool at Aqua Waikiki Pearl?

Yes, Aqua Waikiki Pearl features a rooftop pool deck where guests can enjoy a refreshing swim while taking in stunning views of the city skyline and the Pacific Ocean. It's a wonderful spot to relax and unwind during your stay at the hotel.
Are there any restaurants nearby Aqua Waikiki Pearl?

Aqua Waikiki Pearl is surrounded by a plethora of dining options, ensuring that guests have a wide variety of culinary experiences to choose from. Here are just a few restaurants located near the hotel:
Wailana Coffee House: Located right within Aqua Waikiki Pearl, this iconic eatery offers a diverse menu featuring American breakfast favorites, local Hawaiian dishes, and delectable desserts. Open 24 hours a day, it's perfect for any meal of the day.
Duke's Waikiki: Just a short walk away from the hotel, Duke's Waikiki is renowned for its beachfront location and delicious Hawaiian-inspired cuisine. Enjoy fresh seafood, tropical cocktails, and live music while taking in breathtaking ocean views.
Hula Grill Waikiki: Situated on the Outrigger Waikiki Beach Resort property, Hula Grill offers a relaxed ambiance and an extensive menu showcasing Pacific Rim cuisine with a focus on locally sourced ingredients. Don't miss their famous Hula Pie for dessert!
Marukame Udon: If you're craving authentic Japanese udon noodles, Marukame Udon is the place to go. This popular spot features an open kitchen where you can watch the skilled chefs prepare your meal right in front of you.
Tikis Grill & Bar: Located at the Aston Waikiki Beach Hotel nearby, Tikis Grill & Bar serves up delicious Pacific Rim cuisine with an island twist. Enjoy their signature dishes like macadamia nut-crusted mahi-mahi or kalua pork quesadillas.
These are just a few examples of the many dining options available near Aqua Waikiki Pearl. Whether you're in the mood for local Hawaiian specialties, international cuisine, or casual beachside dining, you'll find something to satisfy your taste buds within walking distance from the hotel.
What is the best way to get to and from Aqua Waikiki Pearl?

Getting to and from Aqua Waikiki Pearl is convenient and hassle-free. Here are a few transportation options to consider:
Airport Shuttle Service: Many shuttle companies operate at the Honolulu International Airport, offering shared or private transportation directly to your hotel. This is a cost-effective option that allows you to relax and enjoy the ride without worrying about navigating unfamiliar roads.
Taxi or Rideshare: Taxis and rideshare services like Uber and Lyft are readily available at the airport and throughout Waikiki. Simply request a ride using your preferred app, and you'll be on your way to Aqua Waikiki Pearl in no time.
Rental Car: If you prefer the freedom of having your own vehicle, renting a car is a popular choice in Hawaii. Several car rental companies have counters at the airport, making it easy to pick up your vehicle upon arrival. Keep in mind that parking in Waikiki can be limited and expensive, so it's worth considering if you plan on exploring other parts of the island during your stay.
Public Transportation: The public bus system in Honolulu, known as TheBus, offers affordable transportation throughout the city, including routes that pass through Waikiki. Bus stops are conveniently located near Aqua Waikiki Pearl, allowing you to explore various attractions without worrying about parking or traffic.
Walking: One of the advantages of staying at Aqua Waikiki Pearl is its central location in Waikiki. Many popular attractions, restaurants, and shops are within walking distance, including the famous Waikiki Beach. Take advantage of Hawaii's beautiful weather by exploring on foot.
No matter which mode of transportation you choose, getting to Aqua Waikiki Pearl is easy and efficient. Plan ahead based on your preferences and budget to ensure a smooth journey to this exceptional hotel in paradise.