Unveiling the Finest Hotels in Waikiki: Discover Your Ultimate Hawaiian Retreat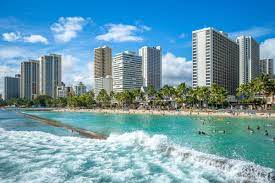 Discover the Best Hotels in Waikiki for Your Unforgettable Hawaiian Getaway
Waikiki, located on the island of Oahu in Hawaii, is a world-renowned destination known for its stunning beaches, vibrant nightlife, and a plethora of exciting activities. When planning your trip to this tropical paradise, one of the most important decisions you'll make is choosing the perfect hotel. To help you make an informed decision, we have compiled a list of some of the best hotels in Waikiki.
The Royal Hawaiian: Known as the "Pink Palace of the Pacific," this historic hotel offers a luxurious and timeless experience. With its iconic pink facade and stunning beachfront location, The Royal Hawaiian exudes elegance and charm. Immerse yourself in its rich history while enjoying modern amenities and impeccable service.
Halekulani: This award-winning hotel is synonymous with luxury and sophistication. Boasting breathtaking views of Diamond Head and Waikiki Beach, Halekulani offers spacious rooms adorned with elegant furnishings. Indulge in their world-class spa or savor culinary delights at their renowned restaurants for an unforgettable experience.
Moana Surfrider: As Waikiki's very first hotel, the Moana Surfrider combines classic charm with contemporary comfort. Known as "The First Lady of Waikiki," this beachfront oasis offers timeless elegance and a range of amenities including a spa, oceanfront pool, and multiple dining options.
The Surfjack Hotel & Swim Club: For those seeking a more laid-back atmosphere with a touch of retro style, The Surfjack Hotel & Swim Club is the perfect choice. This boutique hotel embraces a vibrant surf culture while providing modern comforts. Enjoy their lively pool area or relax at Mahina & Sun's restaurant for locally-inspired cuisine.
Outrigger Reef Waikiki Beach Resort: Situated directly on Waikiki Beach, this resort offers a blend of Hawaiian tradition and contemporary comforts. With spacious rooms, oceanfront views, and a variety of dining options, the Outrigger Reef provides a memorable experience for all types of travelers.
The Modern Honolulu: If you're looking for a sleek and contemporary hotel experience, The Modern Honolulu is an excellent choice. With its chic design, stylish rooms, and vibrant atmosphere, this hotel caters to those seeking a trendy and cosmopolitan ambiance. Don't miss out on their rooftop pool and bar with panoramic views.
Waikiki Beachcomber by Outrigger: Located in the heart of Waikiki, this newly renovated hotel offers modern accommodations and easy access to the area's attractions. Enjoy their rooftop pool deck or catch a live show at the Magic of Polynesia theater located within the hotel.
These are just a few of the exceptional hotels that Waikiki has to offer. Each one provides its own unique experience while ensuring your comfort and enjoyment during your stay in paradise. Whether you seek luxury, relaxation, or adventure, these hotels will exceed your expectations and make your visit to Waikiki truly unforgettable.
5 Essential Tips for Choosing the Perfect Waikiki Hotel
Research the hotel's amenities and services before booking to make sure it meets your needs.

When planning a trip to Waikiki, one of the most important factors to consider is choosing the right hotel. To ensure a comfortable and enjoyable stay, it is crucial to research the hotel's amenities and services before making a booking.
Every traveler has unique needs and preferences, so it's essential to find a hotel that caters to them. Start by considering your priorities. Are you looking for a beachfront property with stunning ocean views? Do you prioritize luxurious spa facilities or on-site dining options? Are you traveling with children and require family-friendly amenities? By identifying your specific requirements, you can narrow down your options.
Take advantage of the wealth of information available online. Visit the hotel's official website and explore their amenities section. Look for features like swimming pools, fitness centers, restaurants, spas, and concierge services. Check if they offer complimentary breakfast or have on-site parking facilities if those are important to you.
Additionally, read reviews from previous guests on trusted travel websites or social media platforms. These firsthand experiences can provide valuable insights into the quality of service and amenities offered by the hotel.
Consider your preferred activities during your stay in Waikiki as well. If you plan on spending most of your time exploring the island or participating in outdoor excursions, you may not require extensive facilities within the hotel. However, if you prefer a more leisurely experience with plenty of on-site entertainment options, look for hotels that offer activities such as live music performances or cultural events.
By thoroughly researching a hotel's amenities and services before booking, you can ensure that it aligns with your specific needs and desires. This will contribute to a more enjoyable and stress-free stay in Waikiki, allowing you to make the most of your Hawaiian getaway.
Read reviews from other travelers to get a better idea of what to expect from the hotel.

When it comes to choosing the best hotel in Waikiki, one valuable tip is to read reviews from other travelers. These reviews can provide you with insights and a better understanding of what to expect from your chosen hotel.
In today's digital age, it's easier than ever to access a wealth of information at your fingertips. Before making a reservation, take some time to browse through online review platforms or travel websites where fellow travelers share their experiences and opinions.
Reading reviews allows you to gain valuable insights into various aspects of the hotel, such as the quality of service, cleanliness, amenities, location, and overall guest satisfaction. You can get a sense of whether the hotel meets your specific needs and preferences.
Keep in mind that while everyone's experience may vary, paying attention to common themes or recurring comments in reviews can help you make an informed decision. Look for patterns in positive or negative feedback and consider how they align with your own priorities.
Additionally, reading reviews can also uncover hidden gems or unique features that may not be highlighted on the hotel's website. Travelers often share tips and recommendations about nearby attractions, dining options, or activities that can enhance your stay in Waikiki.
Remember that it's important to take a balanced approach when reading reviews. While some guests may have had exceptional experiences, others may have encountered minor issues that may not be deal-breakers for you. Keep an open mind and consider the overall consensus of reviews rather than focusing on isolated incidents.
By taking the time to read reviews from other travelers before booking your accommodation in Waikiki, you can gain valuable insights and make an informed decision that aligns with your expectations. So go ahead and leverage the power of shared experiences to ensure a memorable stay in this tropical paradise!
Look for hotels with free parking or shuttle services if you plan on having a car during your stay in Waikiki.

Make the Most of Your Stay in Waikiki: Consider Hotels with Free Parking or Shuttle Services
When planning a trip to Waikiki, it's important to consider your transportation needs, especially if you plan on having a car during your stay. With limited parking options and the bustling nature of Waikiki, finding a hotel that offers free parking or shuttle services can save you time, money, and hassle.
Opting for a hotel with free parking allows you the convenience of having your own vehicle at your disposal. You can easily explore the island at your own pace, visit nearby attractions, or venture out for day trips without worrying about parking fees or availability. Plus, having your car readily available means you can conveniently access all that Oahu has to offer beyond Waikiki.
On the other hand, if you prefer not to drive or want to avoid the stress of navigating through traffic and finding parking in a busy area like Waikiki, choosing a hotel with shuttle services can be a smart choice. Many hotels offer complimentary shuttles that transport guests to popular destinations within Waikiki or even further across the island. This allows you to relax and enjoy your vacation without worrying about transportation logistics.
By selecting a hotel with either free parking or shuttle services, you gain flexibility in exploring Waikiki and its surroundings while avoiding unnecessary expenses or logistical challenges. It's worth noting that availability may vary from one hotel to another, so it's advisable to check their amenities and policies before making your reservation.
Whether you choose to have a car during your stay in Waikiki or prefer relying on convenient shuttle services, considering hotels that offer these options will enhance your overall experience. Enjoy the freedom of exploring at your own pace or sit back and let someone else do the driving – either way, you'll have more time and energy to immerse yourself in the beauty and excitement of Waikiki.
Ask about discounts or packages that may be available, such as discounted rates for longer stays or special deals for couples or families.

Make the Most of Your Waikiki Vacation: Ask About Discounts and Packages at the Best Hotels
When planning your dream vacation in Waikiki, it's always a good idea to explore every avenue for saving money and getting the best value for your stay. One often overlooked strategy is to inquire about discounts or packages that may be available at the best hotels in Waikiki. Many hotels offer special deals and promotions that can help you stretch your budget further while enjoying all that this tropical paradise has to offer.
One common type of discount is a discounted rate for longer stays. If you plan on spending more than a few days in Waikiki, it's worth asking if the hotel offers reduced rates for extended stays. This can result in significant savings, allowing you to fully immerse yourself in the beauty of Waikiki without breaking the bank.
Another option to consider is special deals tailored for couples or families. Hotels often have packages designed specifically for romantic getaways or family vacations. These packages may include perks such as complimentary breakfast, spa credits, or even discounted rates on nearby attractions and activities. By taking advantage of these offerings, you can enhance your experience and create lasting memories with your loved ones.
To make sure you don't miss out on any potential discounts or packages, it's essential to reach out to the hotel directly when making your reservation. Ask about any current promotions or upcoming deals that may be available during your desired travel dates. The hotel staff will be more than happy to provide you with information and help you find the best options that suit your needs.
Remember, every penny saved on accommodation means more opportunities to explore and enjoy everything Waikiki has to offer – from pristine beaches and water sports to cultural landmarks and delicious Hawaiian cuisine.
So, when planning your trip to Waikiki, don't forget to inquire about discounts or packages at the best hotels. By doing so, you can maximize both your savings and your enjoyment, making your vacation an unforgettable experience in this tropical paradise.
Check the location of the hotel before booking, as some hotels are close to popular attractions while others may be further away but offer quieter surroundings and more privacy.

When planning your stay in Waikiki, it's essential to consider the location of the hotel you choose. Waikiki offers a variety of options, from hotels right in the heart of the bustling city to those nestled in quieter areas.
If you prefer being close to the action, look for hotels near popular attractions such as Waikiki Beach, shopping centers, and vibrant nightlife spots. Staying in these central locations allows for easy access to all the excitement that Waikiki has to offer. You'll be just steps away from pristine beaches, renowned restaurants, and a vibrant atmosphere.
On the other hand, if you value peace and privacy during your vacation, consider opting for a hotel that is slightly further away from the main tourist areas. These hotels often provide a serene retreat where you can unwind and recharge after exploring the island. You'll still have access to beautiful beaches and amenities but with a more tranquil setting.
By checking the location of your chosen hotel before booking, you can align your preferences with what each area has to offer. Whether you're seeking an energetic experience or a peaceful escape, understanding the location will help ensure that your stay in Waikiki is tailored to your desires.
Remember, there is no right or wrong choice when it comes to selecting a hotel location in Waikiki – it all depends on your personal preferences. So take some time to research and find the perfect spot that suits your needs for an unforgettable Hawaiian getaway!