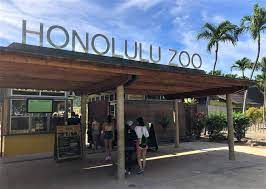 Honolulu Zoo is a great place to visit for people of all ages. Located in the heart of Honolulu, Hawaii, the zoo is home to over 1,230 animals from around the world. The zoo has been open since 1964 and has been a popular tourist attraction since then.
The Honolulu Zoo features many different types of animals, including mammals, birds, reptiles, amphibians, and fish. There are also several exhibits that feature endangered species such as the Hawaiian monk seal and Hawaiian green sea turtle. The zoo also features a botanical garden with over 500 species of plants from around the world.
The Honolulu Zoo is an educational experience for children and adults alike. The zoo offers educational programs such as "Zoo School" which teaches children about animal behavior and conservation efforts. There are also interactive exhibits such as the "Keeper Talks" which allow visitors to learn more about specific animals from zookeepers.
The Honolulu Zoo also offers many special events throughout the year such as "Dinosaurs Live" which showcases life-size animatronic dinosaurs and "Night at the Zoo" which is an after-hours event that includes music, food trucks, and entertainment for all ages.
If you're looking for a fun day out with family or friends, then visiting the Honolulu Zoo is definitely worth considering. With its beautiful gardens and wide variety of animals to observe, it provides an enjoyable experience for everyone who visits!
These are the 4 questions most commonly asked about the Honolulu Zoo.
How much is the Honolulu Zoo?

The Honolulu Zoo charges $14.00 for adults, $8.00 for children ages 4-12, and children 3 and under are free.
How long does it take to walk through Honolulu Zoo?

It usually takes about two to three hours to walk through the Honolulu Zoo.
Does Honolulu Zoo have pandas?

No, the Honolulu Zoo does not have pandas.
What is special about the Honolulu Zoo?

The Honolulu Zoo is the only zoo in the United States to be established by a sovereign monarch. It was founded in 1876 by King Kalakaua of Hawaii and is now home to over 1,230 animals from around the world. The zoo also boasts an expansive botanical garden and an interactive educational center.