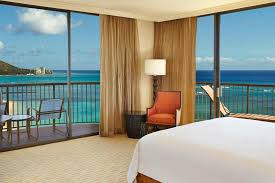 Hawaiian Village Waikiki: A Slice of Paradise in Honolulu
Nestled in the heart of Honolulu, Hawaiian Village Waikiki stands as a testament to the rich cultural heritage and natural beauty of Hawaii. With its stunning beachfront location and a plethora of amenities, this iconic resort has been welcoming visitors from around the world since 1955.
As you step foot onto the grounds of Hawaiian Village Waikiki, you are immediately transported to a tropical paradise. The lush gardens, swaying palm trees, and cascading waterfalls create an atmosphere of tranquility and serenity. It's no wonder that this resort has become a favorite destination for those seeking relaxation and rejuvenation.
The accommodations at Hawaiian Village Waikiki cater to every type of traveler. From luxurious suites with breathtaking ocean views to cozy rooms perfect for solo adventurers, there is something for everyone. Each room is tastefully decorated with Hawaiian-inspired furnishings, immersing guests in the local culture from the moment they arrive.
One of the highlights of staying at Hawaiian Village Waikiki is its expansive pool complex known as "Paradise Pool." This magnificent oasis features five swimming pools, including a 5,000-square-foot super pool complete with waterslides and waterfalls. Guests can lounge by the poolside while sipping on refreshing tropical cocktails or take a dip in the crystal-clear waters to beat the heat.
For those seeking adventure beyond the resort's borders, Hawaiian Village Waikiki offers easy access to some of Oahu's most famous attractions. Take a short stroll along Kalakaua Avenue, known as "The Strip," and discover an array of world-class shopping boutiques, dining establishments serving both local and international cuisine, and vibrant nightlife options.
If you're interested in exploring Hawaii's natural wonders, be sure to visit nearby Diamond Head State Monument. This iconic volcanic crater offers breathtaking panoramic views of Honolulu and its surrounding coastline. Hiking enthusiasts will enjoy the moderate hike to the summit, where they can witness the beauty of the Pacific Ocean meeting the rugged landscapes of Oahu.
Hawaiian Village Waikiki also takes pride in offering authentic cultural experiences to its guests. From hula lessons and lei-making workshops to traditional Hawaiian music performances, visitors have the opportunity to immerse themselves in the vibrant traditions of Hawaii. These activities not only entertain but also educate, allowing guests to gain a deeper appreciation for the local culture.
When it comes to dining options, Hawaiian Village Waikiki does not disappoint. With a variety of restaurants serving everything from fresh seafood to international cuisine, there is something to satisfy every palate. Indulge in traditional Hawaiian dishes like poke bowls and kalua pig or savor gourmet creations prepared by renowned chefs.
Whether you're seeking a romantic getaway, a family vacation, or simply a retreat from the hustle and bustle of everyday life, Hawaiian Village Waikiki offers an unforgettable experience. With its unparalleled beauty, warm hospitality, and commitment to preserving Hawaiian culture, this resort truly embodies the spirit of aloha.
So, if you're ready to embark on a journey of relaxation and discovery in one of Hawaii's most iconic destinations, look no further than Hawaiian Village Waikiki. Let this slice of paradise captivate your senses and create memories that will last a lifetime.
Frequently Asked Questions About Hawaiian Village Waikiki: Your Guide to the Best Time to Visit, Location, Activities, Amenities, and More
What is the best time of year to visit Hawaiian Village Waikiki?

The best time to visit Hawaiian Village Waikiki largely depends on your preferences and what you hope to experience during your stay. However, there are a few factors to consider when planning your trip.
Weather-wise, Hawaii enjoys warm temperatures throughout the year, with average highs ranging from the mid-70s°F (mid-20s°C) in winter to the mid-80s°F (around 30°C) in summer. The islands also experience a relatively consistent climate, making it a year-round destination.
If you're looking for the best beach weather and optimal swimming conditions, the summer months of June through August are ideal. During this time, you can expect clear skies, calm waters, and plenty of sunshine. However, it's worth noting that this is also peak tourist season, so beaches and popular attractions may be more crowded.
For those seeking fewer crowds and slightly lower prices, consider visiting Hawaiian Village Waikiki during the shoulder seasons of spring (April to May) or fall (September to October). The weather is still pleasant and warm during these months, and you'll likely find more availability for accommodations and activities.
If you're interested in experiencing local cultural events or festivals, plan your visit around specific dates. For example, the Merrie Monarch Festival in Hilo takes place in April and showcases traditional hula dancing. The Aloha Festivals held across the islands in September celebrate Hawaiian culture through music, dance, and food.
It's important to note that Hawaii's rainy season occurs from November through March. While rain showers are typically brief and sporadic even during this period, they can occur more frequently. However, don't let this deter you as there are still plenty of sunny days to enjoy outdoor activities.
Ultimately, any time of year can be a great time to visit Hawaiian Village Waikiki depending on your preferences. Whether you prefer bustling beaches or quieter moments of relaxation, this iconic resort offers a slice of paradise throughout the year.
How far is Hawaiian Village Waikiki from the beach?

Hawaiian Village Waikiki is located right on the beach, offering guests direct access to the beautiful shores of Waikiki. The resort's prime beachfront location ensures that you are just steps away from sinking your toes into the warm sand and enjoying the crystal-clear waters of the Pacific Ocean. Whether you want to lounge on the beach, take a refreshing swim, or try your hand at various water sports, Hawaiian Village Waikiki makes it convenient for guests to enjoy all that the beach has to offer.
What activities are available at Hawaiian Village Waikiki?

Hawaiian Village Waikiki offers a wide range of activities to cater to the diverse interests of its guests. Here are some of the activities available at the resort:
Water Sports: Take advantage of the stunning beachfront location and engage in various water sports such as surfing, paddleboarding, kayaking, or snorkeling. The resort provides equipment rentals and can assist in arranging lessons or guided tours.
Paradise Pool: Enjoy a day of relaxation and fun at the resort's expansive pool complex. With five swimming pools, waterslides, waterfalls, and a sandy beach area, Paradise Pool is perfect for both adults and children.
Cultural Experiences: Immerse yourself in Hawaiian culture through a variety of activities offered at the resort. Participate in hula lessons to learn this traditional dance form or join lei-making workshops to create your own beautiful floral garlands.
Fitness Center: Stay active during your stay by utilizing the well-equipped fitness center at Hawaiian Village Waikiki. Engage in a workout session using state-of-the-art equipment or join one of the fitness classes offered.
Spa Services: Indulge in ultimate relaxation with a visit to the resort's spa. Experience rejuvenating massages, facials, body treatments, and more in a tranquil setting that will leave you feeling refreshed and rejuvenated.
Shopping: Explore an array of boutiques within the resort premises offering clothing, accessories, jewelry, and souvenirs. Take home a piece of Hawaii's unique culture with locally made products.
Dining Experiences: Hawaiian Village Waikiki boasts an impressive selection of dining options that cater to various tastes and preferences. From casual poolside eateries to elegant restaurants serving gourmet cuisine, there is something for everyone.
Live Entertainment: Enjoy live music performances showcasing traditional Hawaiian music and dance at designated areas within the resort grounds.
Nearby Attractions: Take advantage of the resort's convenient location and explore popular attractions in the surrounding area. Visit Diamond Head State Monument for scenic hikes, go on a historical tour of Pearl Harbor, or discover the vibrant nightlife and shopping options along Kalakaua Avenue.
Please note that the availability of certain activities may vary depending on factors such as weather conditions, seasonal changes, and any restrictions or guidelines in place. It is recommended to check with the resort for the most up-to-date information and to make any necessary reservations in advance.
Are there any restaurants or shops at Hawaiian Village Waikiki?

Absolutely! Hawaiian Village Waikiki is home to a wide range of restaurants and shops, ensuring that guests have everything they need right at their fingertips. Here are some of the highlights:
Rainbow Lanai: This open-air restaurant offers a delightful breakfast buffet with panoramic views of the resort's lush gardens and sparkling pools.
Tropics Bar & Grill: Located poolside, this casual eatery serves up a delectable selection of Hawaiian-inspired dishes, including fresh seafood, tropical cocktails, and live entertainment.
Bali Steak & Seafood: For an upscale dining experience, head to Bali Steak & Seafood. This elegant restaurant specializes in prime steaks, fresh seafood, and an extensive wine list.
Duke's Waikiki: Named after the legendary Duke Kahanamoku, this beachfront restaurant pays homage to Hawaii's surfing heritage. Enjoy delicious island cuisine while taking in breathtaking views of Waikiki Beach.
ABC Stores: Conveniently located within the resort grounds, ABC Stores offer a variety of essentials such as snacks, beverages, souvenirs, and beach gear.
Hilton Hawaiian Village Shops: Explore a diverse collection of boutiques and specialty stores offering everything from fashion apparel and accessories to jewelry and artwork.
Mandara Spa Boutique: Indulge in some self-care at the Mandara Spa Boutique where you can find a range of luxurious beauty products inspired by traditional Polynesian rituals.
These are just a few examples of the many dining and shopping options available at Hawaiian Village Waikiki. Whether you're craving local cuisine or searching for unique souvenirs to take home, you'll find plenty to satisfy your desires without having to leave the resort premises.
Does Hawaiian Village Waikiki have a pool?

Yes, Hawaiian Village Waikiki does have a pool. In fact, it boasts an expansive pool complex known as "Paradise Pool." This complex features five swimming pools, including a 5,000-square-foot super pool with waterslides and waterfalls. Guests can enjoy lounging by the poolside or take a refreshing swim in the crystal-clear waters. The pool area provides a relaxing and tropical atmosphere for guests to unwind and enjoy their stay at the resort.
Is there a shuttle service to and from Hawaiian Village Waikiki?

Yes, Hawaiian Village Waikiki offers a convenient shuttle service for its guests. The resort provides transportation to and from the Honolulu International Airport, allowing visitors to seamlessly transition from their flight to their accommodations. The shuttle service ensures a hassle-free arrival and departure experience, allowing guests to start and end their vacation with ease. Additionally, the resort may also offer shuttle services to nearby attractions or points of interest within the local area. It is advisable to check with the resort directly for specific details regarding shuttle schedules and destinations.
Does Hawaiian Village Waikiki offer any special discounts or packages?

Yes, Hawaiian Village Waikiki often offers special discounts and packages to enhance your stay and make it even more memorable. These promotions may vary throughout the year, so it's best to check their website or contact their reservations team for the most up-to-date information on current deals.
Some of the common types of discounts and packages offered by Hawaiian Village Waikiki include:
Early Bird Specials: Book your stay in advance and enjoy discounted rates on accommodations. This is a great option for those who like to plan ahead and secure the best deal.
Stay Longer, Save More: Extend your vacation at Hawaiian Village Waikiki and receive discounted rates for longer stays. This is perfect for travelers who want to fully immerse themselves in the beauty of Hawaii.
Family Packages: Enjoy special rates and added perks when traveling with your family. These packages may include discounted room rates, complimentary meals for children, or access to family-friendly activities.
Romance Packages: Surprise your loved one with a romantic getaway at Hawaiian Village Waikiki. These packages often include champagne upon arrival, couples' spa treatments, romantic dinners, and other special amenities designed to create an intimate experience.
Activity Bundles: Enhance your stay by taking advantage of activity bundles that combine accommodations with popular local attractions or experiences. These packages can offer convenience and savings while ensuring you make the most of your time in Hawaii.
Remember to regularly check the official website or reach out to their reservations team for any ongoing promotions or exclusive offers tailored specifically for your desired travel dates. By taking advantage of these special discounts and packages, you can make your stay at Hawaiian Village Waikiki even more enjoyable while saving some money along the way!
Is there an age limit for staying at Hawaiian Village Waikiki?

Hawaiian Village Waikiki welcomes guests of all ages. There is no specific age limit for staying at the resort. Whether you are traveling with your family, as a couple, or on your own, you are welcome to enjoy the amenities and accommodations provided by Hawaiian Village Waikiki. The resort offers a range of activities and facilities suitable for guests of all ages, ensuring that everyone can have a memorable and enjoyable stay.