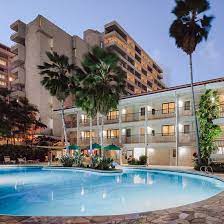 Hotel Renew Waikiki: A Tranquil Oasis in the Heart of Waikiki
Nestled in the vibrant neighborhood of Waikiki, Hotel Renew offers a serene and rejuvenating retreat amidst the hustle and bustle of Honolulu. This boutique hotel is a hidden gem that provides an intimate and personalized experience for every guest.
Upon stepping into Hotel Renew, you are immediately greeted by a sense of tranquility. The contemporary design and soothing color palette create a peaceful ambiance that sets the tone for your stay. The hotel's commitment to sustainability is evident through its eco-friendly practices, ensuring that your visit has minimal impact on the environment.
Each of the 72 rooms at Hotel Renew has been thoughtfully designed to provide a comfortable and restful space. With modern furnishings, plush bedding, and calming décor, every room offers a sanctuary where you can unwind after a day of exploring Waikiki's attractions. The hotel's emphasis on comfort extends to its amenities, including complimentary Wi-Fi, flat-screen TVs, and luxurious bath products.
One of the standout features of Hotel Renew is its exceptional customer service. The attentive staff goes above and beyond to ensure that each guest feels welcomed and well taken care of. From providing local recommendations to assisting with any special requests, they are always ready to make your stay as enjoyable as possible.
Hotel Renew takes pride in offering unique experiences tailored to each guest's preferences. Whether you're seeking adventure or relaxation, their concierge team can curate personalized itineraries that showcase the best that Waikiki has to offer. From surf lessons on iconic Waikiki Beach to exploring nearby hiking trails or indulging in spa treatments, there is something for everyone.
If you're looking for culinary delights, you won't be disappointed at Hotel Renew either. The onsite restaurant serves up delicious farm-to-table cuisine inspired by Hawaiian flavors. With an emphasis on fresh ingredients sourced from local farmers and fishermen, every meal is a treat for your taste buds.
Beyond the hotel's walls, Waikiki beckons with its stunning beaches, world-class shopping, and vibrant nightlife. Hotel Renew's central location allows you to easily explore all that this iconic neighborhood has to offer. Whether you want to catch a breathtaking sunset over Diamond Head, shop at luxury boutiques, or immerse yourself in Hawaiian culture at nearby attractions, everything is within reach.
Hotel Renew Waikiki is more than just a place to stay; it's an experience that will leave you feeling refreshed and inspired. With its tranquil ambiance, personalized service, and prime location, this boutique hotel offers an oasis of calm in the heart of Waikiki. Book your stay today and discover the perfect balance between relaxation and adventure in paradise.
Frequently Asked Questions about Hotel Renew Waikiki: Rates, Special Deals, Amenities, Location, and More
What are the rates for hotel renew waikiki?

The rates for Hotel Renew Waikiki can vary depending on the time of year, room type, and availability. It is recommended to visit their official website or contact their reservations team directly for the most accurate and up-to-date information regarding rates and availability. They will be able to provide you with detailed pricing based on your specific travel dates and preferences.
Does hotel renew waikiki offer any special deals or discounts?

Hotel Renew Waikiki understands the importance of providing value to its guests and occasionally offers special deals and discounts. These promotions can vary throughout the year, so it is recommended to visit the hotel's official website or contact their reservations team directly for the most up-to-date information on any ongoing offers. Whether it's a seasonal promotion, last-minute deal, or exclusive package, Hotel Renew strives to provide guests with opportunities to enhance their stay while enjoying savings. Keep an eye out for any current promotions that may be available and take advantage of these opportunities to make your stay at Hotel Renew even more memorable.
How far is hotel renew waikiki from the beach?

Hotel Renew Waikiki is conveniently located just a short walk away from the beautiful Waikiki Beach. It takes approximately 5 minutes to reach the beach on foot from the hotel. This close proximity allows guests to easily access the sandy shores and enjoy all the water activities and breathtaking views that Waikiki Beach has to offer. Whether you want to soak up the sun, take a dip in the ocean, or try your hand at surfing, Hotel Renew provides easy access to this iconic Hawaiian beachfront destination.
What amenities does hotel renew waikiki provide?

Hotel Renew Waikiki offers a range of amenities to ensure a comfortable and enjoyable stay for their guests. Some of the amenities provided include:
Complimentary Wi-Fi: Stay connected throughout your stay with free high-speed internet access available in all areas of the hotel.
24-Hour Front Desk: The friendly and attentive staff is available around the clock to assist with any inquiries, provide recommendations, or address any concerns you may have.
Concierge Services: The concierge team is dedicated to curating personalized itineraries and assisting with booking activities, dining reservations, transportation arrangements, and more.
Onsite Restaurant: Enjoy delicious farm-to-table cuisine at the hotel's restaurant, where you can savor dishes inspired by local Hawaiian flavors.
Room Service: Indulge in a meal or snack from the comfort of your own room with the convenience of room service available during specified hours.
Daily Housekeeping: The housekeeping staff ensures that your room is kept clean and tidy throughout your stay, providing fresh linens and replenishing amenities as needed.
Air Conditioning: Each room is equipped with air conditioning to keep you cool and comfortable, especially during warm Hawaiian days.
Flat-Screen TVs: Relax and unwind while watching your favorite shows or movies on the flat-screen TVs available in every room.
Luxury Bath Products: Pamper yourself with high-quality bath products provided in each bathroom, allowing for a refreshing and rejuvenating experience.
Beach Towels and Chairs: Take advantage of complimentary beach towels and chairs provided by the hotel for your convenience when exploring Waikiki's beautiful beaches.
Laundry Facilities: For longer stays or when needed, guests have access to onsite laundry facilities to take care of their laundry needs.
Eco-Friendly Practices: Hotel Renew is committed to sustainability and implements eco-friendly practices throughout the property to minimize its environmental impact.
These amenities are designed to enhance your stay and ensure that you have everything you need for a memorable and comfortable experience at Hotel Renew Waikiki.
Is there a pool at hotel renew waikiki?

Yes, Hotel Renew Waikiki features a beautiful outdoor pool for guests to enjoy. Whether you want to take a refreshing dip or simply lounge by the poolside, it provides a tranquil space to relax and soak up the Hawaiian sun. The pool area is thoughtfully designed with comfortable seating and lush tropical surroundings, creating a serene oasis within the hotel.
Are there any restaurants nearby to hotel renew waikiki?

Hotel Renew Waikiki is conveniently located in the heart of Waikiki, surrounded by a plethora of dining options to satisfy every palate. Whether you're craving traditional Hawaiian cuisine, international flavors, or local favorites, you'll find a wide range of restaurants within walking distance from the hotel.
Just steps away from Hotel Renew, you'll find a variety of casual dining options. From popular fast-food chains to local eateries serving up plate lunches and poke bowls, there's something for everyone looking for a quick and satisfying meal.
For those seeking a more upscale dining experience, there are numerous restaurants in the area that offer delicious cuisine in stylish settings. Indulge in fresh seafood at renowned seafood restaurants or savor mouthwatering steaks at upscale steakhouse establishments. Many of these restaurants also feature oceanfront views, allowing you to enjoy your meal while taking in the breathtaking beauty of Waikiki Beach.
If you're interested in exploring the flavors of Hawaii, there are several restaurants nearby that specialize in traditional Hawaiian cuisine. From kalua pig and lau lau to poi and lomi salmon, these establishments offer an authentic taste of the islands.
For those looking to explore international flavors, Waikiki boasts an array of international cuisines. You can savor Japanese sushi and ramen, indulge in Italian pasta and pizza, or embark on a culinary journey through Thai, Korean, Mexican, or Indian cuisine – all within walking distance from Hotel Renew.
Additionally, if you're in the mood for some refreshing tropical drinks or want to experience Hawaii's vibrant nightlife scene, there are plenty of bars and lounges nearby where you can unwind and enjoy live music or sip on creative cocktails made with local ingredients.
No matter your culinary preferences or budgetary constraints, Hotel Renew Waikiki's central location ensures that you'll have an abundance of dining options right at your doorstep. Whether you're looking for a quick bite or an unforgettable dining experience, you'll find a diverse range of restaurants to satisfy your appetite and enhance your stay in Waikiki.
What is the cancellation policy at hotel renew waikiki?

The cancellation policy at Hotel Renew Waikiki may vary depending on the specific reservation and rate booked. It is always recommended to review the terms and conditions of your reservation or contact the hotel directly for accurate and up-to-date information regarding their cancellation policy.
Typically, hotels have different cancellation policies based on factors such as the type of rate booked (e.g., non-refundable, flexible), the length of stay, and the time of cancellation. Some reservations may be fully refundable if cancelled within a certain timeframe, while others may have penalties or fees associated with cancellations made closer to the check-in date.
To ensure you have the most accurate information regarding Hotel Renew Waikiki's cancellation policy, it is best to reach out to their reservations department or visit their official website for detailed information specific to your booking.
Is parking available at hotel renew waikiki?

Yes, parking is available at Hotel Renew Waikiki. The hotel offers valet parking for guests, making it convenient for those who have their own vehicles. Please note that there may be an additional fee for parking services. The hotel staff will be happy to assist you with any inquiries regarding parking arrangements during your stay.