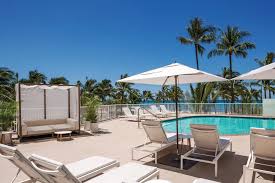 The Pearl Waikiki Hotel: Unparalleled Luxury and Aloha Spirit
Nestled in the heart of Waikiki, the Pearl Waikiki Hotel stands as a beacon of luxury and hospitality. With its prime location just steps away from the world-famous Waikiki Beach, this boutique hotel offers an unforgettable experience for travelers seeking both relaxation and adventure.
From the moment you step foot into the Pearl Waikiki Hotel, you are greeted with warm aloha spirit. The friendly staff is dedicated to ensuring that every guest feels welcomed and cared for throughout their stay. Whether it's providing insider tips on local attractions or arranging personalized experiences, they go above and beyond to make your visit truly memorable.
The hotel boasts a range of beautifully designed rooms and suites, each thoughtfully furnished with modern amenities and stylish decor. Whether you choose a cozy room with city views or indulge in a luxurious suite with ocean vistas, you'll find comfort and tranquility in every corner. The attention to detail is evident in every aspect of the room design, creating an ambiance that is both elegant and inviting.
When it comes to dining, the Pearl Waikiki Hotel offers an array of culinary delights. Start your day with a delicious breakfast at their onsite restaurant, where you can savor a variety of delectable dishes made with locally sourced ingredients. For lunch or dinner, venture out to nearby eateries that showcase Hawaii's diverse culinary scene or enjoy a romantic meal at one of the hotel's rooftop dining options while taking in panoramic views of Waikiki.
To unwind after a day of exploring all that Oahu has to offer, guests can take advantage of the hotel's rooftop pool deck. Bask in the warm Hawaiian sun as you relax by the sparkling pool or soak in one of the whirlpool spas. The rooftop bar offers refreshing cocktails and light bites, perfect for enjoying during sunset while admiring breathtaking views of Diamond Head and the Pacific Ocean.
Beyond the hotel's doors, Waikiki beckons with its endless possibilities. From world-class shopping to water sports and cultural experiences, there is something for everyone. The Pearl Waikiki Hotel's knowledgeable concierge team is always ready to assist in planning your adventures, whether it's a hike up Diamond Head, a surf lesson, or an exploration of local markets.
In summary, the Pearl Waikiki Hotel is a haven of luxury and tranquility in the heart of Waikiki. With its exceptional service, exquisite accommodations, and prime location, it offers an unparalleled experience for those seeking an unforgettable Hawaiian getaway. Immerse yourself in the aloha spirit and let the Pearl Waikiki Hotel be your home away from home as you create cherished memories on the beautiful island of Oahu.
7 Tips to Make the Most of Your Stay at Pearl Waikiki Hotel
Take advantage of the hotel's free shuttle service to Waikiki Beach and other nearby attractions.

Convenience and Exploration: Pearl Waikiki Hotel's Complimentary Shuttle Service
When staying at the Pearl Waikiki Hotel, guests have the opportunity to make the most of their time on the island by taking advantage of the hotel's complimentary shuttle service. This thoughtful amenity allows visitors to effortlessly explore Waikiki Beach and other nearby attractions without the hassle of transportation logistics.
Waikiki Beach is renowned for its golden sands, crystal-clear waters, and vibrant atmosphere. With the hotel's free shuttle service, guests can easily access this iconic beachfront paradise. Whether you're looking to soak up the sun, take a refreshing swim, or try your hand at exciting water sports, you can spend more time enjoying the beach and less time worrying about finding parking or navigating through traffic.
But it doesn't stop there – the Pearl Waikiki Hotel's shuttle service extends beyond just beach access. Hop aboard and venture out to explore other popular attractions in the area. From world-class shopping destinations like Ala Moana Center to cultural sites such as Iolani Palace or even hiking trails like Diamond Head State Monument, this complimentary shuttle service opens up a world of possibilities for guests.
Not only does this service save you time and effort, but it also provides peace of mind knowing that you have reliable transportation at your fingertips. Whether you're a first-time visitor or a seasoned traveler, having a convenient way to get around allows you to make the most of your stay in Waikiki.
The friendly and knowledgeable staff at Pearl Waikiki Hotel are always ready to assist with recommendations on where to go and what to see during your excursions. They can provide valuable insights into local hotspots, hidden gems, and must-visit attractions that will enhance your overall experience on Oahu.
So why worry about transportation when you can sit back, relax, and let Pearl Waikiki Hotel take care of it? Embrace convenience and exploration by utilizing their complimentary shuttle service to Waikiki Beach and other nearby attractions. Enjoy the freedom to immerse yourself in the beauty and culture of Hawaii without any transportation-related stress.
Make sure to take a dip in the rooftop pool for some amazing views of Diamond Head and Honolulu.

When staying at the Pearl Waikiki Hotel, don't miss the opportunity to take a refreshing dip in the rooftop pool. Not only will you cool off from the Hawaiian sun, but you'll also be rewarded with breathtaking views of Diamond Head and the vibrant city of Honolulu.
Located on the hotel's rooftop, this pool offers a serene oasis high above the bustling streets below. As you swim or lounge by the water's edge, you'll be treated to panoramic vistas that showcase some of Hawaii's most iconic landmarks.
Gaze towards Diamond Head, an ancient volcanic crater that stands majestically against the backdrop of clear blue skies. Its lush green slopes and distinctive shape create a picture-perfect scene that is sure to leave a lasting impression.
As you turn your attention towards Honolulu, you'll witness a vibrant cityscape filled with high-rise buildings, palm trees swaying in the breeze, and glimpses of Waikiki's famous shoreline. The juxtaposition of urban energy against the natural beauty of Hawaii is truly captivating.
Whether you choose to take a leisurely swim or simply relax on one of the comfortable poolside loungers, this rooftop oasis provides an ideal vantage point for soaking in these remarkable views. It's an experience that perfectly encapsulates the essence of Hawaii – a blend of natural wonders and vibrant city life.
So, during your stay at Pearl Waikiki Hotel, make it a point to visit their rooftop pool. Immerse yourself in its refreshing waters while immersing yourself in stunning views that showcase Diamond Head and Honolulu's dynamic charm. It's an experience that will undoubtedly enhance your Hawaiian getaway and leave you with memories to cherish for years to come.
Check out the weekly luau at the hotel for a fun evening with traditional Hawaiian food and entertainment.

Experience the Magic of Hawaii at the Pearl Waikiki Hotel's Weekly Luau
If you're looking to immerse yourself in the rich culture and traditions of Hawaii during your stay at the Pearl Waikiki Hotel, don't miss their weekly luau. This vibrant and entertaining event is a fantastic way to indulge in traditional Hawaiian food, experience captivating performances, and create lasting memories.
The luau takes place every week on the hotel grounds, offering guests a unique opportunity to witness firsthand the beauty of Hawaiian culture. As you step into the enchanting atmosphere, you'll be greeted with warm smiles and a welcoming aloha spirit that sets the tone for an unforgettable evening.
One of the highlights of this lively event is undoubtedly the traditional Hawaiian feast. Indulge in a mouthwatering buffet that showcases an array of local delicacies. From succulent kalua pig cooked in an imu (an underground oven) to fresh seafood dishes bursting with flavors, there's something to satisfy every palate. Be sure to try poi, a staple Hawaiian dish made from taro root, and sample tropical fruits that are as colorful as they are delicious.
While savoring your meal, sit back and enjoy a mesmerizing showcase of Polynesian entertainment. Watch as talented dancers sway their hips to the rhythm of traditional music, telling stories through graceful hula performances. Marvel at daring fire knife dancers who skillfully twirl flaming torches with precision and finesse. The energy and passion displayed by these performers will transport you into the heart of Hawaiian culture.
For those seeking an interactive experience, some luaus offer opportunities for guests to participate in cultural activities such as lei making or learning simple hula moves. It's a chance to connect with local traditions on a deeper level and gain insights into Hawaii's rich heritage.
Attending the weekly luau at the Pearl Waikiki Hotel is not just about enjoying delicious food and captivating entertainment; it's about immersing yourself in the spirit of aloha. It's an opportunity to embrace the warmth and hospitality of the Hawaiian people, to learn about their customs, and to celebrate the beauty of their traditions.
So, mark your calendar and make sure to join in on this unforgettable evening during your stay at the Pearl Waikiki Hotel. The weekly luau promises an experience filled with laughter, joy, and a true sense of Hawaii's cultural heritage. Don't miss out on this chance to create cherished memories that will last a lifetime.
Stop by Pearl Ultralounge for some live music and great drinks.

Looking for a lively night out in Waikiki? Look no further than the Pearl Ultralounge at the Pearl Waikiki Hotel. This vibrant hotspot offers a unique blend of live music, great drinks, and an unforgettable atmosphere.
Located within the hotel, the Pearl Ultralounge is a haven for music enthusiasts and those seeking a fun-filled evening. Step inside, and you'll be greeted by the sounds of talented local musicians performing a variety of genres, from soulful jazz to upbeat rock. The live music sets the perfect backdrop for an evening of entertainment and relaxation.
As you settle into the stylish lounge area, take a moment to peruse their impressive drink menu. From expertly crafted cocktails to an extensive selection of wines and spirits, there's something to satisfy every palate. Whether you prefer classic concoctions or innovative mixology creations, the skilled bartenders at Pearl Ultralounge are ready to create your perfect drink.
The ambiance at Pearl Ultralounge is electric. The dim lighting, plush seating, and chic decor create an intimate setting that invites you to unwind and enjoy the evening with friends or loved ones. The lounge also features a dance floor where you can groove to your favorite tunes or simply let loose and have some fun.
What sets Pearl Ultralounge apart is its commitment to showcasing local talent. With regular performances by talented musicians from Hawaii's vibrant music scene, you'll get a taste of authentic island sounds while supporting local artists. It's an opportunity to immerse yourself in Hawaii's rich musical heritage while enjoying top-notch entertainment.
Whether you're looking for a place to relax after a day of exploring Waikiki or seeking a vibrant nightlife experience, make sure to stop by Pearl Ultralounge at the Pearl Waikiki Hotel. With its live music, great drinks, and unforgettable ambiance, it's guaranteed to be an evening filled with memorable moments and good vibes.
Ask about special offers or packages when booking your stay – you might be able to get a great deal!

When planning your stay at the Pearl Waikiki Hotel, be sure to inquire about any special offers or packages that may be available. By doing so, you could potentially secure a fantastic deal that enhances your overall experience.
Hotels often have exclusive promotions or discounted rates for certain periods, events, or even for extended stays. By asking about these special offers during the booking process, you may find yourself saving money while enjoying all the luxurious amenities and services the Pearl Waikiki Hotel has to offer.
These packages can include various perks such as complimentary breakfast, spa treatments, discounted rates on activities or dining options, or even room upgrades. Taking advantage of these deals not only adds value to your stay but also allows you to indulge in additional experiences without breaking the bank.
Whether you're celebrating a special occasion, planning a family vacation, or simply looking for a well-deserved getaway, inquiring about special offers and packages is always worth considering. It's an opportunity to maximize your enjoyment while staying within your budget.
So when making your reservation at the Pearl Waikiki Hotel, remember to ask about any available promotions. You never know what amazing deals await you! Take advantage of these opportunities and make your stay at this luxurious hotel even more memorable.
Take advantage of the complimentary Wi-Fi throughout the property so you can stay connected while on vacation.

Stay Connected and Share Your Hawaiian Adventures at the Pearl Waikiki Hotel
When you're on vacation, it's important to strike a balance between immersing yourself in the beauty of your surroundings and staying connected with loved ones back home. At the Pearl Waikiki Hotel, you can have the best of both worlds with their complimentary Wi-Fi available throughout the property.
Gone are the days of feeling disconnected from the world while enjoying your Hawaiian getaway. Whether you want to share stunning beach photos on social media, video chat with family and friends to let them in on your adventures, or simply stay up-to-date with work emails, the Pearl Waikiki Hotel ensures that you have easy access to high-speed internet connectivity.
Imagine lounging by the pool, sipping a refreshing drink, and effortlessly streaming your favorite music playlist or catching up on your favorite TV shows. With complimentary Wi-Fi at your fingertips, you can make every moment count while staying connected to what matters most to you.
Not only does this service allow you to keep in touch with loved ones, but it also provides a convenient way to research local attractions and plan your daily activities. From finding hidden gems off the beaten path to discovering nearby restaurants or booking tickets for popular attractions, having Wi-Fi access throughout the property enables seamless exploration of everything that Waikiki has to offer.
The Pearl Waikiki Hotel understands that staying connected is an essential part of modern travel. By offering complimentary Wi-Fi, they ensure that guests can effortlessly share their memories and experiences without worrying about extra charges or limitations.
So go ahead and capture those breathtaking sunsets, surf sessions, and cultural encounters during your stay at the Pearl Waikiki Hotel. With complimentary Wi-Fi available throughout the property, you can easily share these moments with friends and family around the world while still enjoying a blissful island escape.
Enjoy delicious meals from Pearl's Restaurant, which features an array of local seafood dishes, steaks, salads, and more!

Indulge in Culinary Delights at Pearl's Restaurant, Pearl Waikiki Hotel
When it comes to satisfying your taste buds, look no further than Pearl's Restaurant at the Pearl Waikiki Hotel. This delightful dining establishment offers a culinary experience that will leave you craving for more.
Located within the hotel premises, Pearl's Restaurant is a haven for food enthusiasts seeking a diverse and mouthwatering menu. With a focus on locally sourced ingredients and flavors, this restaurant takes pride in showcasing the best of Hawaiian cuisine.
Seafood lovers will be in paradise as they explore the extensive selection of fresh seafood dishes. From succulent shrimp scampi to perfectly grilled mahi-mahi, every bite is a celebration of the ocean's bounty. The chefs at Pearl's expertly prepare each dish with precision and care, ensuring that the flavors shine through.
For those who prefer land-based delights, fear not! Pearl's also offers an impressive array of steaks that are cooked to perfection. Sink your teeth into a juicy ribeye or savor the tenderness of a filet mignon. Each cut is carefully selected and prepared to deliver an unforgettable dining experience.
If you're looking for lighter fare, Pearl's has you covered with their selection of fresh salads. From vibrant greens topped with local fruits to creative combinations of flavors and textures, these salads are both refreshing and satisfying.
To complement your meal, be sure to explore their handcrafted cocktail menu or indulge in a glass of fine wine from their thoughtfully curated collection. The attentive staff at Pearl's is always ready to recommend the perfect pairing for your chosen dish.
Whether you're enjoying breakfast before a day of adventure or savoring dinner after a day at the beach, Pearl's Restaurant provides an inviting ambiance that enhances your dining experience. The elegant decor and warm atmosphere create the perfect backdrop for creating lasting memories with loved ones or simply enjoying some quiet time alone.
So, if you find yourself at the Pearl Waikiki Hotel, don't miss the opportunity to delight your taste buds at Pearl's Restaurant. With its delectable seafood dishes, mouthwatering steaks, fresh salads, and attentive service, this culinary gem is sure to leave you with a satisfied palate and a smile on your face.