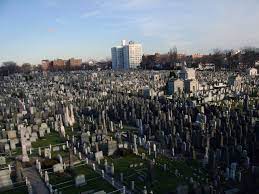 A cemetery is a place where people are laid to rest after they have passed away. It is a place of mourning, remembrance and contemplation. It is a place where families can come together to remember their loved ones and pay their respects.
Cemeteries have been around for centuries, with some of the oldest ones dating back to ancient times. They are usually located in quiet, peaceful areas away from the hustle and bustle of everyday life. They are often surrounded by trees and flowers, creating a tranquil atmosphere for visitors to reflect in.
The layout of a cemetery varies depending on the culture, but typically features rows of graves with headstones or markers that identify who is buried there. Some cemeteries also feature monuments or sculptures that commemorate individuals or groups of people who have passed away.
Visiting a cemetery can be an emotional experience for many people, as it brings up memories of those who have gone before us. It can also be a source of comfort and solace as we remember our loved ones and reflect on our own mortality.
Cemeteries are an important part of our history and culture, providing us with insight into how our ancestors lived and died. They provide us with tangible reminders of our past and serve as a reminder that life is fleeting and we must make the most of it while we can.
Here are the 7 most commonly asked questions about a cemetery.
How do I find a cemetery?

There are several ways to find a cemetery. You can search online for cemeteries in your area, check with local historical societies or genealogical societies, ask local churches or funeral homes, and look in local phone books. You can also search on Google Maps for cemeteries near you.
What is the cost of a cemetery plot?

The cost of a cemetery plot varies depending on the location and type of plot. Generally, prices range from around $500 to $10,000 or more.
How do I purchase a cemetery plot?

The best way to purchase a cemetery plot is to contact the cemetery directly. You can usually find contact information for local cemeteries on their websites or by searching online. When you contact the cemetery, they should be able to provide you with information about available plots, prices, and any other relevant details.
Are there any regulations for visiting a cemetery?

Yes, there are regulations for visiting a cemetery. Regulations may vary depending on the cemetery and local laws. Generally, visitors should respect the grounds by not littering, not disturbing graves or monuments, and avoiding any activities that could damage the cemetery. Visitors should also be aware of their surroundings and follow posted signs or instructions from cemetery staff.
Are there any rules for decorating graves in a cemetery?

Yes, there are rules for decorating graves in a cemetery. These rules vary depending on the cemetery, so it is important to check with the cemetery before decorating a grave. Generally, most cemeteries allow decorations such as fresh flowers, wreaths, flags, and other items that are not permanent fixtures. Some cemeteries may have restrictions on the type or size of decorations allowed. Additionally, some cemeteries may require that any decorations be removed after a certain period of time.
What should I do if I want to move or relocate a grave in the cemetery?

You should contact the cemetery to discuss your options. Depending on the cemetery, you may need to obtain permission from the cemetery management, or even from local authorities. The process for relocating a grave may vary depending on the cemetery, so it is best to check with them for specific details.
Does the cemetery offer any kind of memorial services or events?

Yes, many cemeteries offer a variety of memorial services and events. These can range from traditional funeral services to more unique events such as candlelight vigils and special remembrance days. Check with your local cemetery for more information about what services and events they offer.