Luxury Living Unleashed: Ritz-Carlton Residences, Waikiki Beach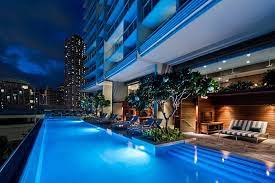 Experience Luxury Living at Ritz-Carlton Residences, Waikiki Beach
Located in the heart of Waikiki, the Ritz-Carlton Residences offer an unparalleled level of luxury and sophistication in one of Hawaii's most iconic destinations. With breathtaking ocean views, world-class amenities, and impeccable service, this residential oasis is designed to provide residents with a truly elevated living experience.
The Ritz-Carlton Residences, Waikiki Beach boast a collection of beautifully appointed residences that combine modern elegance with the relaxed spirit of the islands. From spacious studios to expansive penthouses, each residence is meticulously designed to offer the utmost comfort and style. High-end finishes, top-of-the-line appliances, and floor-to-ceiling windows that showcase panoramic views of the Pacific Ocean create a sense of tranquility and serenity.
Residents have access to a wide range of amenities that cater to their every need. The resort-style pool deck offers a luxurious retreat where residents can relax under the Hawaiian sun or take a refreshing dip in the infinity pool while enjoying stunning vistas. For those seeking wellness and rejuvenation, the state-of-the-art fitness center and spa provide a sanctuary for physical and mental well-being.
Indulge your taste buds at one of the on-site restaurants helmed by renowned chefs who create culinary masterpieces using locally sourced ingredients. Whether you're craving authentic Hawaiian cuisine or international flavors, you'll find an array of dining options that will satisfy even the most discerning palate.
As a resident of Ritz-Carlton Residences, Waikiki Beach, you'll also enjoy exclusive access to personalized services provided by a dedicated team committed to exceeding your expectations. From concierge assistance to valet parking and 24-hour security, every detail is taken care of so you can focus on enjoying life to its fullest.
Beyond its luxurious amenities and exceptional service, this prestigious address offers proximity to some of Hawaii's most beloved attractions. From the world-famous Waikiki Beach to vibrant shopping and dining districts, residents have endless opportunities to explore and immerse themselves in the unique culture and natural beauty of the islands.
The Ritz-Carlton Residences, Waikiki Beach redefine luxury living in Hawaii. Whether you're seeking a permanent residence or an exclusive vacation home, this prestigious address offers a lifestyle that is second to none. Immerse yourself in the captivating beauty of Waikiki and experience the epitome of luxury at Ritz-Carlton Residences, Waikiki Beach.
Frequently Asked Questions about Ritz-Carlton Residences Waikiki Beach
Does Ritz-Carlton Waikiki have beach access?

Yes, the Ritz-Carlton Residences, Waikiki Beach does provide beach access for its residents and guests. The property is conveniently located just a short walk away from the iconic Waikiki Beach, allowing residents to easily enjoy the sun, sand, and surf. Whether you're looking to relax on the beach or partake in water activities such as swimming or surfing, the Ritz-Carlton Residences offer a prime location for beach enthusiasts.
Who owns the Ritz Carlton Residences?

The Ritz-Carlton Residences, Waikiki Beach are owned by a real estate development company called Pacrep LLC. Pacrep LLC is a joint venture between two prominent real estate firms, Irongate and BlackSand Capital. Irongate is a global real estate development and investment firm with a focus on luxury hospitality, while BlackSand Capital specializes in the acquisition and development of high-end residential properties. Together, they have brought their expertise to create the luxurious Ritz-Carlton Residences in Waikiki Beach.
Are Ritz-Carlton Residences timeshares?

Yes, Ritz-Carlton Residences can include timeshare options. The Ritz-Carlton brand offers a variety of ownership options, including traditional ownership and fractional ownership through their Residence Club program. These programs allow individuals to own a share of a property for a specific period each year, typically offering flexibility and access to luxurious accommodations in desirable locations like Waikiki Beach. However, it's important to note that specific details and availability may vary depending on the property and location. It is recommended to contact Ritz-Carlton directly or visit their official website for more information on the ownership options available at Ritz-Carlton Residences in Waikiki Beach or any other desired location.
How far is the Ritz Carlton Residence Waikiki from the beach?

The Ritz-Carlton Residences, Waikiki Beach is conveniently located just a short distance from the beach. In fact, it is situated in one of the most sought-after areas of Waikiki, offering residents easy access to the beautiful shores of Waikiki Beach. The exact distance may vary depending on which specific residence within the property you are staying in, but generally, it is just a few minutes' walk away. Residents can enjoy the luxury of being able to stroll to the beach at their leisure and soak up the sun or take part in various water activities that make Waikiki Beach so famous.